Wednesday, December 11, 2013
♪ ♫ These Are A Few Of My Favorite Things...♪ ♫
Pumpernickel Pretzel Sticks~
Trader Joe's
Last Year on Turnips 2 Tangerines~ Chocolate Cereal Clusters

Welcome to the Four Seasons Blog Hop
A party where we can celebrate the greatness that each season brings to our lives.
Follow us:
Terri/Shawna - Easy Life Meal & Party Planning - Bloglovin Google+ Facebook Pinterest Twitter
Betty
-
Loosing My Gut While Gaining My Insanity
Bloglovin
Google +
Facebook
Pinterest
Twitter
Kenneth -
Guai Shu Shu
RSS
Google+
Facebook
Pinterest
Twitter
Webstagram
Tumbler
Lynn -
Turnips2Tangerines
Bloglovin
Google+
Facebook
Pinterest
Twitter
Sandra -
Scruptilicious4You
Bloglovin
Google+
Facebook
Pinterest
Twitter
So Let's Get This Party Started!!
Share your food creations, gardening, clever projects, tablescapes, decorations, party themes, and inspirational knowledge ... Ok, you get the point. Join us every Thursday (opens Wednesday evening at 6:00 pm). Please stay for awhile and show some love to the guests, join us in the fun and grab a button.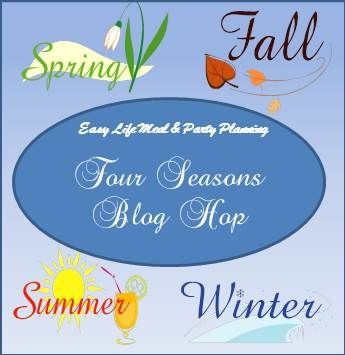 We will share your posts in a variety of ways on Pinterest, Twitter, Facebook and Google Plus. We will also have features of the week! Be sure to follow our Four Seasons Board on
Pinterest!
By participating in this linky party, you agree to have your posts shared on social media and Pinterest and to receive email and Google notifications for reminders about the party. If you don't want to receive notifications, please let us know.
If you are sharing on this party and have a linky party that you host or co-host, we would love to have you link it at the end of this post! Your linky party will show up on the Four Seasons Blog Hop for the next month - just a small way in which we can show our appreciation and support to you!
FEATURED
MORE LINKY PARTIES YOU MIGHT ENJOY
This was my first time participating in The Great Food Blogger Cookie Swap. I had so much fun baking my cookies, packaging them up, sending them off and of course eating them:) The process was really simple....you signed up by a certain date, then you received the names of 3 different bloggers, bake, package and mail each blogger one dozen cookies. Then the best part, you wait for your 3 dozen cookies to arrive and eat them all yourself or you can share them with family and friends! What could be better than that~
This was a wonderful experience and I can't wait until next year, so I can participate again!
I wanted to make a cookie that would ship well so I decided to make Peppermint Biscotti. This recipe for biscotti has crushed peppermint candy in the dough and then after baking are dipped in chocolate with more crushed candies sprinkled on the top~ Wonderful~ *Update* This being my first time participating in the Cookie Swap, I made the mistake of not taking picture's of the cookies I received:( I was to busy eating them:) I want to Thank~ Deb @ Cooking on the Front Burner for delicious Triple Ginger Chocolate Chunk Cookies, Sarah @ Strawberry Plum for her delicious Thumb Print Cookies and Stacy @ Baking Bandit for her lovely Lemon Shortbread Cookies~ Thanks Ladies!
Peppermint Biscotti~
3/4 cup butter, softened
3/4 cup sugar
3 eggs
2 t. peppermint extract
3-1/4 cup flour
1 t. baking powder
1/4 t. salt
1 cup crushed peppermint candy
Frosting:
2 cups (12 oz) semisweet chocolate chips
2 T shortening
1/2 cup crushed peppermint candy
In a large bowl, cream butter and sugar. Add eggs, one at a time, beating well after each addition. Beat in extract. Combine the flour, baking powder and salt; stir in peppermint candy. Gradually add to creamed mixture, beating until blended. Mixture will be stiff.
Divide dough in half. On an ungreased baking sheet, roll each portion into a 12-inch x 2-1/2 inch rectangle. Bake at 350 for 25-30 minutes or until golden brown. Carefully remove to a wire racks; cool for 15 minutes.
Transfer to a cutting board; cut diagonally with a sharp knife into 1/2 inch slices. Place cut side down on ungreased baking sheets. Bake for 12-15 minutes or until firm. Remove to wire racks to cool.
In a microwave-safe bowl, melt chocolate chips and shortening; stir until smooth. Drizzle chocolate over biscotti and sprinkle with crushed candy. Place on wax paper until set. Store in airtight container.

Tuesday, December 10, 2013
♪ ♫ These Are A Few Of My Favorite Things...♪ ♫
Lemon Ricotta Cookie Mix~
Lemon Ricotta Cookie Mix~ Aldi
Last Year on Turnips 2 Tangerines~ Chocolate Holiday Pretzels