Vidalia Onion Casserole
We may earn money or products from the companies mentioned in this post.
Vidalia Onion Casserole
Hi Everyone! Welcome Back to Turnips 2 Tangerines. Today I'm going to share with you an updated version of sorts, of a recipe I posted a few years back. I found the recipe on the Vidalia Onion website and it's one of T2T most popular recipes. The recipe has since been taken off the website, for reasons unbeknownst to me. With that being said, I wanted to share with you a new and possibly updated version of this super delicious and classic recipe. Vidalia Onion Casserole is made of course with Vidalia onion, grown in Vidalia GA. This recipe also contains Ritz crackers. I love a good Ritz cracker crumb topping! Not only are the Ritz crackers made into that yummy cracker crumb topping that I love but crushed Ritz crackers are added to the filling! What more can I say?!?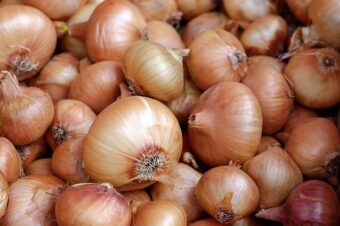 Onions Never Tasted So Good!
There are a few steps to this recipe but nothing that is time consuming or daunting. Thinly slicing the Vidalia onions and boiling them in water for 8 minutes will ensure that the onions become soft and tender. Tossing the warm, drained onions with butter doesn't hurt either. Evaporated milk ensures the sauce will be smooth and rich. We opted for using a "seriously" sharp white cheddar cheese by Cabot Creamery. A Vermont cheese company that has been in the business of making cheeses and other dairy products since 1919.
We certainly can't mention Vidalia onion casserole without mentioning, Ritz crackers. You know the one…those buttery round crackers everyone knows and loves. You can also use Townhouse buttery crackers but for heavens sake, don't substitute anything else. No off brand or store brand buttery crackers will do here. They just don't taste the same and I should know I've tried it! Some things can and should be substituted for a cheaper brand but in my humble culinary opinion…not buttery crackers! (creamed canned soup is another that comes to mind)
Serve Only or As a Side
One thing that I really like about this casserole is the fact that you can either serve it as a side dish or on it's own. Personally I like to serve Vidalia Onion Casserole with grilled burger or steak, a suggestion that someone once thought of as "odd." My hubby on the other hand likes to reheat a serving of onion casserole in the morning, plop an over easy egg on top and call it a day or "new way with left0vers." One thing that should be mentioned is the fact that Vidalia Onion Casserole is about as economical as all get out! The next time you're invited to a gathering, consider bringing this super easy and delicious casserole. You might be surprised how many people like it!
If you'd like to try the recipe for Vidalia Onion Pie that I mentioned earlier, here is the link: Cheddar and Ritz Cracker Vidalia Onion Pie.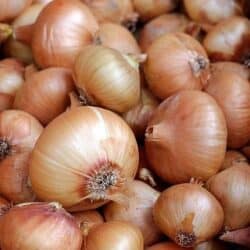 Vidalia Onion Casserole
Perfect as a side dish or entree'
Ingredients
4-6

large Vidalia onions

2

tablespoons

unsalted butter

3

eggs

1

5 oz can

evaporated milk

1

cup

crushed Ritz crackers

1 1/2

cup

shredded sharp cheddar cheese

1/2

teaspoon

salt

1/8

teaspoon

pepper

1/2

teaspoon

smoky paprika

Crumb Topping:

1

cup

crushed Ritz crackers

3

tablespoons

unsalted butter

,

melted
Instructions
Slice off root and stem end of onions; remove outer skins. Place onion halves on cutting board with cut sides down and slice onion halves into slivers about 1/4-inch to 1/2-inch thick.

Place onions in a saucepan and add water to just cover. Bring to a boil; reduce heat and simmer 8 minutes. Drain well.

Toss warm onions with the 2 tablespoons butter.

While onions cook, beat the eggs and evaporated milk together in a large bowl.

Add the warm cooked onions, cracker crumbs, shredded cheese, salt, and pepper. Stir to combine.

Place onion mixture in a 9x13-inch baking dish coated with non-stick cooking spray.

Prepare Crumb Topping:

Combine cracker crumbs and melted butter.

Sprinkle evenly over the top of the casserole.

Bake: Bake at 375 degrees for 45 minutes, until set in the middle and golden brown.
More Articles For Your Reading Enjoyment