Cheddar and Ritz Cracker Vidalia Onion Pie
We may earn money or products from the companies mentioned in this post.
Cheddar and Ritz Cracker Vidalia Onion Pie
Cheddar and Ritz Cracker Vidalia Onion Pie would be great served as a side dish or alongside a grilled hamburger. This "pie" is perfect for the grilling season or anytime. I found this recipe at: The Vidalia Onion Committe, the perfect place to find a recipe for Vidalia Onion Pie. To find out more about Vidalia onions and for more fantastic recipes go to: The Vidalia Onion Committee
This recipe is really very easy to prepare. The Ritz cracker crust adds that special touch and crunch. I am definitely going to incorporate the Ritz cracker crust recipe into future recipes, its that delicious. Vidalia Onion Pie was beyond delicious. I enjoyed every single bite. Try Vidalia onion pie alongside grilled meats or as a side dish during the holiday season. Heck, serve it as the main dish.
Vidalia Onion History
Vidalia onions are the namesake of Vidalia, Georgia where they thrive. At their best, these large, pale yellow onions are exceedingly sweet and juicy. They're usually available much of the year in regions where grown and from May through July elsewhere. In Georgia, they're proud of their famous seasonal treat. In the 1930's, Vidalia onion's were discovered by accident.
While still grown with great care in Vidalia GA, you can now purchase Vidalia onions across the US and select locations in Canada. Cultivated for more than 80 years by onion growers, the Vidalia Onion is considered America's favorite sweet onion. It takes unique conditions to grow these sweet onions. Its distinctive taste is derived from the combination of weather, water and soil uniquely found within 20 South Georgia countries.
Vidalia onions are considered seasonable. Hand planted, harvested and cured each season, the sweet, juicy bulbs are available within a limited window from April to August. Impeccable in quality, the Vidalia Onion is sweet and crisp with a distinctive flavor all its own that can't be replicated anywhere else in the world.
Considered a favorite sweet onion by chefs and home cooks everywhere, the Vidalia onion is known for its sweetness and versatility. From soups to salads to even desserts, Vidalia onions compliment any dish.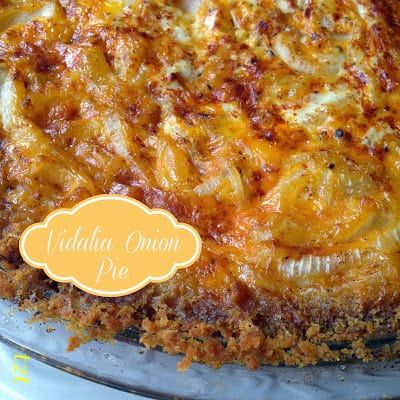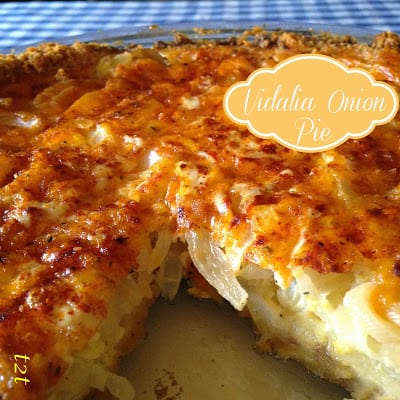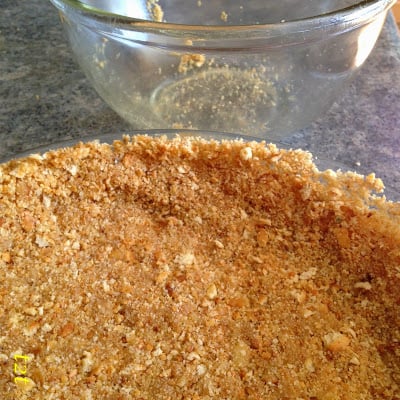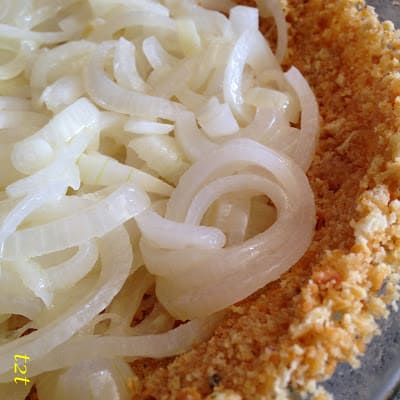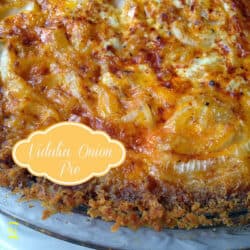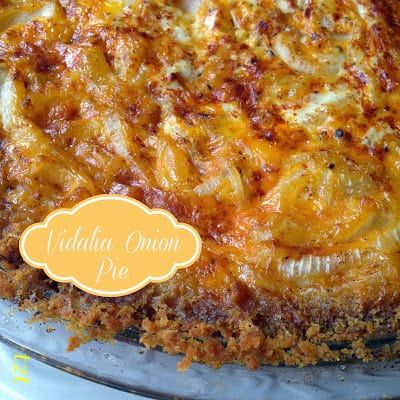 Cheddar and Ritz Cracker Vidalia Onion Pie  
Ingredients
1

cup 

Ritz cracker crumbs

4

tablespoons

butter, melted

2

cups

Vidalia onions, thinly sliced

2

tablespoons

butter

2

eggs

3/4

cup

milk

3/4

teaspoon

salt

dash of pepper

1/3

cup

shredded sharp cheddar cheese

1/4

teaspoon

paprika
Instructions
Mix Ritz crackers crumbs and melted butter.

Press into an 8 inch pie plate.

Saute Vidalia onions in 2 tablespoons butter until clear, but not brown.

With slotted spoon, spoon onions onto Ritz cracker crust.

Beat eggs with milk, salt, and pepper, pour over onions.

Sprinkle with cheese and paprika.

Bake at 350 for 30 minutes or until firm in the center.
Notes
Recipe Note: 
If you read the comment section below, many people have had trouble with the crust becoming soggy. Personally, I didn't have any problems with my crust but I'll try to offer a few suggestions. First, make sure you use an 8-inch pie plate. I used a Pyrex pie plate. Try adding an extra 1/3 cup cracker crumbs and the recipes calls for a half a stick of butter which is 4 tablespoons. Please use real butter. Margarine contains a lot of water. Gently pat the sautéed onions with paper towels before adding them to the crust. Bake pie on the bottom rack of your oven. Bake an extra 15 to 20 minutes and crust is a deep golden brown. I hope these tips help you out because this pie is so worth it:) Let me know.
Recent Recipe: Velveeta Down-Home Mac n Cheese