Authentic German Rouladen
We may earn money or products from the companies mentioned in this post.
Authentic German Rouladen
Today on Turnips 2 Tangerines we will be making a classic German dish, Authentic German Rouladen. This classic and traditional German dish is made of super thin slices of steak,  stuffed with pickles, bacon, mustard and onions. The rolls are simmered and the pan drippings are made into a delicious gravy. To really experience true, authentic German cuisine, make this classic comfort food. Serve Rouladen with any of these yummy side dishes: German Potato Salad, Horseradish Mashed Potatoes or Spatzel.
Recipe Origins 
The origin of Rouladen, pronounced: [Roo-LA-Dn], can be found in Germany via Brussels. Rouladen is a common dish and is a family favorite. Surprisingly, it's a fairly simple dish to prepare. The precise origin of this dish is unknown, however it is known that the dish originates in Europe. The word "roulade" originates from the word "roulette" and in French it means "to roll." It seems most countries have their version of rouladen. France has, Italy has and the Dutch have their.
Beef Rouladen is a special dish that is served across Germany. It's made from pickles, mustard and bacon rolled up inside beef, then cooked in a gravy. Beef Rouladen was served in Germany as a special dish, served mostly on Sundays, on holidays or special occasions. As the years have gone by, this practice has changed. Roulden has been transformed from a dish made for special occasions to a dish that can be made any day of the week.
Traditional Dish
If you want to experience Germany but aren't quite ready to purchase a ticket, make this dish at home. It will bring a taste of Germany to your kitchen! As with many traditional dishes, you will find a few variations as too how it is prepared. The most popular way to prepare rouladen is to use very thin, long slices of beef, spread with a layer of mustard, then topped with bacon, thinly sliced onions, and finally, pickle spears. The beef is rolled up with all the fillings inside and secured together with a toothpick or tied with bakers twine.
The beef rolls are browned on all sides and liquid such as beef stock or water is added. You will braise the beef on low.
Once cooked, you thicken the cooking liquid to form the gravy. In terms of the cooking liquid, some add vegetables to make it richer, while others simply use water that absorbs the flavor from the beef. Some recipes add a few herbs as well, although this is less typical. A little red wine to deglaze the pan and add some flavor and then simple used water or beef stock, as you prefer. Return the beef rouladen back to the pan and simmer 10 – 15 minutes. Serve with your favorite sides.
UP NEXT: Authentic German Potato Salad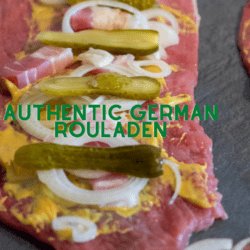 Authentic German Rouladen
Make it German Night at your house tonight!
Ingredients
2

tablespoons

oil

6

thin slices of beef

,

(flank steak) 1/4-inch thick

2

tablespoons

mustard

,

sharp German yellow mustard

6

slices

smoked bacon

1/2

onion

,

thinly sliced

3

dill pickle spears

,

cut in half.

1 1/2

tablespoons

butter

1 1/2

cups

beef stock

1/4

cup

red wine

,

optional

1

tablespoon

cornstarch

salt and pepper to taste
Instructions
Spread a small amount of mustard on each slice of beef, top with a slice of bacon, a few slices of onion and a a pickle spear half. Roll up and secure with toothpicks. Heat oil in a skillet over medium heat, add rolled beef slices and brown on all sides. Remove beef rolls to a place and set aside. In same skillet add butter; stir until melted. Add beef stock, wine if using and bring to a boil, stirring constantly, reduce heat to a simmer. Stir in cornstarch and season with salt and pepper. Return beef rolls back to the skillet and let simmer for 45 minutes or until heated through.
Nutrition
Calories:
209
kcal
,
Carbohydrates:
6
g
,
Protein:
11
g
,
Fat:
15
g
,
Saturated Fat:
4
g
,
Polyunsaturated Fat:
2
g
,
Monounsaturated Fat:
7
g
,
Trans Fat:
1
g
,
Cholesterol:
33
mg
,
Sodium:
682
mg
,
Potassium:
365
mg
,
Fiber:
1
g
,
Sugar:
1
g
,
Vitamin A:
137
IU
,
Vitamin C:
1
mg
,
Calcium:
21
mg
,
Iron:
1
mg
*Nutrition Information Is An Estimate*