Chocolate Cherry Whoopie Pies
We may earn money or products from the companies mentioned in this post.
Chocolate Cherry Whoopie Pies (with video)
Helloo Everyone! Welcome back to Turnips 2 Tangerines. Today I'm going to share with you an easy recipe for chocolate cherry whoopie pies. The pies are filled with a deliciously, creamy, marshmallowy filling made with cherry juice and studded with chopped maraschino cherries. Sounds yummy, doesn't it?! Whoopies pies might seem complicated to make but they're really super easy to throw together. The classic whoopie pie is made from scratch with recipes handed down through families. For convenience reasons, many whoopie pie recipes are now made with packaged ingredients, similar to the recipe below for Chocolate Cherry Whoopie Pies (with video) So let's do this!
New England Favorite
Since I knew very little about whoopie pies and the origins of this New England favorite, I did some research. When I need to find information or "the history of" something, I head on over to What's Cooking America and 9 times out of 10, I can find the information I'm looking for. During my research, I've noticed one thing. Most, if not all of the much loved recipes that contain sweet and creamy Marshmallow Fluff hail from the New England states. Prime example…the Fluffernutter. Slices of white bread smeared with peanut butter and then smeared with a layer of marshmallow fluff. For Real?!?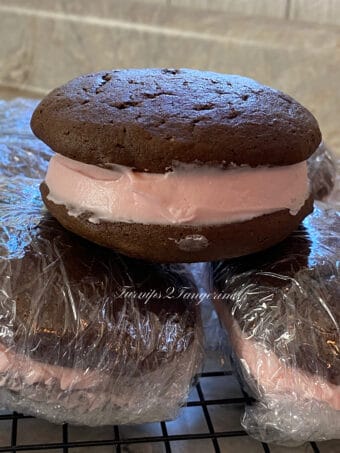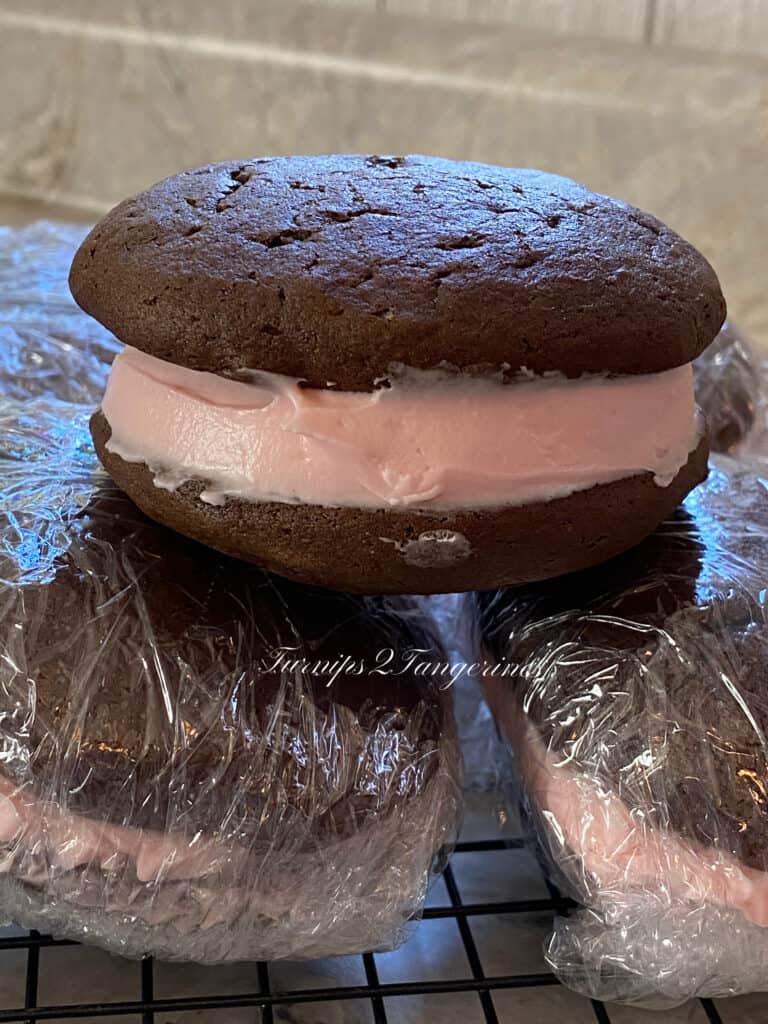 Where I come from, here in Wisconsin, I'd never heard of a sandwich called a fluffernutter, much less tasted one. My only experience with marshmallows is threading them on a stick, roasting them over a roaring fire, (usually at dusk) and making s'mores. In fact, I ate my very first fluffernutter recently when I made Fluffernutter Cookies which I might add, I absolutely love! I'm in my early 60's so I guess you can teach an old dog new tricks! Now come to find out, that Whoopie pies are filled with this New England staple too. Marshmallow fluff. What's with this stuff?!?
Whoopie Pies
Considered a New England phenomenon and a Pennsylvania Amish tradition. Unbeknownst to most, they're also called "gobs" in Western Pennsylvania. They are one of Maine's best know and much loved comfort foods. In Maine, the whoopie pie is more like a cake than a pie or cookie. They're considered large in size, compared to that of a hamburger bun. A whoopie pie is like a sandwich, but made with two soft cakes or cookies, then filled with a fluffy, creamy marshmallow frosting.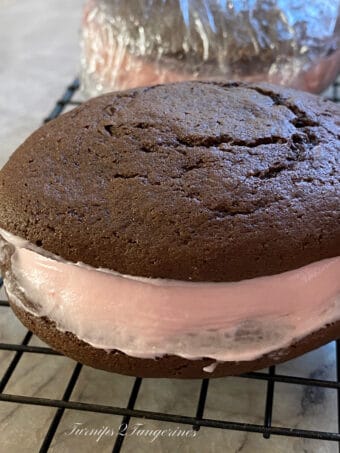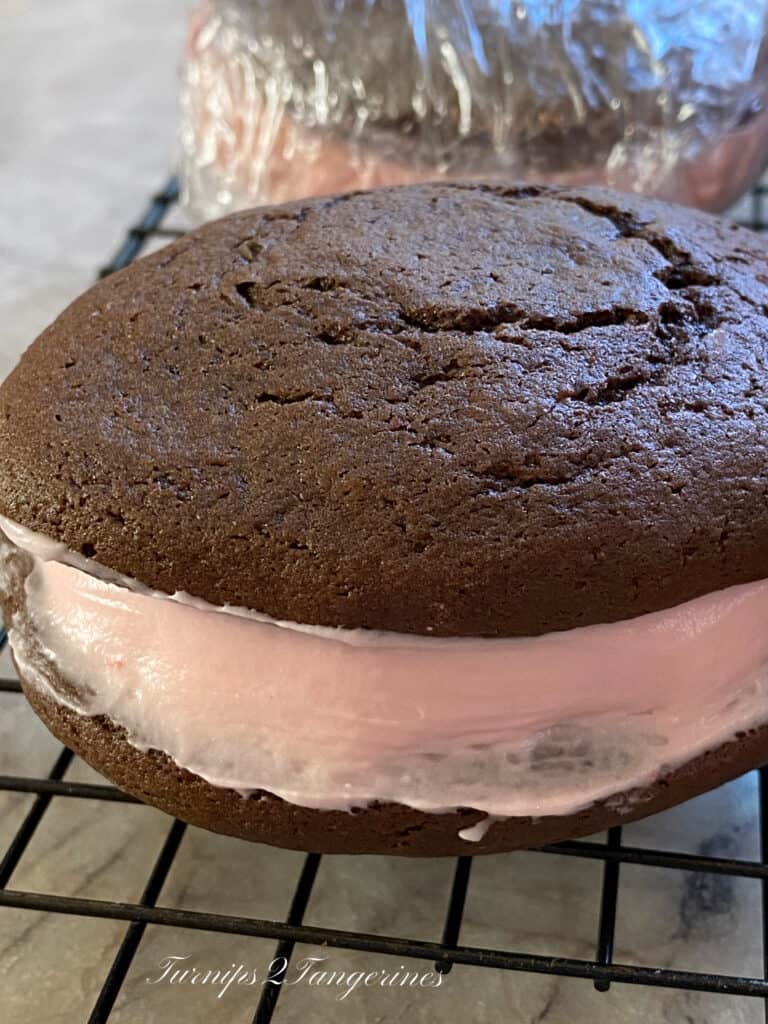 Traditional pies are made with vegetable shortening, not butter. The original and most commonly made whoopie pie is chocolate. Seasonal variations are popular such as pumpkin whoopie pies and peppermint whoopie pies. Chocolate Whoopie Pies with Maple Cream and Mint Chocolate Cookies with Mint Buttercream are two seasonal favorites we've made here on Turnips 2 Tangerines. (so far)
Amish Whoopie Pies
The recipe for whoopie pies has its origin with the Amish in Lancaster county Pennsylvania, where it's not uncommon to find roadside farm stands selling these delicious desserts. Amish cooking is about old traditional recipes and not wasting food. Whoopie pies were considered a special treat and were originally made with left-over cake batter. According to Amish legend, when children would find the treats in their lunch bags, they would shout "Whoopie!"
The first whoopie pies sold are from the Labadie's Bakery in Lewiston, Maine. They first started selling Whoopie Pies in 1925 with the opening of their bakery. The Labadie's Bakery remains in the same location today. The Berwick Cake Company of Roxbury, Massachusetts also manufactured "Whoopee Pies" since at least 1931. Berwick closed its Roxbury plant in 1977.
If you like marshmallow fluff as much as we do, try these delicious recipes using marshmallow fluff. Mallo Cups or this recipe for Marshmallow Fluff Frosting.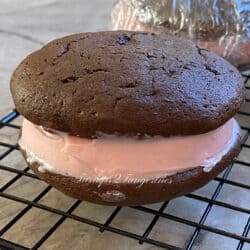 Chocolate Cherry Whoopie Pies
An easy and delicious whoopie pie recipe made easy with packaged ingredients.
Ingredients
1

15.25 oz

box Devil's Food cake mix

3/4

cups

water

1/2

cup

vegetable oil

3

eggs

1-

4 serving size box

chocolate fudge instant pudding and pie filling

1

cup

butter, softened

3

cups

powdered sugar

1-

7 oz container

marshmallow fluff

2

teaspoons

vanilla

4

tablespoons

maraschino cherry juice

2

tablespoons

chopped maraschino cherries
Instructions
Preheat your oven to 350°F.

Combine the Devil's food cake mix, water, vegetable oil, eggs, and pudding mix in a large mixer bowl. Beat on medium until well blended. Make 18 evenly sized scoopfuls of batter on Silpat-lined baking sheets. Form a round shape.

Bake for 12-15 minutes, depending on the size of the batter circles. Let fully cool before decorating.

Make filling:

Beat butter until very creamy. Slowly add in powdered sugar and continue beating until combined. Add vanilla and fluff. Mix in cherry juice adding more if desired. Carefully mix in chopped cherries.

Frost flat side of one whoopie pie. Place another whoopie pie, flat side down on top to the filling, pressing down lightly.

Wrap whoopie pies individually in plastic wrap. Store in the refrigerator.