Sourdough Carrot Cake with Cream Cheese Frosting
We may earn money or products from the companies mentioned in this post.
Sourdough Carrot Cake with Cream Cheese Frosting
Welcome back to Turnips 2 Tangerines. Today I have a special treat for you, Sourdough Carrot Cake with Cream Cheese Frosting is a very special treat. I have been MIA here on the blog as of late. I have been busy though, in fact you can find me over at my YouTube channel where I've been spending a lot of time. If you know me at all, you are well aware of how I work. I get an idea in my head, toss it back and forth for awhile and then without looking, jump in with both feet.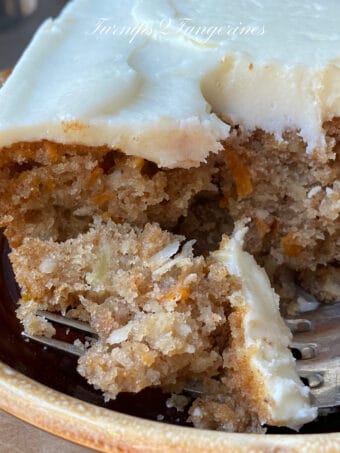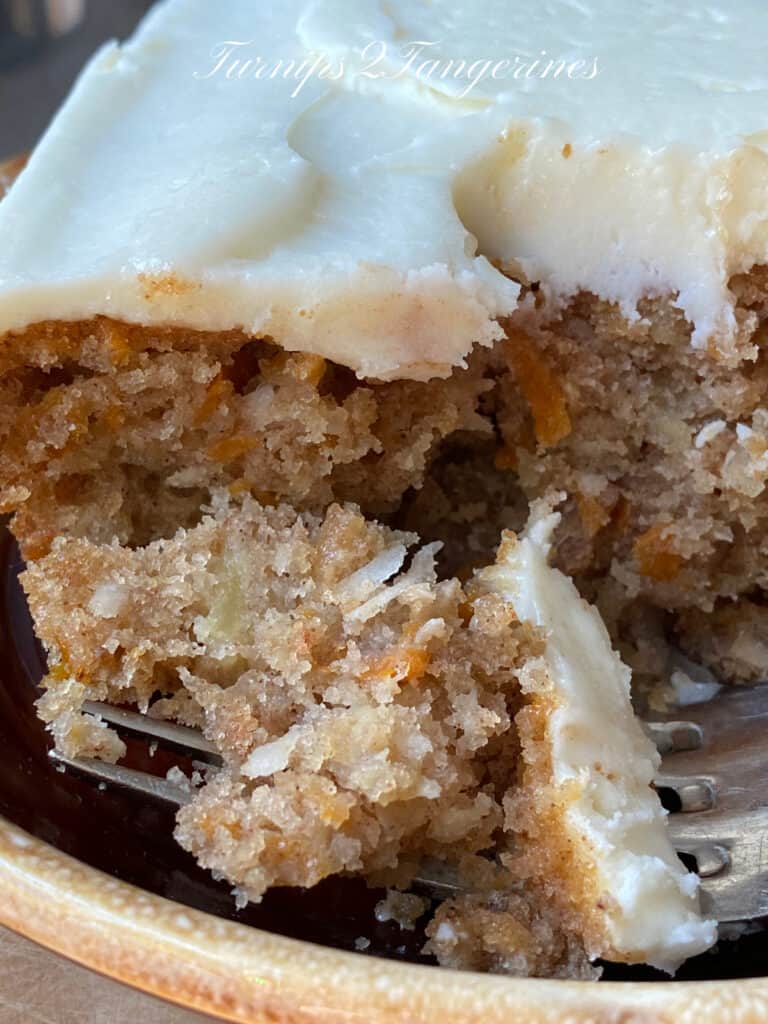 The idea then turns into an obsession and it grows into a life of its own. What I once was afraid to do, I now can't seem to get enough of:) I recently made a Sourdough Carrot Cake with Cream Cheese Frosting for my hubby. I'm not a usually a huge fan of carrot cake but after one bite of this super moist delicious cake, I have now been converted to a fan.
Carrot Cake, Hubby's Favorite
I've wanted to make a sourdough carrot cake ever since I first saw this recipe in my 'cookbooklet' Simply Sourdough, The Alaska by Kathy Doogan. That was probably 8 years ago. Well, the time has finally come to give this recipe a try. Not only will I be making a recipe that I've wanted to try but my hubby will be absolutely delighted to know he can have a whole carrot cake too himself. Carrot cake is his all thyme favorite cake and something he's been begging me to make since we got married some 25 years ago.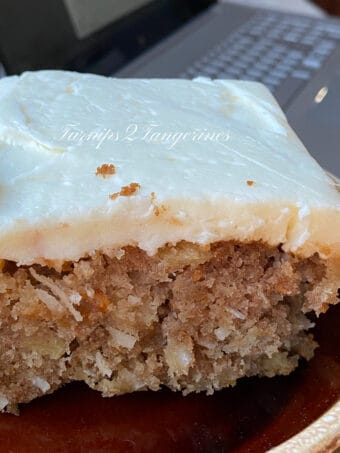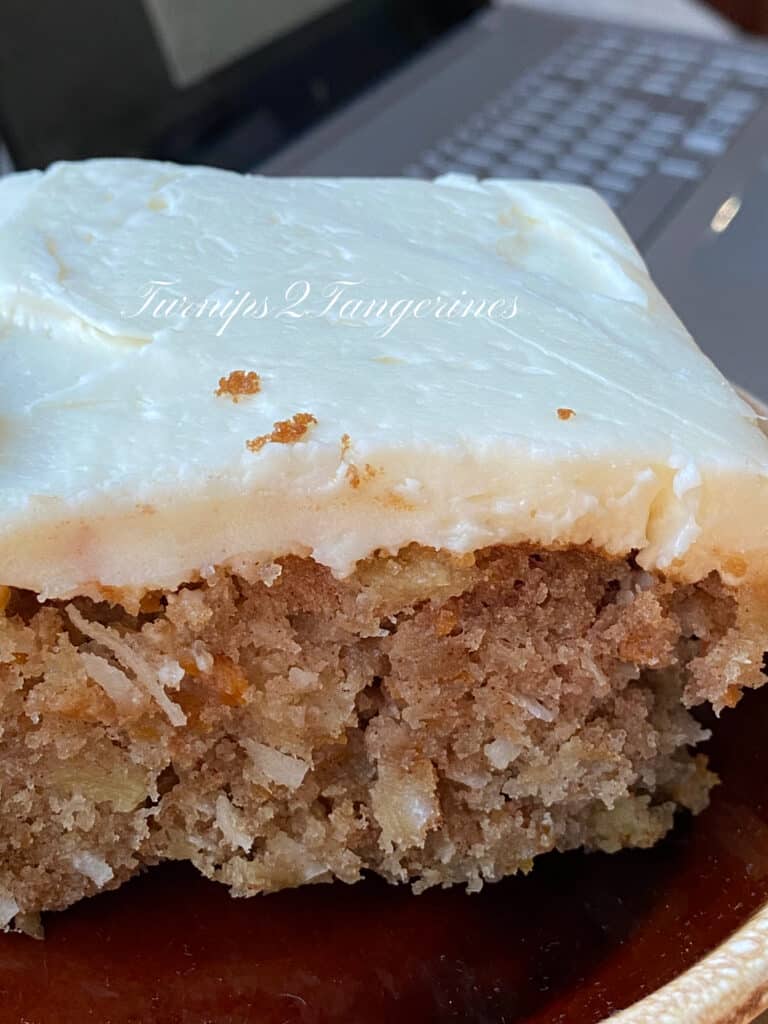 Made With
In my opinion, (probably everyone's opinion who enjoys a slice of carrot cake will tell you) my favorite part of the cake is the cream cheese frosting. For some reason, cream cheese frosting goes perfectly with carrot cake. I mean, what other frosting would you use? Vanilla? Nope. Chocolate? Never. Cream cheese frosting was made for carrot cake and vice versa.  You might get away with some ice cream but all in all the classic and traditional frosting is cream cheese. There are several different recipes for cream cheese frosting but they all contain the same few ingredients:
cream cheese
butter
vanilla extract
powdered sugar
milk
The Carrot
Lets talk about the carrot part of this recipe, shall we. As I've stated above, I'm hardly an expert on the makings of carrot cake but it seems to me that there are a few requirements needed to make a good carrot cake. The carrots. In my humble culinary opinion to best carrots to use would have to be farm, fresh carrots (the kind you can find in the summer at farmers markets or roadside stands), are essential to a good carrot cake. Peel & grate the carrots right before adding to the batter. I even found a recipe online that called for using two jars of strained carrots baby food. Ahhh, no. This particular recipe calls for:
shredded carrots
sweetened coconut
crushed pineapple
chopped walnuts (which I omit)
There are many variations of carrot cake but this recipe for sourdough carrot cake with cream cheese frosting is by far the best I've ever had. The recipe is from a recipe cookbooklet that I've mentioned many time before. Simply Sourdough, The Alaska Way by Kathy Doogan. You can purchase her cookbooklet on Amazon.
Recent Video
Here are a few of our Carrot Recipes 🥕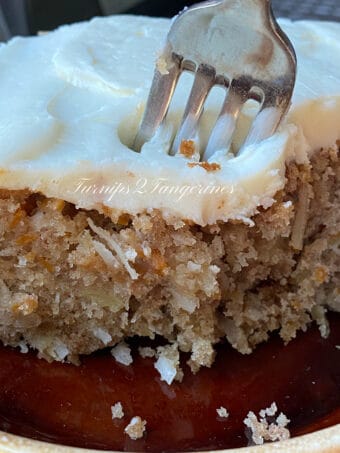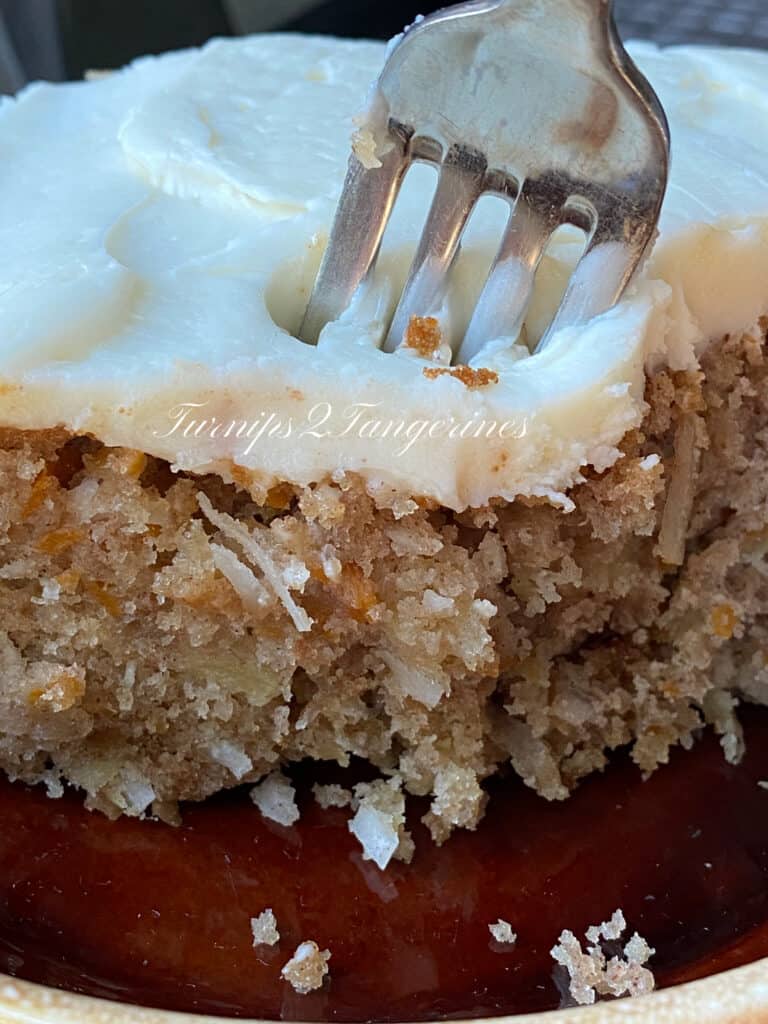 Sourdough Carrot Cake with Cream Cheese Frosting
A classic carrot cake recipe, topped with a classic cream cheese frosting that everyone loves!
Ingredients
1 1/2

cups

vegetable oil

2

cups

sugar

1

cup

fed sourdough starter

1

20 oz can

crushed pineapple, drained

2

cups

shredded carrots

1/2

cup

chopped walnuts

1/2

cup

shredded sweetened coconut

2

teaspoons

vanilla extract

2 1/2

cups

flour

1/2

teaspoon

salt

1

teaspoon

baking soda

2

teaspoons

ground cinnamon

Cream

Cheese

Frosting

8

ounce

cream cheese, softened

1/4

cup

(1/2 stick) butter, softened

3 1/2 - 4

cups

confectioners' sugar

1

teaspoon

vanilla extract

1 1/2

tablespoons

milk or heavy cream
Instructions
Mix together oil and sugar. Add starter and eggs, one at a time, beating well after each. Fold in pineapple, carrots, nuts, coconut and vanilla.

Sift together flour, salt, baking soda and cinnamon; add to the starter mixture and blend well. Pour batter into greased and floured 13 x 9- inch pan.

Bake at 350° for 45 to 50 minutes or until toothpick inserted in center comes out clean. Cool and frost with cream cheese frosting.

Make Crean Cheese Frosting: Combine all ingredients together, beating until smooth, frost cake with frosting. Garnish with more chopped walnuts if desired.