English Toffee Fudge
We may earn money or products from the companies mentioned in this post.
English Toffee Fudge
Hi everyone! Welcome back to Turnips 2 Tangerines. Today we are sharing a recipe for fudge. After all, in my house the holidays signal the arrival of Fudge Making Time! Last year with our kitchen being under construction, we weren't able to partake in fudge making time but this year I decided to make a few batches using candy bits. English Toffee Fudge is the first batch we made using Heath Toffee Bits, Milk Chocolate Butterfinger Fudge is made butterfinger baking bits and White Chocolate Gumdrop Fudge is made with red cinnamon gumdrops.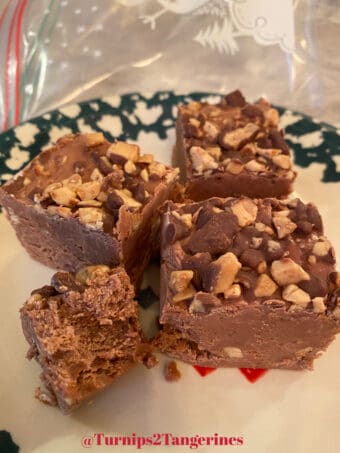 The Best Recipe
I've been making fudge using this same recipe for many years. Why? It always, always turns out. Now some fudge connoisseurs will probably disagree with me, saying that this recipe isn't "true" fudge. Well I will have to disagree with them and so will my family, who loves my fudge. My grandma Rose made fudge every holiday season and she might agree with the connoisseurs but I think she would be happy to know that I'm keeping with the tradition of making fudge. This recipe for Toll-House Fantasy Fudge is not only fast and simple to make, it's fool-proof. I have never, ever made a batch of fudge using this recipe that didn't turn out! I suppose that's probably why I have stuck with this recipe for so long. As the old saying goes, "if it ain't broke, don't fix it!"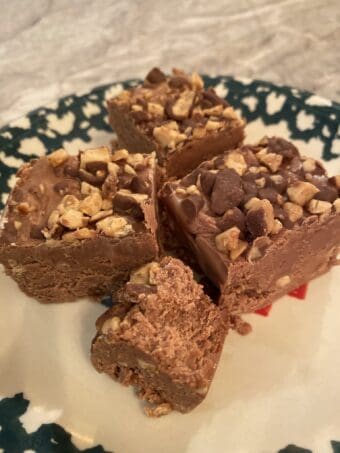 Gift Worthy
Not only does this fudge tastes good, it makes an easy and relatively inexpensive holiday gift. Perfect for any gift giving occasion, English Toffee Fudge is the perfect gift for someone like me who loves English Toffee. Heath candy bars, Skor candy bars and Trader Joe's  English toffee are a few of my favorites.  Yum, my mouth is watering! One of these days, I'm going to try my hand at making toffee. The problem is, I can't seem to master the fine art of caramel making. So, I'm actually thinking that I might have a problem making toffee too. But I guess I won't know until I try, right?! As for giving a square of homemade fudge as a gift? Hey, why not! I personally can't think of one person who wouldn't love a chunk of fudge as a gift…nope not one!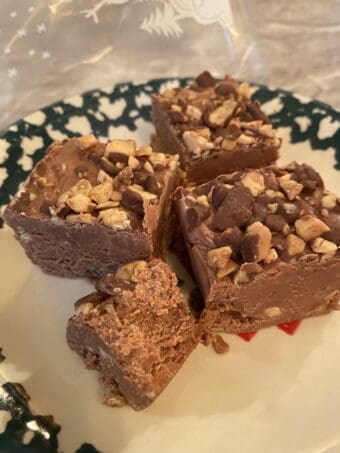 UP NEXT: Thai Ginger Lettuce Wraps & Peanut Hoisin Sauce
"Oh Fudge!"
Strawberry and Cream Fudge
White Chocolate Coffee Toffee Fudge
Candy Cane Fudge
Chocolate Covered Cherry Fudge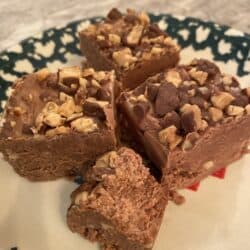 English Toffee Fudge
English Toffee Lovers Delight
Ingredients
1 1/2

cups

granulated sugar

2/3

cup

evaporated milk

2

tablespoons

butter

1/4

teaspoon

salt

1-

7 oz

container marshmallow creme

1-

11 oz

package Ghirardelli Milk Chocolate chips

1-

8 oz

bag Health Bar Bits

1

teaspoon

vanilla extract
Instructions
Step 1

Line 8-inch-square baking pan with foil. Lightly butter.

Step 2

Combine sugar, evaporated milk, butter and salt in medium, heavy-duty saucepan. Bring to a full rolling boil over medium heat, stirring constantly. Boil, stirring constantly, for 4 to 5 minutes. Remove from heat.

Step 3

Stir in marshmallow creme, chocolate chips, candy bits and vanilla extract. Stir vigorously for 1 minute or until marshmallow and chips are melted. Pour into prepared baking pan; refrigerate for 2 hours or until firm. Lift from pan; remove foil. Cut into 48 pieces.