Thai Ginger Lettuce Wraps & Peanut Hoisin Sauce
We may earn money or products from the companies mentioned in this post.
Thai Ginger Lettuce Wraps with Peanut Hoisin Sauce
This post is sponsored by Serious Foodie. I recently entered this delicious recipe in The Serious Foodie Recipe Challenge. Thai Ginger Lettuce Wraps with Peanut Hoisin Sauce can be served as an appetizer or as a light lunch. Either way, this recipe is easy to make and is super delicious. The sauce takes these lettuce wraps to new flavor heights. The sauce is delicious served with egg rolls or any number of dishes.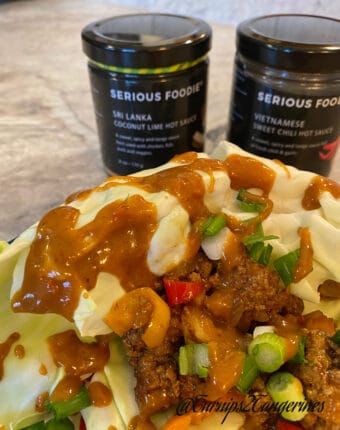 Serious Foodie
A word about todays sponsor; Serious Foodie. Founded in 2014 as a food and travel blog. They heard from friends and family members that it would be fun and a great service to share some of their experiences of world cuisines to other serious foodies. So they did just that. Serious Foodie is made using a small batch, artisan approach. With an eye on the quality of each and every ingredient, right down to the salt used. Serious Foodie uses at least one ingredient in each product that is region specific.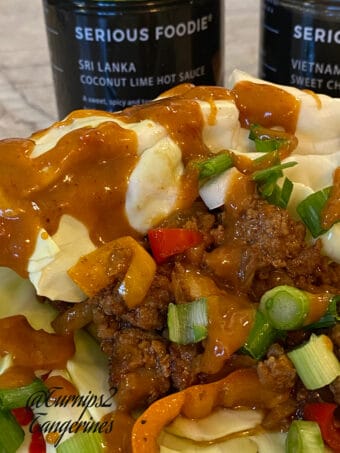 Cabbage Instead Of
When thinking about recipes for this challenge, I had decided to make lettuce wraps. However, when I went to the grocery store to pick up a head of lettuce for this recipe, I was shocked! The store was asking $4.59 for one head of lettuce. Not to mention the fact that the head of lettuce should have been pitched days ago. Anyway, I'm sorry but I'm not paying $4.59 for a head of lettuce. No way…
So, I went with a head of cabbage. At .29 cents a pound, that was reasonable. After trying this recipe both ways, once with lettuce leaves and once with cabbage, I prefer the raw cabbage leaves instead. The cabbage leaves held up better and it was easier to scoop up the super, duper delicious Peanut Hoisin Sauce. It turned out to be a Win Win recipe.
UP NEXT: Slow Cooker Tamale Pie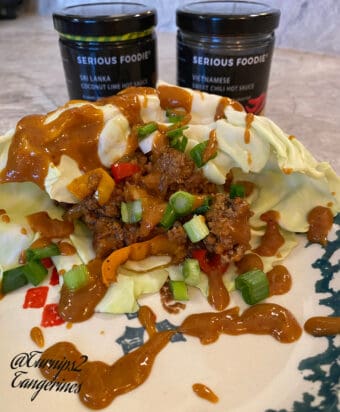 Follow Serious Foodie
Thai Ginger Lettuce Wraps with Peanut Hoisin Sauce turned out to be one of my family's favorite recipe. I have doubled and tripled the recipe and we always seem to polish it all off. My family likes Thai Ginger wraps served as an appetizer. I keep the filling warm in a slow cooker. A bowl of lettuce and a bowl of cabbage leaves are served near the slow cooker, along with some extra sauce. The perfect holiday or game day appetizer!
More Tasty Recipes
Asian Style Sticky Chicken Drumsticks
Pork Chow Mein
Asian Inspired Sesame Pork Ribs