Summer Garden Cucumber Salad
We may earn money or products from the companies mentioned in this post.
Summer Garden Cucumber Salad
It's Summertime!! 🎶Summertime, Summertime, Sum Sum, Summertime🎶 Are you really for another summer salad? Do you want a summer salad with a Greek flair? Then you're sure to love this one! Cucumbers, tomatoes, feta cheese and Greek seasoning. Summer Garden Cucumber Salad is a delicious and refreshing salad that is perfect for any summer get together. When cucumbers and tomatoes are in season in your area of the country, make sure to use garden fresh vegetables. Fresh will take this salad to new heights.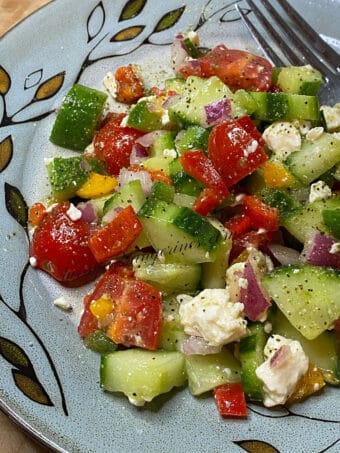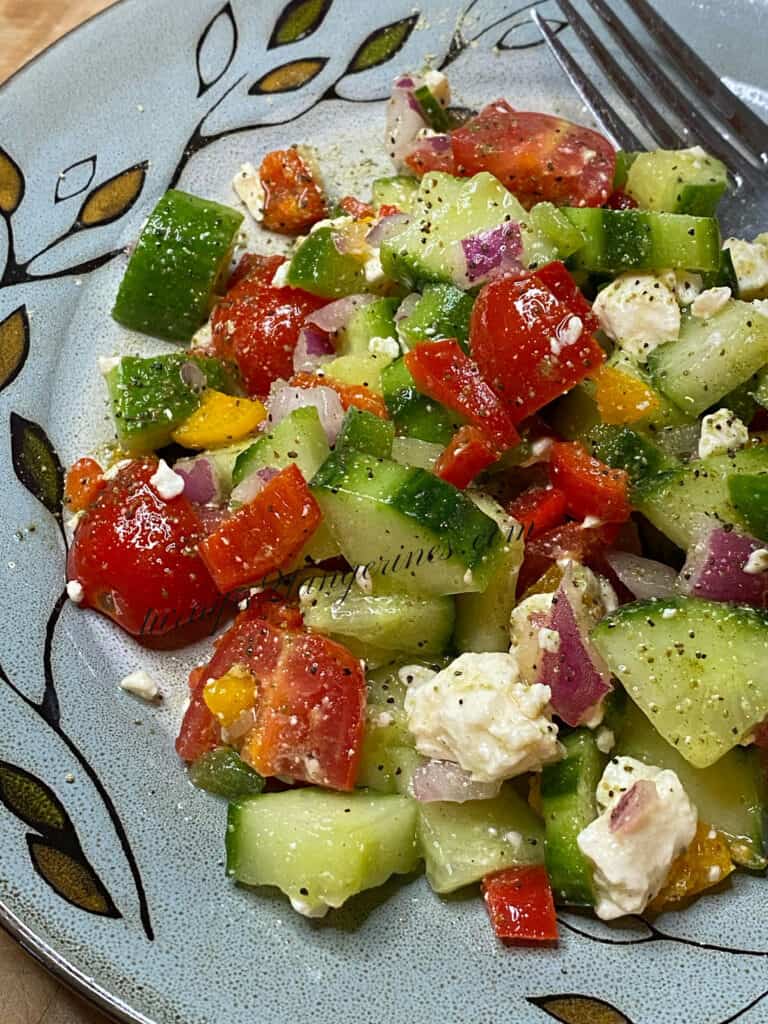 Greek Seasoning
For this recipe I used a fantastic seasoning blend called; Cavender's Greek Seasoning. This was the first time that I have ever used Cavender's seasoning. Let me tell you, it hasn't been the last time! Since I have discovered Cavender's, I have sprinkled this incredible seasoning blend on everything! Scrambled eggs, grilled steak, corn-on-the-cob and macaroni  salad. I purchased Cavender's seasoning mix at Walmart but you can also purchase it online, through their website where you'll find some fantastic recipes.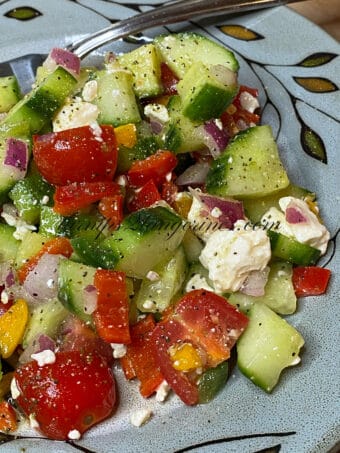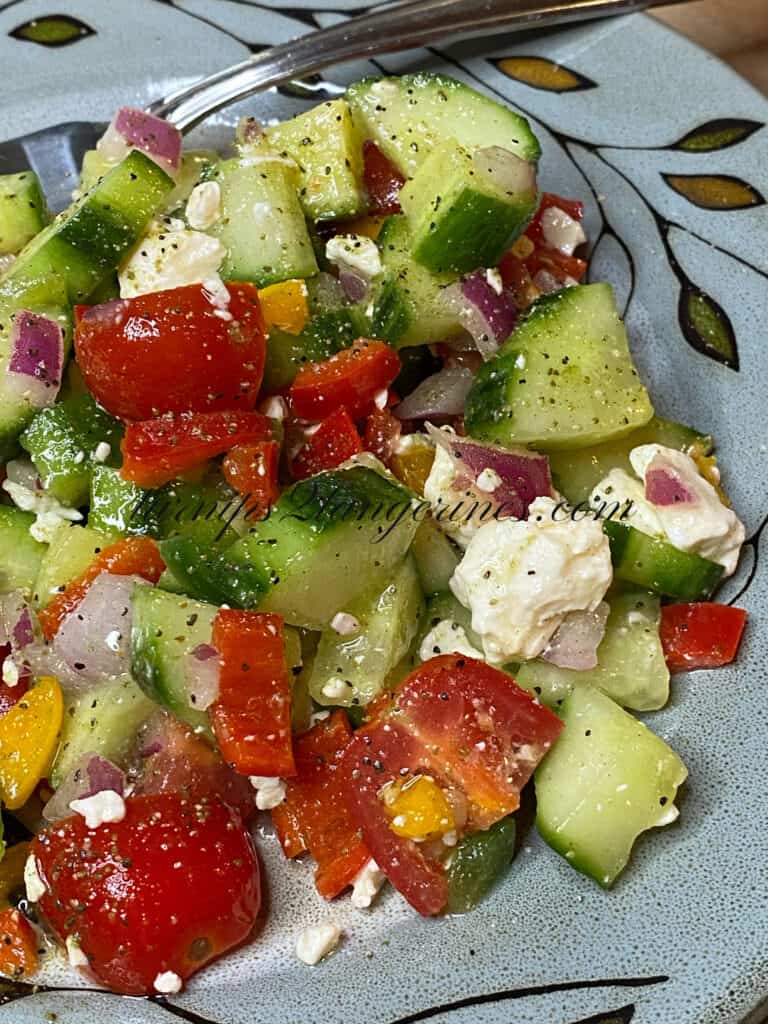 Cavender's Greek Seasoning
"Cavender's Greek Seasoning has been made in the Ozark Mountains in Northwest Arkansas since 1969.  The spice is a unique blend of 13 ingredients that is best used on anything you would normally salt and pepper. We are proud to call Harrison, Arkansas the home town of our seasoning products.  Without the loyal support and word of mouth advertising from our customers, our seasoning blend would not have enjoyed the long running success that is known from S-C Seasoning Company Inc.  We invite you to try Cavender's Greek Seasoning for yourself and be creative!"
UP NEXT: Easy Summer Macaroni Salad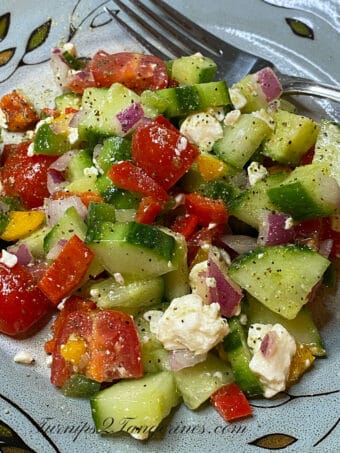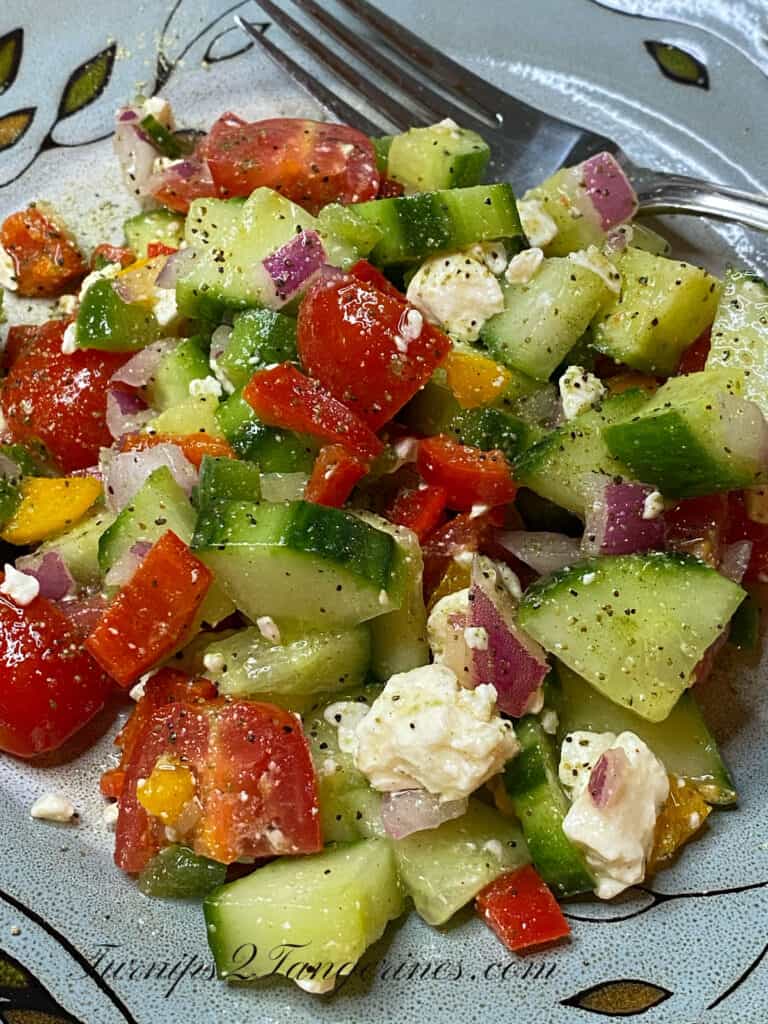 Looking for more?
My hubby loves cucumbers so here on Turnips 2 Tangerines we have lots of recipes with cucumbers as an ingredient: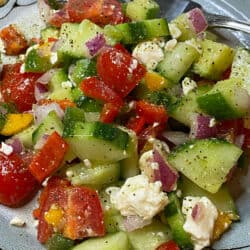 Garden Cucumber Salad
The mix of fresh cucumbers, vegetables, feta cheese, and Greek seasoning is so refreshing on warm summer day.
Ingredients
4

medium

cucumbers, cut into 1/2-inch pieces

2

medium

sweet red peppers, chopped

1

cup

cherry tomatoes, halved

1

cup

crumbled feta cheese

1/2

cup

finely chopped red onion

1/2

cup

pitted kalamata olives

1/2

cup

olive oil

1/4

cup

lime or lemon juice

1

tablespoon

Greek seasoning

1/2

teaspoon

salt
Instructions
Place all ingredients in a large bowl; toss gently to combine. Refrigerate the salad, covered, at least 30 minutes before serving.
Garden Cucumber Salad is only 125 calories per cup, so eat up!! Eat your veggies without any guilt and enjoy!! I just joined Misfits Market  and haven't even received my first box yet but wanted to pass long this savings to you. My daughter has been receiving boxes from Misfits Market for over 6 months now and I've decided to join the hundreds of other happy customers. Won't you join us!?!  Use the code below to receive $20.00 off your first order!
Share $20. Earn $20. Here's how you can start saving for every sign-up.