Cucumber Radish Sandwiches
We may earn money or products from the companies mentioned in this post.
Cucumber Radish Sandwiches
If you're looking for a cool and refreshing sandwich to serve for dinner on these dog days of summer, this one's for you. Cucumber Radish Sandwiches, sometimes called Cucumber "Tea" Sandwiches, aren't just for tea anymore. It's time to take this classic Southern-style fancy dancy sandwich and give it some Northern hospitality:)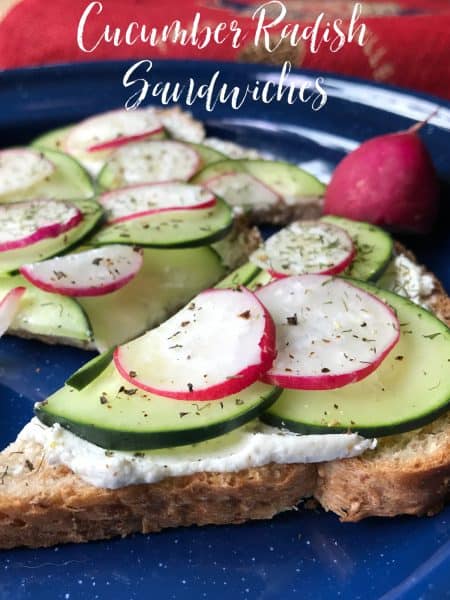 Northern Style
To add Northern hospitality to these traditional fancy cocktail sandwiches is really very easy. Head out to your garden, whether it be the backyard variety or the porch-style planter garden, and pick a few fresh cucumbers and radishes. What? Well ok, most of us don't grow radishes, so you'll need to head on down to the farmers market and pick up a bunch of radishes. While you're there, get some delicious Wisconsin tangy goat cheese:) Don't worry, I'm sure you'll find some goat cheese at the farmers market. If you can't find goat cheese, I'm sure you'll fine some form of cheese:) Head on back home and make cucumber radish sandwiches. Serve the sandwiches in true Wisconsin style, with an ice cold Leinenkugel Summer Shandy.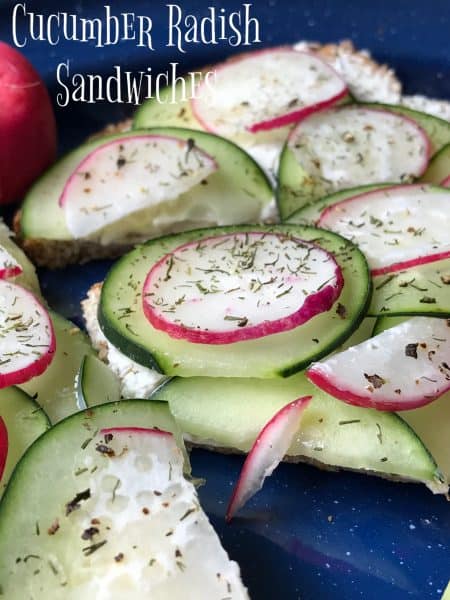 Dark Brown Bread
Another component to this bread that I can't stress enough is the bread. Use a hearty dark bread. This sandwich calls for a super hearty, fragrant and pungent dark bread such as a dark pumpernickel, dark rye or even a sourdough bread, if you're not a fan of the latter. Leave the white and whole wheat bread for peanut butter, even though I personally love peanut butter on toasted pumpernickel bread. For our sandwich, we used New England dark brown bread by Village Hearth Bread.  I like to use a tangy garlic and herb goat cheese for this sandwich. The goat cheese you can spread on rather thickly but on the other hand, the cucumbers and radishes should be sliced super thin.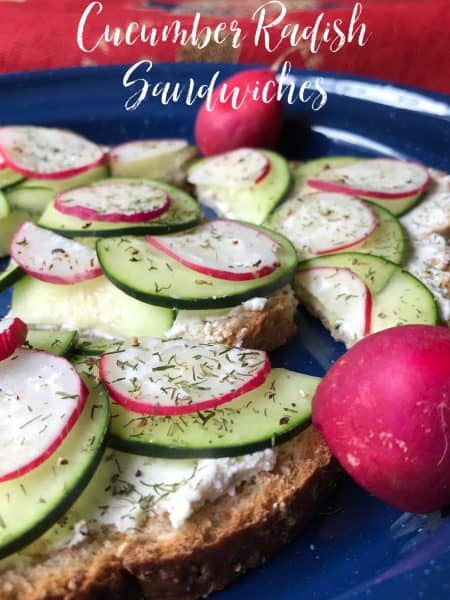 Super Thin
The last thing to remember when making this sandwich is to make sure to slice the cucumbers and radishes super thin. Ultimately the goal is to slice it so thin you can literally see through the slices. A mandolin works wonders for slicing vegetables super thin. If you don't own a mandolin, you might want to invest in one of these gadgets. They come in all shapes, sizes and price ranges. If you thrift shop like I do, you will surely come across one somewhere!! Believe it or not, you'll use it more often than you think. Especially this time of year when cucumbers, radishes, yellow squash and zucchini are in season. A word of caution though, these babies are sharp! I mean, slice your finger off sharp! Use extreme caution when using a mandolin. Take your time and go slowly:)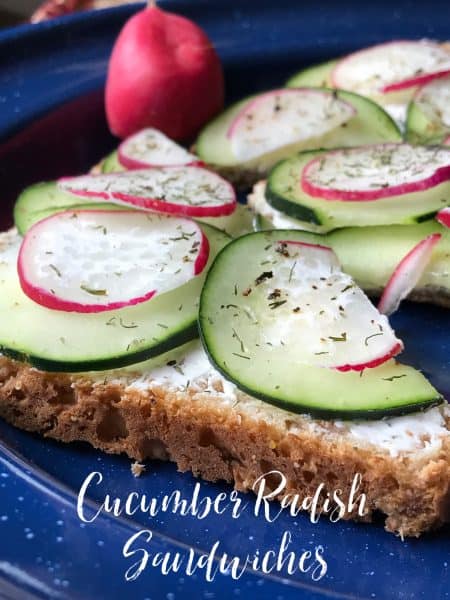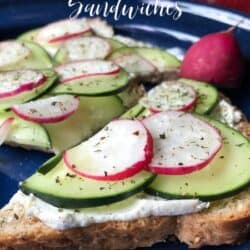 Cucumber Radish Sandwiches
Cool and refreshing cucumber pairs super with spicy radishes and tangy goat cheese.
Ingredients
6

slices

brown bread or rye bread

4

oz

garlic and herb goat cheese

1

cup

thinly sliced cucumbers

6

radishes, thinly sliced

dried dill weed, black pepper
Instructions
Spread bread slices with goat cheese. Top with cucumbers and radishes. Sprinkle with dried dill weed and freshly ground black pepper.
Nutrition
Serving:
1
Serving
,
Calories:
118
kcal
,
Carbohydrates:
13
g
,
Protein:
6
g
,
Fat:
5
g
,
Saturated Fat:
3
g
,
Cholesterol:
9
mg
,
Sodium:
227
mg
,
Potassium:
94
mg
,
Fiber:
2
g
,
Sugar:
1
g
,
Vitamin A:
210
IU
,
Vitamin C:
1.3
mg
,
Calcium:
47
mg
,
Iron:
1.2
mg
Here are a few more "cuke" recipes you have got to try:) 'Tis the season! Cheese Stuffed Cucumber Bites,  Open-faced Cucumber Sandwiches  and Cool Cucumber Radish Salad . Recent Recipe: Cherry Limeade Ice Pops