Cherry Limeade Ice Pops
We may earn money or products from the companies mentioned in this post.
Cherry Limeade Ice Pops
Hot and muggy days got you down? Cool off with some Cherry Limeade Ice Pops. They are nice and easy to whip up and what's even better, they're made with only 4 ingredients, 5 if you count the water. Cherry limeade ice pops are cool, refreshing and so yummy you won't be able to keep them in the house or should I say freezer:) This is another fantastic recipe featuring candied cherries from Paradise Fruit Co.  Candied red cherries from Paradise Fruit works wonderfully in this recipe. The cherries add sweetness and stay firm yet chewy even when frozen.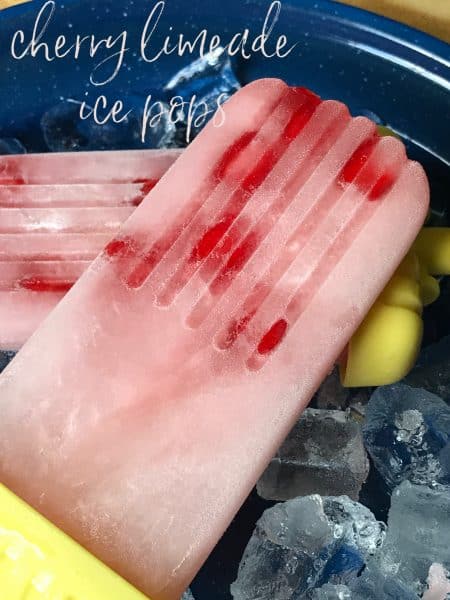 Limeade
I don't know what it is lately but I can't seem to get enough of Lime or Key Lime flavored anything! Key lime flavored water, key lime yogurt, key lime cheesecake and limeade. I really like the fresh, clean, crisp flavor of limes. This simple recipe showcases the tart flavor of limes with the added sweetness of dried cherries. Cherry Limeade Ice Pops are made with one 12 oz can of frozen limeade,  (you can most certainly make limeade from scratch) water, cherry 7-up, maraschino cherry juice and whole candied cherries. This recipe is as easy as one, two three.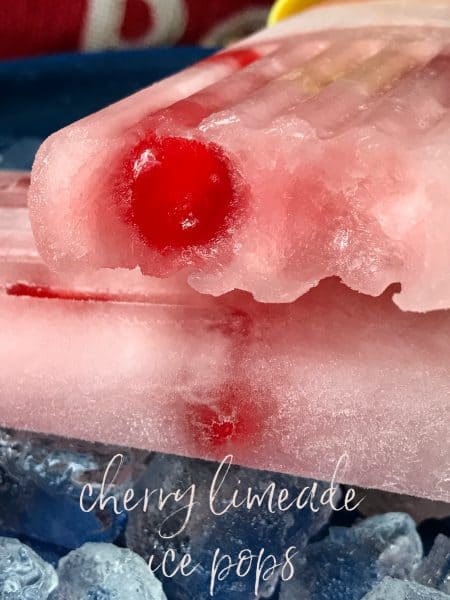 A Word About Limes
Limes are a small, lemon-shaped citrus fruit that has a thin green skin and a juicy, pale green pulp. Limes grow in tropical and subtropical climates such as Mexico, California, Florida and the Caribbean. Because they're an excellent source of vitamin C, limes were fed to sailors as a scurvy preventative. The two main lime varieties are the Persian lime, which is most widely available in the USA and the Key Lime from Florida. Key limes are smaller and rounder than the Persian lime. Outside of Florida, the Key lime is usually found in specialty produce markets and supermarkets that carry gourmet produce.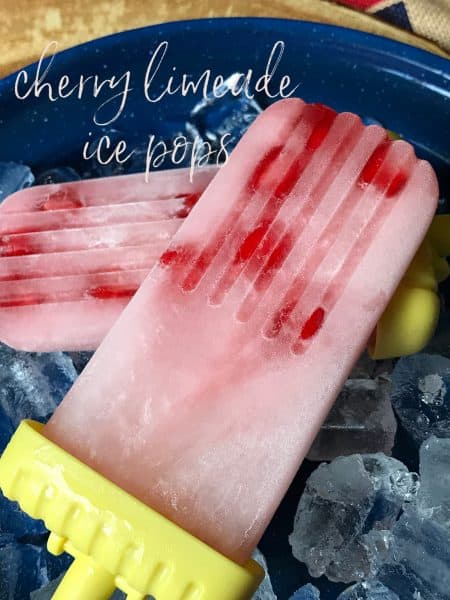 Minute Maid Limeade and Paradise Candied Cherries  were used in this fantastic recipe. You'll also need a set of groovy ice pop molds (12 total) for this recipe. We used our favorite groovy ice pop molds from Trovolo.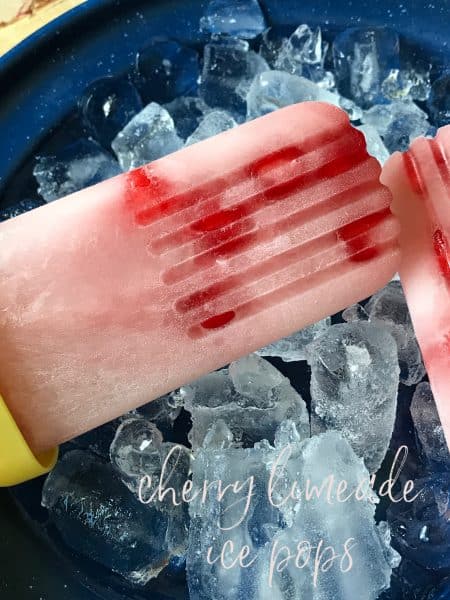 Recent Recipe: Cucumber Radish Sandwiches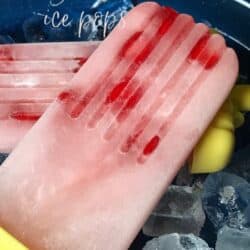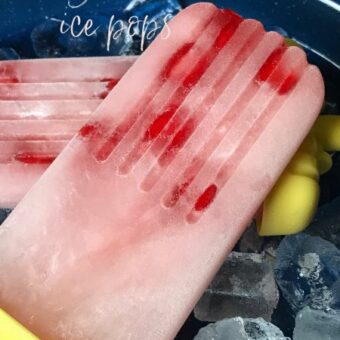 Cherry Limeade Ice Pops
A refreshing and easy way to cool off this summer:)
Ingredients
1-

12 oz can

frozen limeade, thawed

2

cans

water

2

cans

cherry 7-up

1/3

cup

maraschino cherry juice

1-

8 oz container

candied whole cherries
Instructions
In large pitcher, stir together thawed limeade mix, water, cherry 7-up and cherry juice.

Drop 3 or 4 whole candied cherries into each ice pop mold. Fill each mold half way with limeade cherry mixture. Drop in 2 or 3 more whole candied cherries. Top off with more limeade cherry mixture.

Carefully place stem end into mold. Freeze ice pops overnight.
Notes
Recipe Note: Adjust water, 7-up and cherry juice according to personal preference. 
Nutrition
Looking for more lime inspired recipes? Here you go. Frozen Mini Key Lime Tarts,  Coconut Lime Jasmine Rice and Lime Cherry Berry Scones