German Cucumber Salad Gurkensalat
We may earn money or products from the companies mentioned in this post.
German Cucumber Salad Gurkensalat
This salad is easy, peasy, and oh so delicious. German Cucumber Salad Gurkensalat is the perfect salad for picnics, BBQ's or to serve as a side dish on a hot summer day. It's cool, refreshing, delicious and affordable. Make this salad during the summer months when cucumbers are in abundance and at their peak of flavor. Enjoy this sweet, tart, cool and crunchy salad while cucumbers are fresh and abundant for maximum flavor.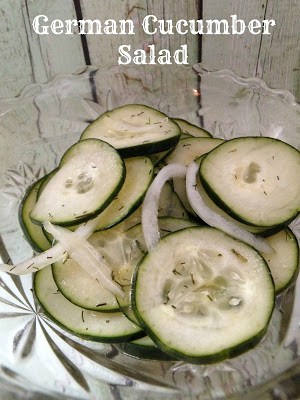 Fresh is Always Best But
We like to make this salad with garden fresh cucumbers but you can also use the English variety that you can find in most grocery stores. Of course, fresh is always best but when in Rome. During the winter months, I like to use the English variety. If you want to get fancy, you can use a potato peeler and peel thin strips around the cucumber, then slice into thin slices. In the summer months I always use fresh dill but in the winter I use dried dill weed.
In Germany
In Germany, gurkensalat is served at almost every meal. The secret to a classic German cucumber salad is to slice the cucumbers paper thin, so thin that you can almost see through the slices. You can achieve this by using a mandolin but use caution when using a mandolin, you don't want to slice your finger. Another good choice would be to use your food processor or salad shooter. German Cucumber salad is especially delicious served with roast pork, but we enjoy gurkensalat with just about everything.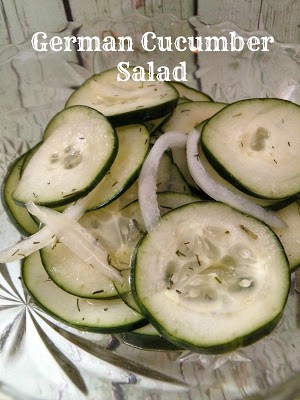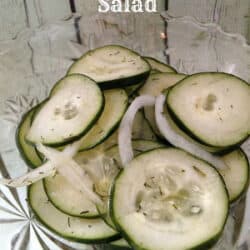 German Cucumber Salad or Gurkensalat
A delicious cucumber salad, perfect for any occasion.
Ingredients
1/3

cup

sugar

3

tablespoons

apple cider vinegar

1/4

cup

water

1/2

teaspoon

salt

4

large

cucumbers, peeled and sliced very thinly

1/2

sweet onion, thinly sliced

1

tablespoon

fresh dill chopped OR 1 1/2 teaspoons dried dill weed
Instructions
In a medium mixing bowl, mix together the sugar, vinegar, water, and salt.

Stir until the sugar and salt are dissolved. Set aside.

In a large serving bowl combine the cucumbers, onions, and dill. Pour the sugar-vinegar liquid over cucumbers and onions.

Refrigerator 2 to 4 hours.

Serve at room temperature or chilled.
Recipes On Tap
Cucumber Radish Sandwiches and Cool Cucumber Radish Salad.
Made With
This salad was made with Bragg's Apple Cider Vinegar. Certified Organic Bragg's Organic Raw Apple Cider Vinegar is unfiltered, unheated, unpasteurized and has 5% acidity. It contains the amazing Mother of Vinegar. Bragg's Apple Cider Vinegar is organically grown, processed and bottled in accordance with the California Organic Foods Act of 1990. Bragg's Apple Cider Vinegar is Kosher Certified.