Pink Strawberry Rosette Meringue Cookies
We may earn money or products from the companies mentioned in this post.
Pink Strawberry Rosette Meringue Cookies
Pink Strawberry Rosette Meringue Cookies have a subtle strawberry flavor and are pale pink in color. The perfect Valentine's Day cookie is Pink Strawberry Rosette Meringue Cookies. Not only are Pink Strawberry Rosette Meringue Cookies pretty, they taste delicious too. We have made meringue cookies several times but this recipe is different. This recipe calls for adding powdered sugar to the batter making it creamy, sweet and easy to work with.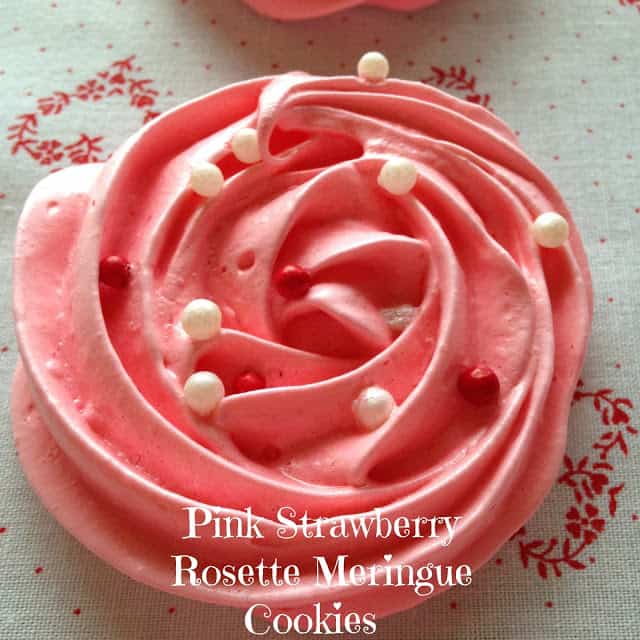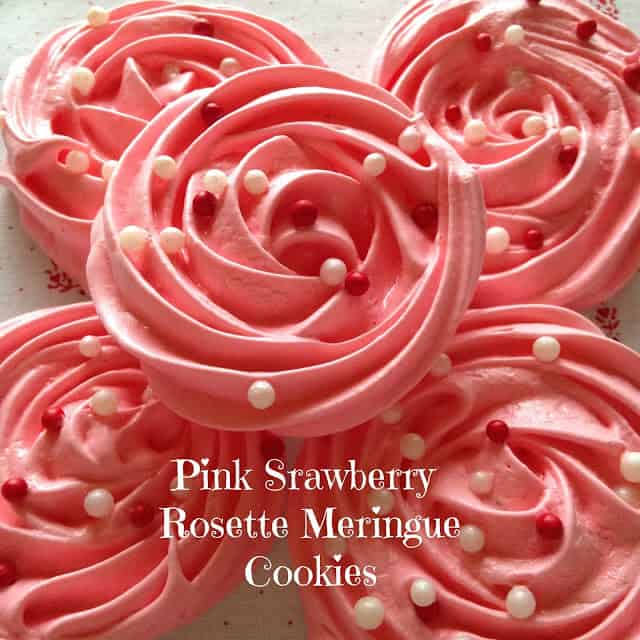 Flavoring
You can change the look and flavor of these charming meringue cookies by simply changing the extract and food coloring. Pure mint extract and green food coloring would be great for St. Patrick's Day, pure lemon extract and yellow food coloring for Easter and so on. Let your imagination run wild. We like to use  Watkin's pure extracts and/or flavorings. Decorate your meringue cookies with your favorite sprinkles or sparkling sugar.
What Does Meringue Mean?
A meringue is a mixture of stiffly beaten egg whites and granulated sugar. In order for the sugar to dissolve completely and therefore produce an absolutely smooth meringue, it must be beaten into the whites a tablespoon at a time. There are three types of meringues; soft meringues, hard meringues and Italian meringues. Each type of meringue has a purpose
Hard Meringue
Piped onto a parchment-lined baking sheet, hard meringues are usually round and can be large or small. Baked at a very low temperature, about 200 degrees, for as long as 2 hours. Meringues are left in a turned-off oven until completely dry. Hard meringues often have a center depression that is filled with ice cream, custard, whipped cream and or fruit. Tiny, bite-size, round meringues are called kisses and eaten as a dessert.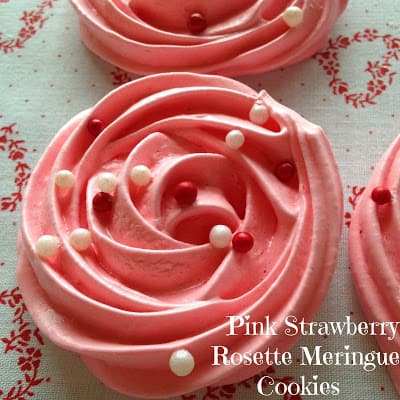 Recipes On Tap
Peppermint Meringue Cookies , Mint Meringue Cookies , Spooky Meringue Bones and Lemon Tart with Meringue Cookies .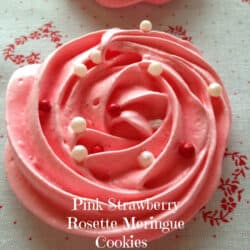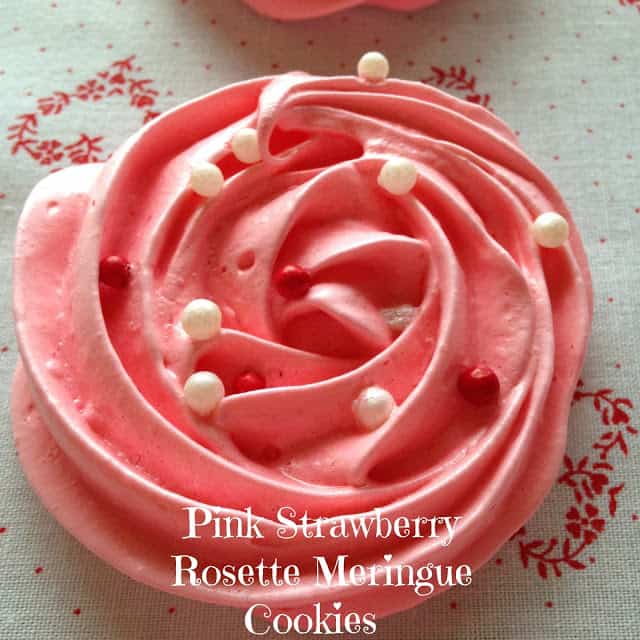 Pink Strawberry Rosette Meringue Cookies
Ingredients
4

large

egg whites

1/2

teaspoon

cream of tartar

1/2

cup

plus 1 tablespoon sugar

1

cup

lightly spooned powdered sugar

1

teaspoon

pure strawberry extract

few drops of red or pink food coloring

red and white colored sprinkles
Instructions
Preheat oven to 200° degrees. Line a baking sheet with parchment paper.

Beat egg whites in a large bowl with an electric mixer until frothy.

Add cream of tartar, beat until soft peaks form.

Slowly add the granulated sugar, 3 tablespoons at a time.

Beat until the meringue reaches stiff peaks. Beat in strawberry extract.

Add 2 to 3 drops of red or pink food coloring, beat until you reach desired color.

Fold in powdered sugar. Place the meringue in a piping bag with the tip of your choice.

Pipe onto prepared baking sheet.

Bake for 2 hours, remove from oven, sprinkle with colored sprinkles, cool on wire rack.