Nanaimo Bars A Canadian Classic
We may earn money or products from the companies mentioned in this post.
Nanaimo Bars A Canadian Classic
Nanaimo Bars A Canadian Classic are a delicious three layer bar and a traditional Canadian favorite. Nobody disputes the origin of these treats, believed to be named after the city of Nanaimo, B.C., located in the western-most province of British Columbia. Classic Nanaimo Bars are the pride of Nanaimo, B.C. These delicious bars have a graham cracker crumb-coconut-nut base, next a layer of creamy custard filling and then topped with ganache topping.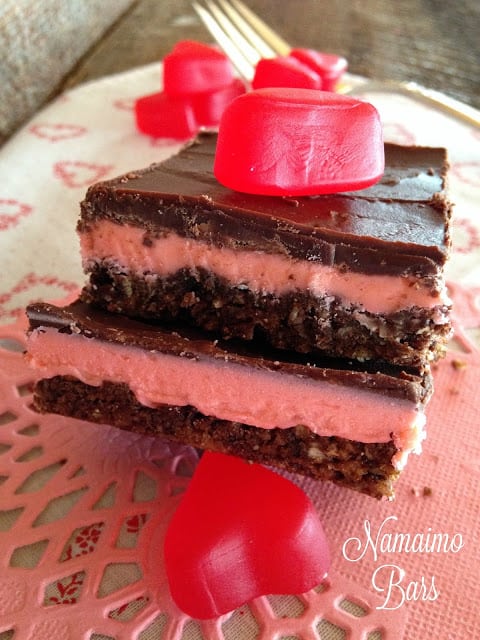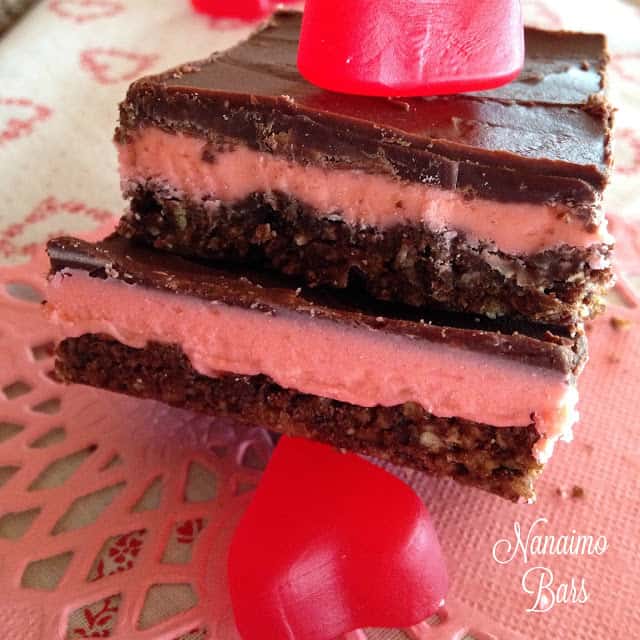 Great in Any Color
Nanaimo Bars are delicious in any color, for any occasion or even just for fun. For a festive touch, we tinted the custard layer a deep pink color.
Perfect for sharing with your Valentine. I have a confession to make, I have a new love in my life. I have fallen in love with Nanaimo Bars.
There, I've said it. I feel much better now. I have visions of making the custard filling for Nanaimo Bars in a rainbow of colors and flavors.
Best Served
Take a look at our favorite from last year: Midnight Mint Bars  Move over brownies, there's a new "bar" in town! Nanaimo Bars are best served at room temperature. The bars keep well when refrigerated or frozen. It's easy to make these bars in any color you'd like. Just a few drops of gel food coloring to the custard filling. By adding flavored extracts, you can change the flavor too. Almond, mint and cherry are all good choices.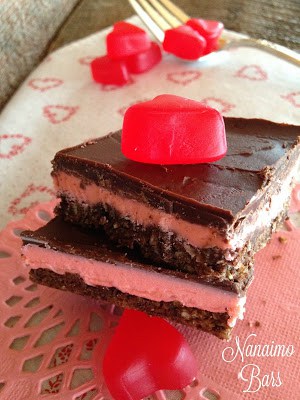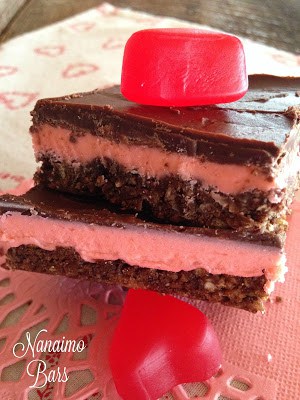 Tempering Eggs
This recipe calls for tempering eggs. "Tempering" is a fancy word or way of saying that you need to mix two liquids of different temperatures together without changing the texture of either liquid. Tempering is usually necessary or is most often used when dealing with foods like chocolate or eggs. When recipes call for you to temper eggs, you generally need to add a hot liquid to an egg mixture. If you combine the two mixtures without tempering, you'll end up with cooked eggs in your sauce. The goal is to slowly bring up the temperature of the eggs without scrambling them.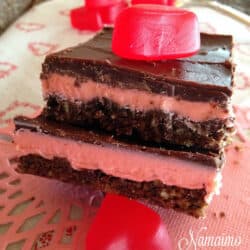 Nanaimo Bars
Ingredients
1

cup

graham cracker crumbs

1/2

cup

sweetened flaked coconut

1/3

cup

finely ground almonds

1/4

cup

cocoa powder

1/4

cup

sugar

1/3

cup

butter, melted

1

egg, lightly beaten

1/4

cup

butter, softened

2

tablespoons

custard powder (Birds)

1/2

teaspoon

vanilla extract

2

cups

powdered sugar

2

tablespoons

plus up to 1 teaspoon extra milk

few drops AmeriColor Deep Pink food coloring gel

4

ounces

semi-sweet chocolate, chopped OR

4

ounces

semi-sweet chocolate chips

1

tablespoon

butter
Instructions
Crust:

In a bowl, stir together graham crackers, coconut, ground almonds, cocoa powder and sugar.

Drizzle with butter and add egg, stirring until combined.

Press into a parchment paper-lined 9-inch square cake pan.

Bake in a 350° oven until firm, about 10 minutes.

Let cool in pan on wire rack.

Filling:

In bowl, beat together butter, custard powder and vanilla.

Beat in powdered sugar alternately with milk, making 3 additions of sugar and 2 of milk, adding up to 1 teaspoon more milk if too thick to spread. Spread over cooled crust. Refrigerate until firm, about 1 hour.

Topping:

In a heatproof bowl, over saucepan of hot water, not boiling water, melt chocolate with butter; spread over filling. Refrigerate until chocolate is almost set; about 30 minutes.

With tip of knife, score into bars; refrigerate until chocolate is completely set, about 30 minutes. Cut into bars.
Want more sweet treats. Try these. Brownie Bomb Bars and Peanut Butter Cup Crunch Brownie Bars.