We may earn money or products from the companies mentioned in this post.
Lemon Tart with Meringue Cookies
Lemon Tart with Meringue Cookies is a real delight. Light and lemony with delicious meringue cookies. If you're a fan of lemon you will love this lemon tart.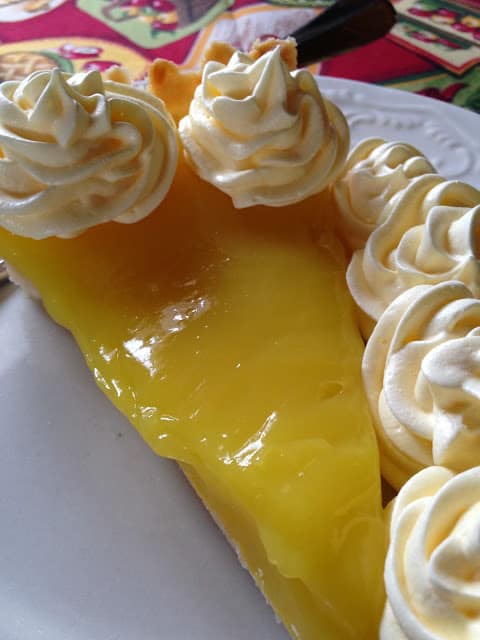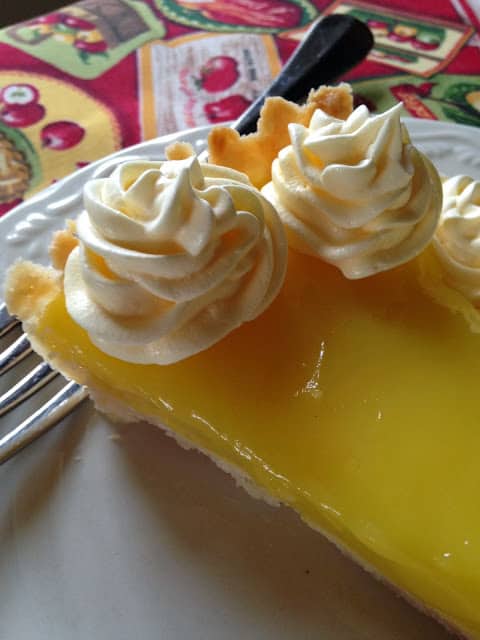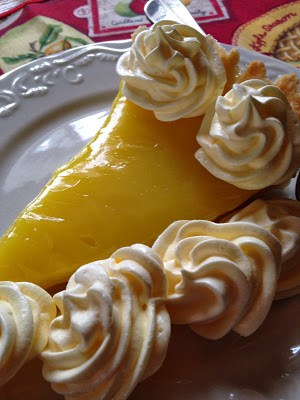 Top With Cookies 
Instead of topping this lemon tart with a whipped topping, try using meringue cookies. Meringue cookies are light, airy, delicious and low-fat. Meringue cookies add a festive and whimsical touch to this already sensational lemon tart. Meringue cookies can be made in any color you like too. Plus
a platter of pastel colored meringue cookies will add a festive touch to any springtime luncheon table or any Easter dinner table.
Tart
Very simply, a tart is a pastry crust with shallow sides, a filling and no top crust. It's typically made in a tart pan. The filling can be sweet, such as fruit or sweet custard, or savory like meat, cheese or savory custard. Depending on the type of tart, the pastry shell can be baked and then filled or filled and the baked. Tarts can be bite-size and served as an appetizer, individual-size sometimes called tartlets and full-size as in a dessert.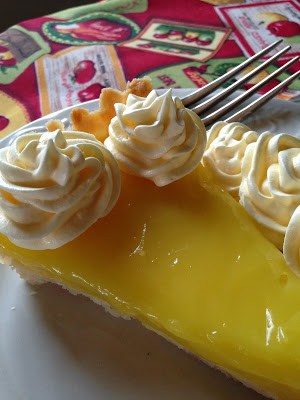 Lemon Tart with Meringue Cookies
Ingredients
1 cup




all-purpose flour

2 tablespoons




sugar

1/2 teaspoon




salt

1/4 teaspoon




finely grated lemon zest

1 stick




cold butter, cut into pieces

1 tablespoon




water

1/2 teaspoon




lemon extract
Directions:
Make the crust
Whisk together the flour, sugar, 1/2 teaspoon salt and lemon zest in a large bowl. Cut in butter with a pastry blender or your fingers, until dough starts to hold together.
Stir together 1 tablespoon water and lemon extract, mix into dough. Shape dough into a disk and wrap in plastic wrap. Refrigerate for 30 minutes.
Using your fingers press dough evenly into bottom and up sides of a 9-inch fluted tart pan with a removable bottom. Refrigerate for 30 minutes. Remove from refrigerator. Preheat oven to 375º Bake tart shell until golden brown, about 25 minutes. Let cool completely.
Lemon Curd
Ingredients
2 large




eggs

3 large




egg yolks, save the egg whites to make meringue cookies

1/4 cup plus 2 tablespoons




sugar

1/4 teaspoon




cornstarch

3 tablespoons




finely grated lemon zest

1/3 cup




fresh lemon juice

6 tablespoons




unsalted butter, cut into small pieces
Directions:
Make the lemon curd
Whisk together eggs, egg yolks, sugar and cornstarch in a medium saucepan. Whisk in lemon zest and juice. Cook over medium low heat, stirring constantly, until thick enough to coat the back of a wooden spoon, about 7 minutes. Remove from heat and whisk in butter, one piece at a time. Pour filling into cooled tart shell.
Bake until filling is slightly puffed and set, about 30 minutes. Let cool completely.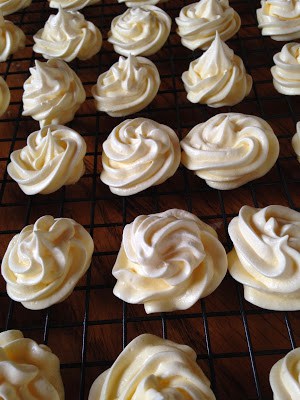 Meringue Cookies
Ingredients
4




egg whites, room temperature

1/2 teaspoon




cream of tartar

pinch of




salt

1 cup




sugar

1 teaspoon




vanilla extract

2 to 3




drops yellow food coloring, optional
Directions:
Make the Cookies
Preheat oven to 225º
Beat egg whites in large bowl,. with electric mixer on medium speed until frothy. Add cream of tartar and a pinch of salt. Beat until soft peaks form. Increase speed to medium-high. Add sugar, 1 tablespoon at a time until sugar is dissolved and stiff peaks form. Beat in vanilla extract and food coloring if using until well blended. Transfer meringue to a pastry bag fitted with a 1/2 to 3/4 inch open star tip. Gently squeeze bag to pipe meringue onto 2 large foil lined baking sheets sprayed with a non-stick cooking spray.
Bake both sheets of meringues at the same time for 45 minutes. Turn oven off. Let meringues stand in oven for 1 hour or until completely cooled. Remove from oven.
Decorate the top of cooled lemon tart with meringue cookies.
Makes about 3 dozen meringue cookies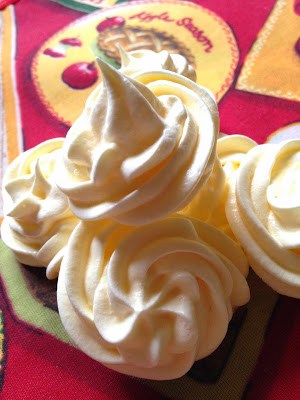 Cinnamon Swirl Bread is a super delicious quick bread that is perfect for any occasion.
Healthy Note: Make a homemade pizza healthier by using part-skim cheeses instead of their higher fat counterparts, or use lesser amounts of sharper flavored cheese, like Parmesan.