Sun Dried Tomato Dip
We may earn money or products from the companies mentioned in this post.
Sun Dried Tomato Dip
This Sunday watch the Super Bowl and cheer on your favorite team while you dip into this fast, easy and delicious Sun-Dried Tomato Dip. Sun-dried Tomato Dip is a cheesy, hot dip that's sure to score a touchdown! For a festive touch, shape this tasty dip into the shape of a football and use extra sliced sun-dried tomatoes on the top to look like the laces on a football. Serve with football shaped pretzels.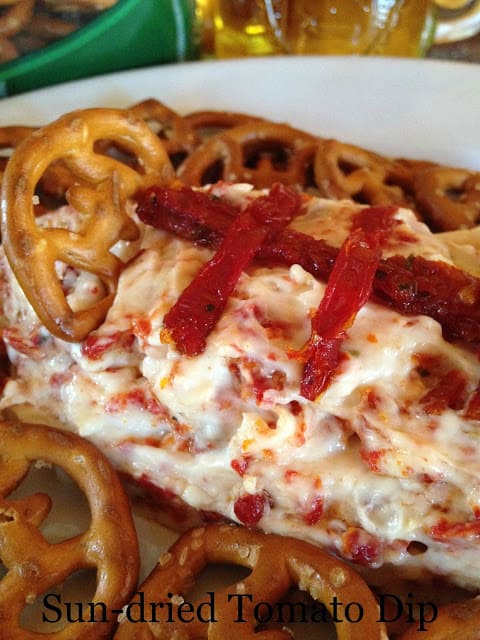 A Word About Sun-dried Tomatoes
Sun-dried Tomatoes once considered a "gourmet" item, are now being discovered by cooks everywhere. Packed with intense flavor, they are a wonderful addition to everything from meat, poultry and fish to rice, pasta, potatoes, salads and eggs. Once you start keep sun-dried tomatoes in your kitchen, you'll be amazed by how easy it is to be creative with this flavorful ingredient.
Try these ideas to add a "gourmet" flavor to everyday meals.
Add to tuna, chicken, potato or macaroni salads,
Finely mince and add to your favorite vinaigrette
Add to meatloaf mix along with a spoonful of prepared pesto
Stir into spinach or onion dip
Layer on a grilled cheese sandwich made with mozzarella cheese
Stir into macaroni and cheese before baking
Sprinkle on top of pizza
Sun-dried tomatoes have the same nutritional value as fresh tomatoes from which they are made. They are high in Lycopene and vitamin C. They are low in sodium and fat. Sun-dried tomatoes are available dried or  packed in oil as well as whole or pre-sliced for convenience. You can find sun-dried tomatoes in almost all grocery stores. Our favorite brand to use is 
Bella Sun Luci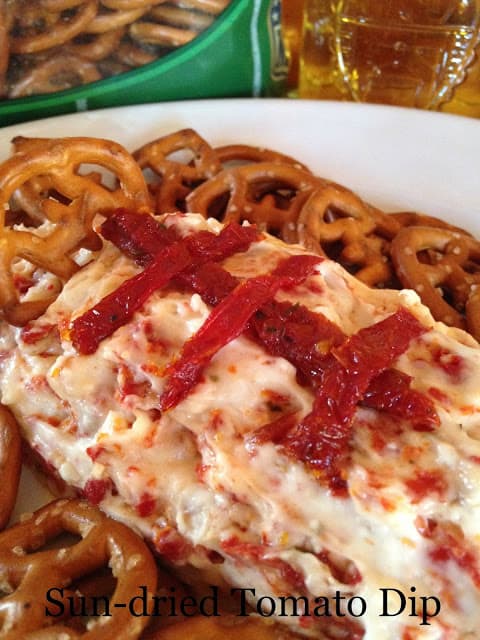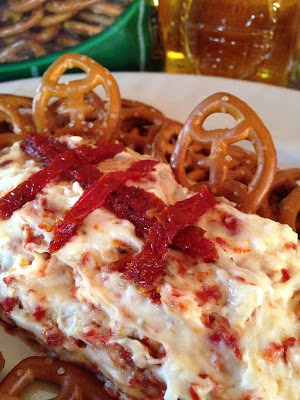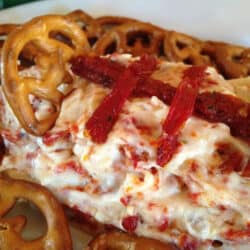 Sun Dried Tomato Dip
A delicious sun-dried tomato dip.
Ingredients
1

8 oz package

cream cheese, room temperature

1/2

cup

mayonnaise

1/2

cup

sour cream

1/2

teaspoon

hot sauce

1/2

teaspoon

salt

1/8

teaspoon

ground black pepper

1/2

cup

shredded mozzarella cheese

1/2

cup

shredded Parmesan cheese

1/4

cup

oil-packed, sun dried tomatoes, drained and patted dry

2

green onions, sliced
Instructions
In a large bowl, with an electric mixer, cream together first 6 ingredients.

Fold in shredded mozzarella cheese, Parmesan cheese and sun-dried tomatoes.

Spread cream cheese/sun dried tomato mixture into a greased 8 x 8 inch baking dish.

Bake covered for 30 minutes.

Remove cover, bake an additional 15 minutes.

Garnish with sliced green onions

Serve with pretzels, crackers, or corn chips.
Notes
Recipe Note: Bella Sun Luci sun-dried tomatoes. (Julienne cut with extra virgin olive oil and Italian herbs)
Recipes On Tap
Stuffed Cucumber Bites, Italian Egg Bake with Sun-dried Tomato Pesto, and Smoky Sun-dried Tomato Scones