Milk Chocolate Butterfinger Fudge
We may earn money or products from the companies mentioned in this post.
Milk Chocolate Butterfinger Fudge
Hi Everyone! Welcome Back to Turnips 2 Tangerines. Hope your holiday shopping is complete and you have enough time and energy to make just ONE more fudge recipe! This easy fudge recipe uses one of my favorite candy bars, the Butterfinger. This summer my grand-daughter Willow and I ate our fair share of mini Butterfingers, to this recipe is made in her honor. Originally I had planned to buy a few boxes of mini butterfingers from the Dollar Tree and take a hammer to them but in the baking section at the Walmart I found bags of NEW Butterfinger Bites! Lucky for me and my counter top:) Let's get to making Milk Chocolate Butterfinger Fudge.
Toll House Famous Fudge
This recipe is the same recipe that I have been using for a very long time. Toll House Famous Fudge recipe is easy to make, turns out every time, can be made in many different varieties and best of all, it turns out every time! No candy thermometer, no soft ball stage, no glasses of water necessary.  I have made other fudge recipes not using this recipe that turned out equally delicious as well. Recipes such as White Chocolate Coffee Toffee Fudge and Rocky Road Fudge. Both turned out super delicious, in fact the recipe for white chocolate coffee toffee fudge is still one of my favs.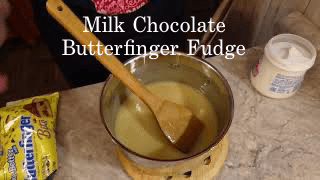 The Many Fudge Flavors
Fudge flavors have come a long way since my Grandma Rose made her famous fudge. I think she would be totally surprised and maybe a little bit mortified at some of the available flavors Orange Creamsicle, Birthday Cake, Lemon Meringue Pie and Pumpkin Spice. These are just a few of the flavors my very traditional Grandma Rose would shake her head at. One of these days, I'm going to dig out her recipe for fudge and make it. I have made it once, when she was still alive but have not tried to make it since her death, fifteen years ago. Maybe next year…
For this recipe we used: Ghirardelli Chocolate Kraft Jet Puffed Marshmallow Creme and Butterfinger Bites .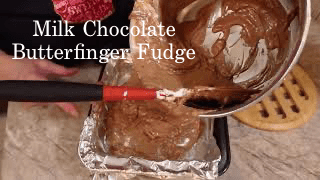 Milk Chocolate Butterfinger Fudge
Delicious and Easy! Make some fudge today!
Ingredients
1 1/2

cups

granulated sugar

2/3

cup

evaporated Milk

2

tablespoons

butter or margarine

1/4

teaspoon

salt

2

cups

miniature marshmallows

1 1/2

cups

milk chocolate chips

,

Ghirardelli

1

cup

Butterfinger Bites

,

plus 1/4 cup for top

1

teaspoon

vanilla extract
Instructions
Step 1

Line 8-inch-square baking pan with foil. Butter lightly.

Step 2

Combine sugar, evaporated milk, butter and salt in medium, heavy-duty saucepan. Bring to a full rolling boil over medium heat, stirring constantly. Boil, stirring constantly, for 4 to 5 minutes. Remove from heat.

Step 3

Stir in marshmallows, chocolate chips and vanilla extract. Stir vigorously for 1 minute or until marshmallows are melted. Stir in 1 cup Butterfinger Bites. Pour into prepared baking pan; sprinkle 1/4 Butterfinger Bites on the top. Refrigerate for 2 hours or until firm. Lift from pan; remove foil. Cut into 48 pieces.
UP NEXT: Valentine's Day Candy Charcuterie Tray
More Articles For Your Reading Enjoyment:
What Foods Give You The Most Energy?
Four Cooking Methods You Need to Try
Behind the Scenes-YouTube