Rocky Road Fudge
We may earn money or products from the companies mentioned in this post.
Rocky Road Fudge

This year I have went above and beyond the call of duty when it came to fudge making and fudge sampling. It has been a 'rocky road' indeed but someone had to do it! My hubby even commented to me, saying he doesn't think he has ever eaten so much fudge in his life. I agree… I've never made so many different kinds of fudge and you know what that means, if you make the fudge, you've got to sample it. I've sampled a lot of fudge this year, right along with him. We'll definitely be on a fudge-free diet come January…but it was soo worth it.
Last Fudge of the Year?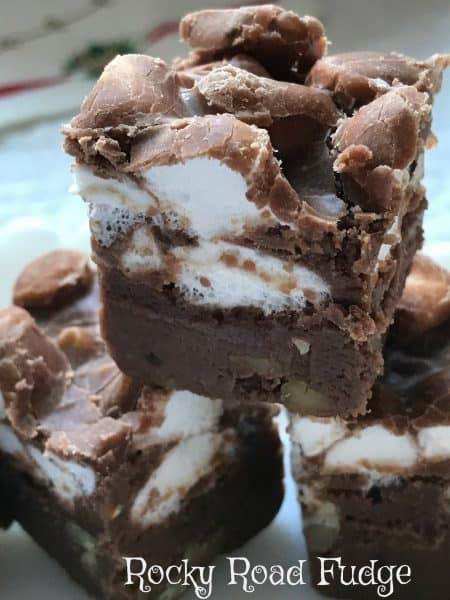 Rocky Road Fudge will be the last fudge I make in 2017? Yes, I'm afraid so but what a grand fudge to end with! Delicious, chocolaty, nutty and filled with mini marshmallows. The only complaint I have with this fudge is it didn't set-up the way most fudge I've made does but that was easily solved with a few hours stay in the freezer. Another complaint I have, this fudge didn't last long enough. With one bite I knew I would be in deep trouble..it's extremely hard to resist.
What kind of fudge eater are you?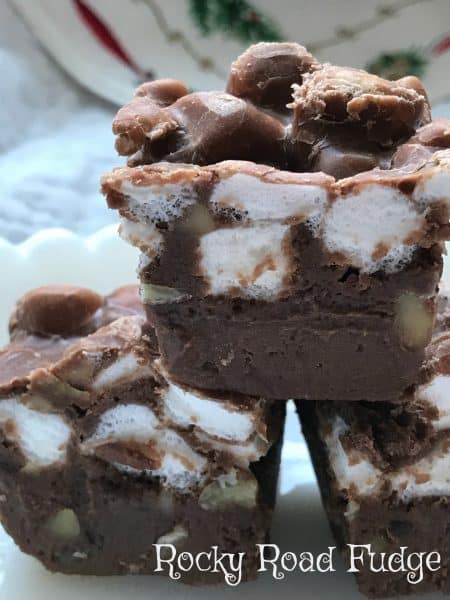 I'm one of those sneaky, fudge eaters…..you know the kind, maybe your one yourself…we quietly go into the kitchen, slowly opening the refrigerator door, quietly moving the stuff I put in front of the fudge out of the way, slowly taking the fudge out, looking around to see if anyone has heard me, (this is about the time I open a can of pop, thinking that this will deviate suspicion off of me) quietly and carefully unwrapping the fudge, quickly grabbing a knife out of the silverware drawer, so as not to make to much noise, cutting a rather nice size piece of fudge, wiping off the knife (don't want to leave any evidence) and then I carefully wrap the fudge back up, put in back in the refrigerator, hide it again with the stuff I moved before, look around to make sure no one is coming and slowly savor my piece of fudge.
Fudge Eater #2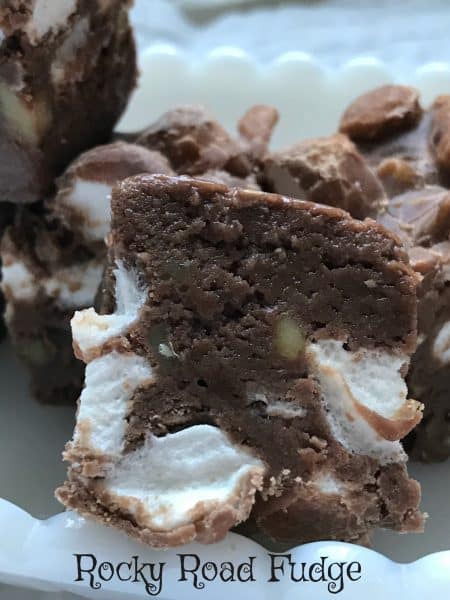 Now on the other hand, this is how my hubby eats fudge. I'll call him fudge eater #2. First off, my hubby announces that he is going to eat a piece of fudge. He stands up and says loudly (and to anyone who will listen) "I'm going to get a piece of fudge, do you want one?" I, of course say politely, "No thanks"(he doesn't know I was just in the kitchen sneaking a piece) He then thumps into the kitchen,  yanks open the refrigerator door, and starts rummaging through everything. He then yells, "Where's the fudge?" and I politely yell back, "Second shelf, behind the 2 jars of pickles." He then says, "What the hell is it doing back there?" and I say, "I don't know" For the next five minutes all I can hear coming from the kitchen is; bang, bang, slam, slam, mumble, swear word, bang, slam, bang, bang, slam, slam. Then the five minute ruckus stops. Quiet.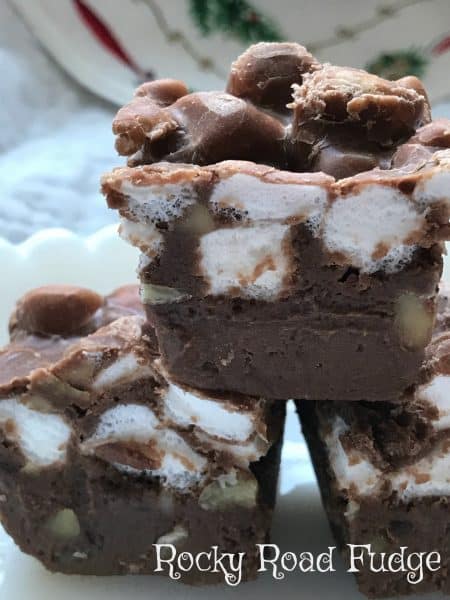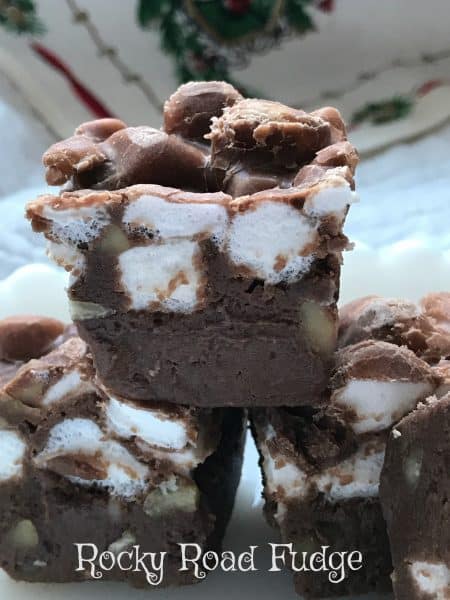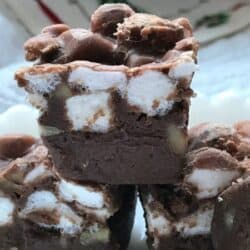 Rocky Road Fudge
Ingredients
6

cups

miniature marshmallows, divided

4

cups

granulated sugar

1 1/2

cups

evaporated milk

2

cups

semi-sweet chocolate chips

1

cup

cold butter, cubed

2

cups

walnuts or pecans, chopped

1

teaspoon

vanilla
Instructions
Line a 9 x 13-inch pan with aluminum foil. Coat the foil with butter. Put 4 cups of the mini marshmallows on a baking sheet in a single layer and place into the freezer so they can get cold.

In a large saucepan, combine the remaining two cups of mini marshmallows, sugar and evaporated milk over medium-high heat, stirring constantly as the marshmallows melt and the mixture comes to a boil. Boil for 6 minutes, stirring constantly.

After 6 minutes remove the fudge from the heat and immediately add the cold cubed butter and chocolate chips, stirring until completely combined.

Stir in the walnuts and vanilla, let the fudge sit for a few minutes to thicken and cool slightly before stirring in the frozen miniature marshmallows. You don't want to stir the marshmallows too much or they will melt. Pour into the prepared pan and transfer to the fridge to set for 3 to 4 hours.

Carefully lift the fudge out of the pan and peel off the foil. Cut the fudge into small squares to serve.
Notes
I like to store fudge wrapped in plastic wrap, then waxed paper, stored in a plastic baggie and kept in the refrigerator. This is how I store all the fudge I make:)
This delicious recipe for Rocky Road Fudge was first made on House of Nash Eats.