Behind the Scenes-YouTube
We may earn money or products from the companies mentioned in this post.
Behind the Scenes- YouTube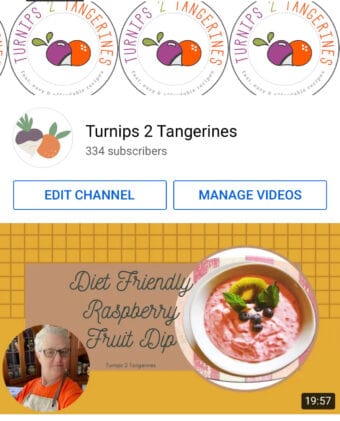 Hi Everyone, Welcome back to Turnips 2 Tangerines! I hope your Christmas shopping is almost done and you've started on your holiday baking frenzy:) This year in my family, we've decided to do gift cards instead of the usual presents. Each couple will purchase two $50.00 gift cards to any place of their liking. We will put all the gift cards into a basket, hat, or whatever. We will then pass the whatever around, with each person picking out one card. Kim, my daughter-in-law, came up with a game of some kind that we're going to play after we each pick our cards. ( I have no idea what that game is?!?) Now, back to Behind the Scenes- YouTube.
Ripl Videos
I have made many videos using an app called Ripl.   Ripl is a Social Video and Content App that lets you create professional-looking animated videos, collages, slideshows and layered static images posts in minutes. I have nothing but good things to say about Ripl. It's easy to use and the videos are very nice and professional looking, It does exactly what it claims it can do, which in my opinion, is a huge plus. It has advanced tremendously since I first used it, a few years back. The downfall is, the videos are only 30 seconds long. Which is wonderful NOW that YouTube came out with #shorts but at the time I was using Ripl, there wasn't a spot for 30 to 45 second videos on YouTube, so my shorts fell a little "#short." (pun intended)
New Year's Resolutions
Last year, my New Year's Resolution was to work consistently on my YouTube channel. TRY once again, to get it "Up and Running." I've had my YouTube channel for several years now. I wasn't really doing much with it, trying to come up with an idea instead of copying what everyone else was doing on YouTube. You know the videos! The 50 second videos where someone is preparing a recipe that probably in real life takes over 30 minutes to prepare and has to bake in the oven for an hour. But with a snap of a finger, the dish is plated, steaming hot and ready to eat! Well, I guess that's possible but I'm simply not that talented. I can't make a dish in a split second nor can I do a video that quickly either.
Back to YouTube
My New Year's Resolution last year; I was going to spend the year working on my channel. If things didn't improve by the end of the year, I was going to say good-bye to YouTube. I bought a new (another) video camera, installed Adobe Premiere Pro, Canva, and Tube Buddy. I pretty much bought all the bells and whistles aka video equipment and I went to work. Not realizing how much space videos can take up on a computer, I purchased an external hard drive to store my videos on. Anyway, here I am, one year later and not much improvement so I've decided to go out with a BANG!!!
31 in 31
During the month of December and before my New Year's Resolution is over, I will be doing a month long series on YouTube. The series will be called; The Wisconsin Series and will feature Wisconsin products. This is something that I've always wanted to do. Wisconsin has so much more to offer than just beer, brats and cheese. All of the videos are roughly around 7 minutes, with 2 or 3 around 13 minutes. The Wisconsin Series will feature products made or grown in Wisconsin. There will be links given in the description box to the items featured.