Cherry Oatmeal Crumble Bars
We may earn money or products from the companies mentioned in this post.
Cherry Oatmeal Crumble Bars
Cherry Oatmeal Crumble Bars are perfect for dessert, when all you want is something on the sweet and fruity side. They're easy to prepare and made with ingredients most of us have on hand. Another reason this is a house favorite; it's made in an 8 x 8-inch square pan. Now that it's just the hubby and me, any dessert made in an 8 x 8 or 9 x 9-inch square pan is up for grabs. Gone are the days of the 13 x 9-inch cake pan or sheet pan desserts. After all, I have to keep an eye on my girlish figure:)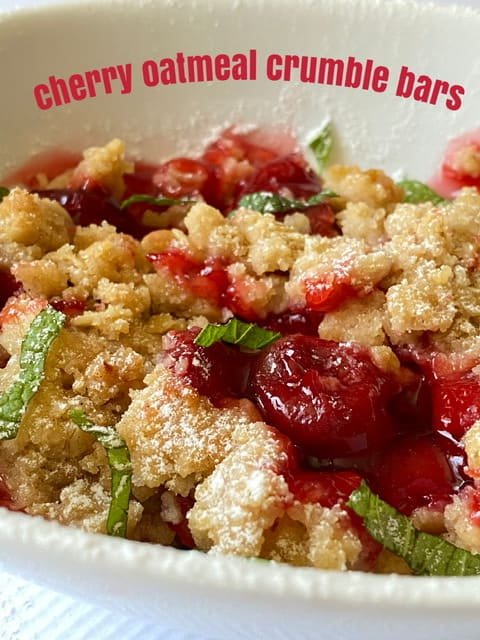 Strawberry
Now that it's almost officially summer, it's time to think about summertime activities. One thing we like to do each summer is to pick strawberries. Well let me rephrase that, we don't actually "pick" strawberries anymore, we "pick" them up.  Berryland located near Abrams WI is the place to go. Want them to pick strawberries for you? Simply call ahead and place your strawberry order. (how many quarts) When they're ready, Berryland gives you a call and off you go. Once you get to Berryland, they have a drive up system in place. Give them your name, they get your berries, put them in your trunk, you pay them and off you go! The extra $1.00 per quart or whatever it is, is well worth it to me.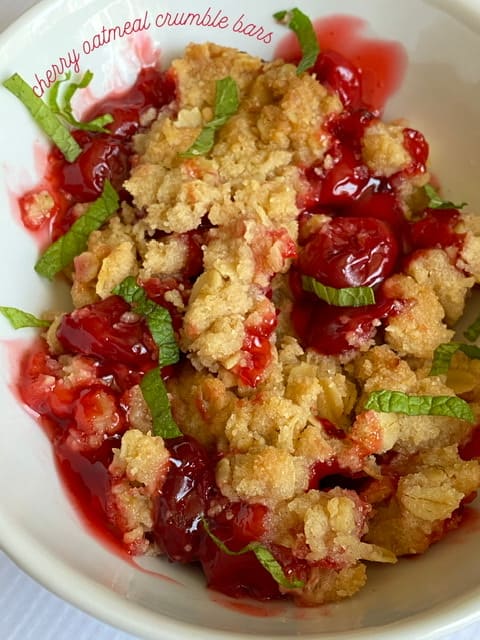 Blueberry Picking
This summer we have blueberries on our radar. My hubby has diverticulitis so most berries, nuts and popcorn are off limits to him. This year we've decided to pick blueberries at Blueberry Haven which is located in Bear Creek WI. Blueberry picking should be easier on this old back of mine too. Blueberry pie filling is in our very near future. I'm going to "put up" cherry pie filling also. For that tho, I'm not going to pick cherries, even though cherry picking in Door County is something many people love to do. I prefer to purchase a 10 lb. pail of fresh picked, frozen, pitted cherries from Cherryland's Best, located off hwy. 41 near Kaukauna WI. The store with the huge cherry out front! (and the best cherry pies around)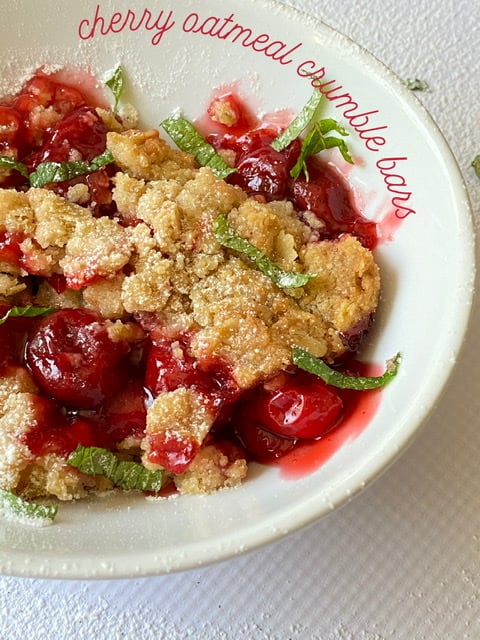 Pick Your Own
To find out where to "pick" in your area, and to find out what is ready to be picked in your area, check out Pick Your Own. This website is the best! Pick Your Own has everything you will ever need to know about canning, freezing and "how to" preserve food. I simply can't say enough about this gem of a website:) NOTE: Berryland offers asparagus and rhubarb picking in May-June. Call Ahead!
UP NEXT: Cool Summertime Cherry Oatmeal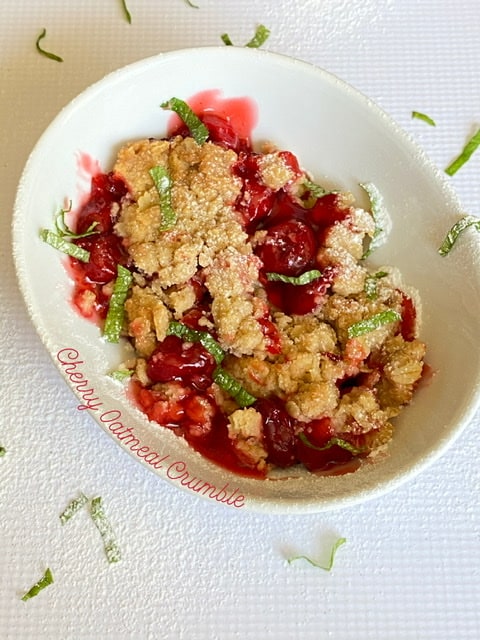 Recipe Note:
Cherry Oatmeal Crumble Bars aren't really what you would consider a bar per se. This recipe is more closely related to a crisp than a bar but really what difference does it make, right? It's darn good whatever you call it. Cherry Oatmeal Crumble is super delicious with a big scoop of vanilla ice cream, my favorite but in a pinch, powdered sugar sprinkled over the top works rather nicely too.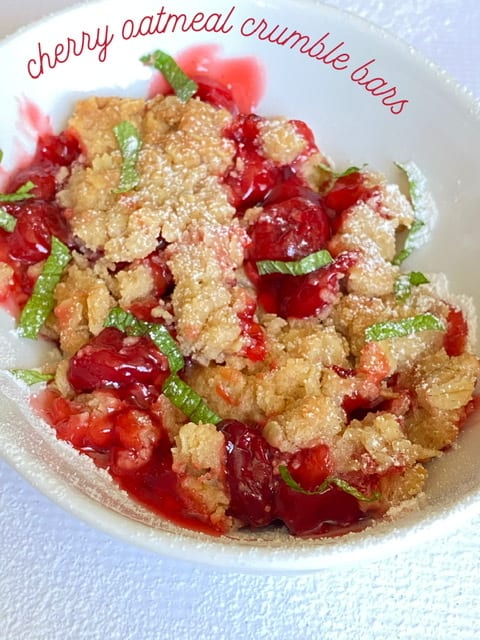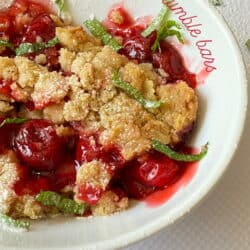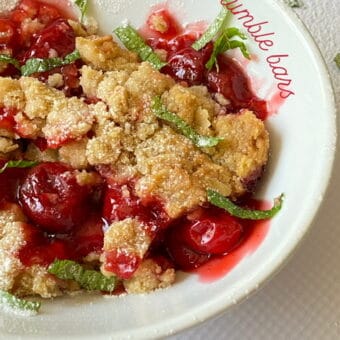 Cherry Oatmeal Crumble Bars
Ingredients
1

21 ounce can

cherry pie filling

3/4

cup

packed brown sugar

3/4

cup

all-purpose flour

3/4

cup

old fashioned rolled oats

1/2

teaspoon

ground cinnamon

1/4

teaspoon

ground nutmeg

1/4

teaspoon

salt

1/4

cup

butter, melted

vanilla ice cream, optional
Instructions
Spread pie filling in the bottom of a sprayed 8-inch square baking dish.

In a medium bowl, combine the next six ingredients.

Pour melted butter over dry ingredients. Toss mixture together with a fork until crumbly, sprinkle over filling.

Bake at 375 degrees for 35 to 45 minutes or until golden brown. Top with vanilla ice cream
Cherries, Cherries and more Cherries