We may earn money or products from the companies mentioned in this post.
Cherry Cheesecake Pretzel Dessert
Cherry Cheesecake Pretzel Dessert is sometimes called: Strawberry Pretzel Salad or even Raspberry Pretzel Dessert. I've also heard this "dessert" called a "salad" but to me it's more of a "dessert" than a "salad." but is it? Oh, I can't decide. What do you call this "dessert/salad?" My sister served this "dessert/salad" years ago at a picnic and that's when I first feel in love with this irresistibly sweet, salty and delicious dessert/salad. She made this with frozen/thawed (sweetened) strawberries and strawberry jello. Some people have made this dessert with frozen/thawed (sweetened) raspberries and raspberry jello.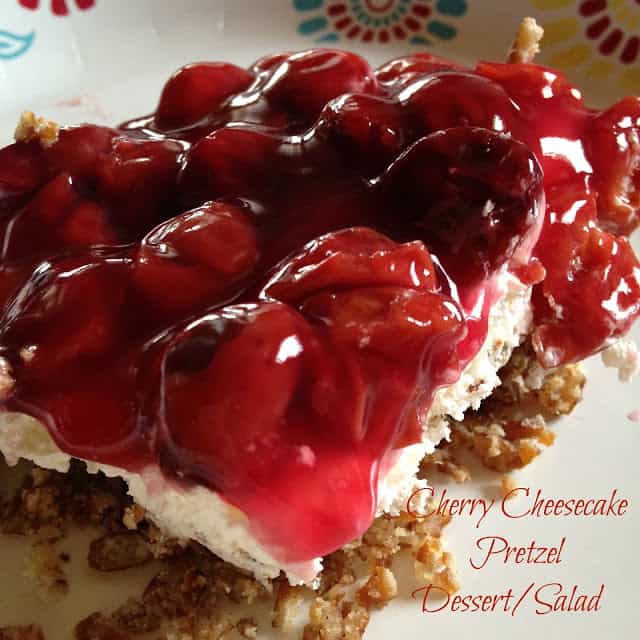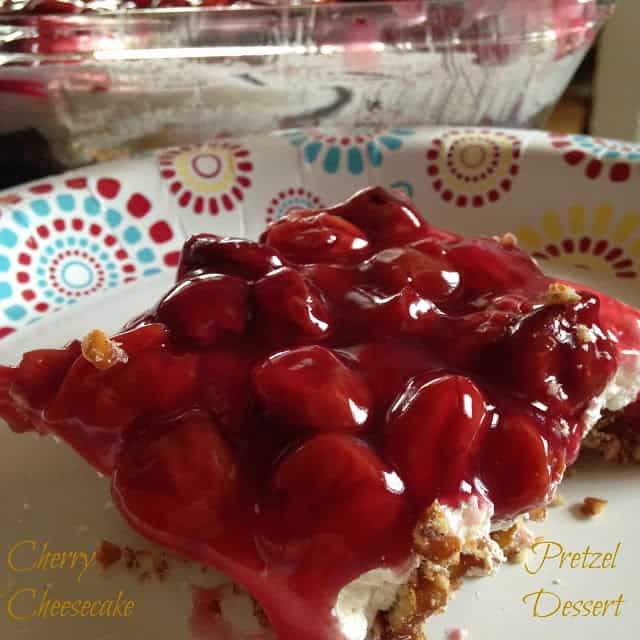 Sweet and Delicious
Cherry Cheesecake Pretzel Dessert/Salad, Strawberry Pretzel Salad or Raspberry Pretzel Salad is an easy and delicious, sweet and salty dessert/salad that has been around for a long, long tine. It's been served at family reunions, barbecues and church picnics for years. Your family and friends will keep coming back for more. I promise! Since I can't decide if Cherry Cheesecake Pretzel Dessert/Salad is a dessert or a salad I'm just going to say dessert/salad.
Layers
Most people have heard of this dessert/salad, many people have tried this dessert/salad and some of us have even made this dessert/salad. It's been around for as long as I can remember. There are a many variations of this dessert/salad but the three things that never change are the layers. The crust or bottom layer is always crushed pretzels, nuts, butter and sugar, the middle layer is cream cheese, cool-whip plus powdered sugar and the top layer is sweetened  strawberries or raspberries, frozen/thawed, mixed with strawberry or raspberry jello. Or in this recipe, fruit pie filling.
Pie Filling
Personally, I like to use pie filling as the top layer instead of the frozen/thawed, sweetened fruit because then you can change it up from time to time. One can of fruit pie filling can change the complete taste of this dessert/salad. You can substitute Blueberry, Raspberry, Blackberry, Lemon, Cherry-Cranberry pie filling and so on. You can certainly use homemade pie filling like I normally do or you can purchase canned pie filling. Normally when this dessert/salad is made with strawberries or raspberries, a corresponding jello is used. I have never made this pretzel dessert/salad using frozen/thawed strawberries or raspberries with jello, yet:)
One universal feeling on this dessert/salad is no matter what you call it or how you make it or what ingredients you use. It's Irresistibly Delicious!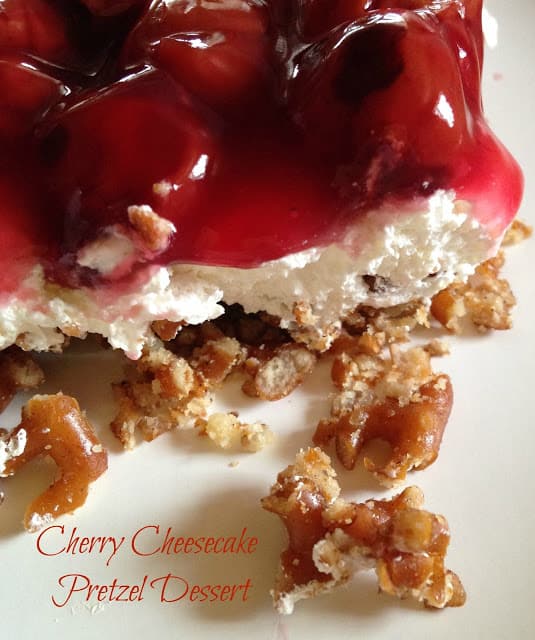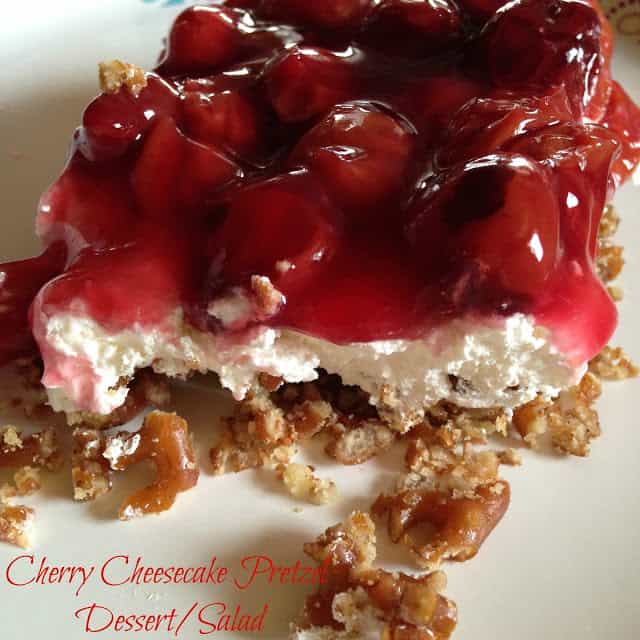 Cherry Cheesecake Pretzel Dessert/Salad
Ingredients
4 cups




finely crushed pretzels

2 tablespoons




sugar

1/4 teaspoon




ground cinnamon

1/2 cup chopped walnuts

3/4 cup




butter, melted

1 (8 oz) package




cream cheese, room temperature

3/4 cup powdered sugar

1 (8 oz) tub




non-dairy whipped topping 

1 (21 oz) can




country cherry pie filling (Wilderness)

1/2 cup




crushed pretzels, optional

non-dairy




whipped topping, optional
Cooking Directions
In a mixing bowl, place cream cheese. Microwave for 20 seconds. With hand-held electric mixer beat on low beat until creamy. Add powdered sugar and beat again until creamy. Fold in non-dairy whipped topping. Refrigerate for at least 1 hour.
Mix the pretzels, sugar, cinnamon and nuts with the melted butter.
Press into a lightly greased 13 x 9 inch baking dish.
Bake at 400 degrees for 8 to 10 minutes or until firm and crisp. Allow to cool completely.
Carefully spread cheesecake layer over the cooled pretzel layer. Refrigerate for at least 2 hours.
Top cream cheese layer with cherry pie filling.
Products used in this recipe: Rold Gold Pretzels, Cool Whip Whipped Topping, Wilderness Cherry Pie Filling and