Cool Summertime Cherry Oatmeal
We may earn money or products from the companies mentioned in this post.
Cool Summertime Cherry Oatmeal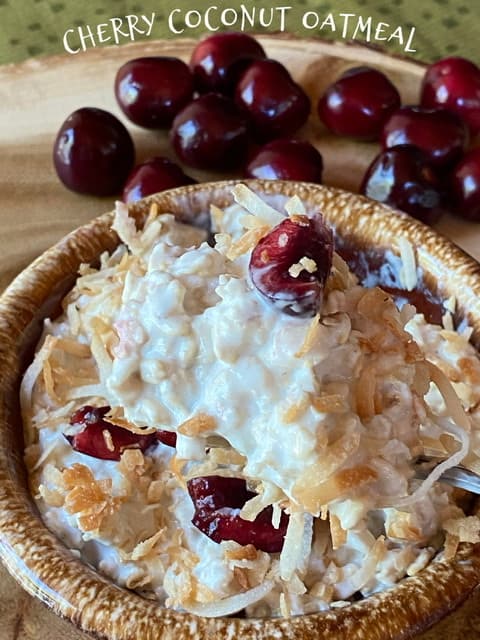 Start this breakfast oatmeal the night before and when you get up in the morning, breakfast will be waiting for you. This recipe is very versatile. For example, Cool Summertime Cherry Oatmeal can be served with any fruit that your family likes. Chopped apples, peaches, berries or sliced bananas  can be used in place of the bing cherries. Coconut, dried fruit, even mini chocolate chips can be stirred in, right before serving. We garnished bowls of oatmeal with toasted coconut and sliced fresh bing cherries. Top bowls of oatmeal with anything you like.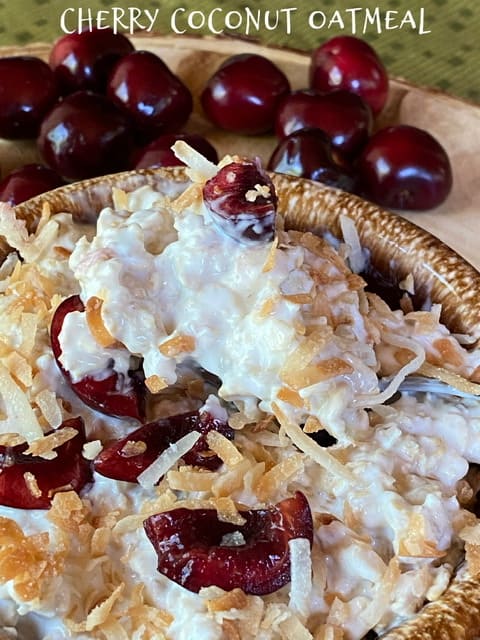 Taste of Home
I found this recipe in one of my many Taste of Home cookbooks. This particular recipe was in the 2016 Heathy Recipes Annual Cookbook. Most overnight oatmeal recipes are good but the majority of the recipes I've tried aren't sweet enough and lack creaminess. This recipe on the other hand is exactly what I was looking for in an overnight oatmeal. It has the taste and texture that is very similar to rice pudding and who doesn't like rice pudding! Pitted bing cherries, a favorite of mine, are sliced in half and toasted coconut is the cherry on top! P.S. Cool Summertime Cherry Oatmeal is delicious during the winter months as well.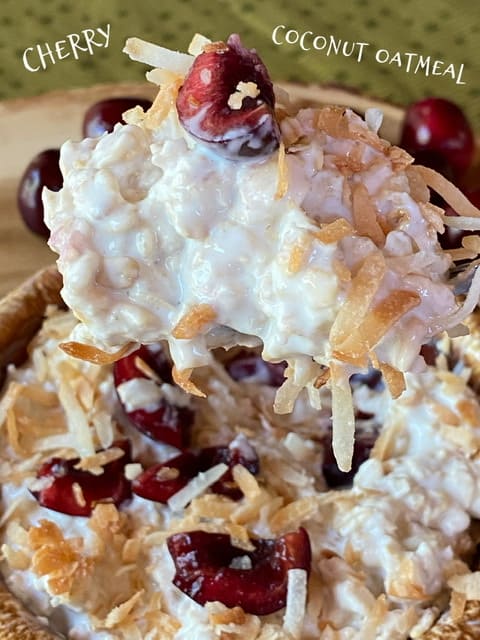 More Delicious Breakfast Ideas
Here is an assortment of breakfast recipes you'll definitely want to try. Each recipe is a tried and true recipe, that my family loves.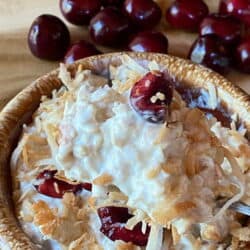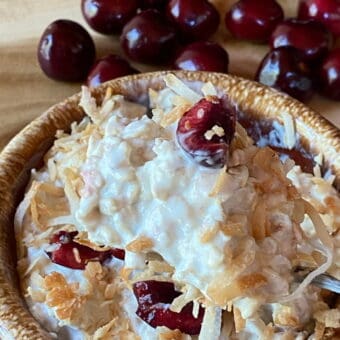 Cool Summertime Cherry Oatmeal
Cool and refreshing oatmeal.
Ingredients
1 1/3

cups

old-fashioned oats

3/4

cup

coconut, almond or fat-free milk

3/4

cup

Greek yogurt or reduced-fat plain yogurt

1/4

cup

honey

1

cup

pitted fresh bing cherries, sliced in half

1/2

cup

toasted coconut, garnish
Instructions
In small bowl, combine the oats milk, yogurt and honey. Refrigerate, covered, overnight.

Top each serving with cherries and toasted coconut.
Toasted Coconut
Toasting coconut is easier than you might think. Nothing quite compares to toasted coconut. Follow the directions here How to Toast Coconut in the Oven  and find out for yourself. You'll soon be adding toasted coconut to everything!