Shrimp Cobb Salad with Bacon Dressing
We may earn money or products from the companies mentioned in this post.
Shrimp Cobb Salad with Bacon Dressing
Today it's all about Cobb Salad. Invented in 1937 by Bob Cobb, the owner of the famous Brown Derby restaurant. The Cobb Salad was an instant hit and has been virtually ever since. There are oodles and oodles of recipes for Cobb Salad and many variations on this classic. Our version is made with shrimp, and a delicious bacon dressing to too it off. Shrimp Cobb Salad with Bacon Dressing is super delicious. Take a bite out of this timeless classic.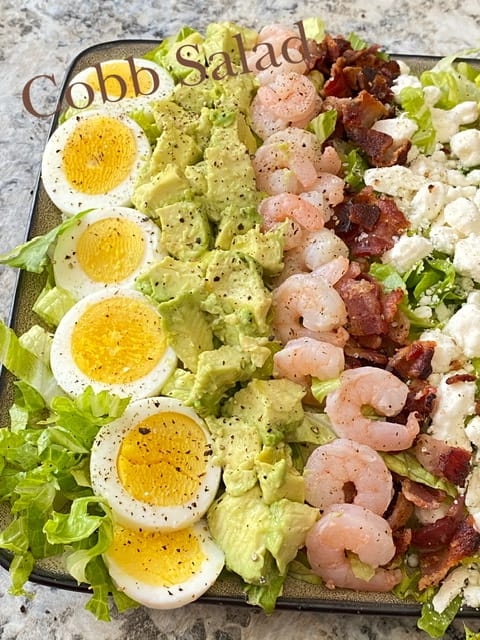 History of the Cobb Salad
Late one evening in 1937, Bob Cobb, owner of the famous Hollywood restaurant, The Brown Derby was hungry. Bob decided to make himself a snack. He looked in the refrigerator and grabbed a head of iceberg lettuce, an avocado, some romaine lettuce, watercress and tomatoes. Bob thought for a moment and reached back into the refrigerator and took out a cold breast of chicken, a hard-boiled egg, chives and some old-fashioned French dressing.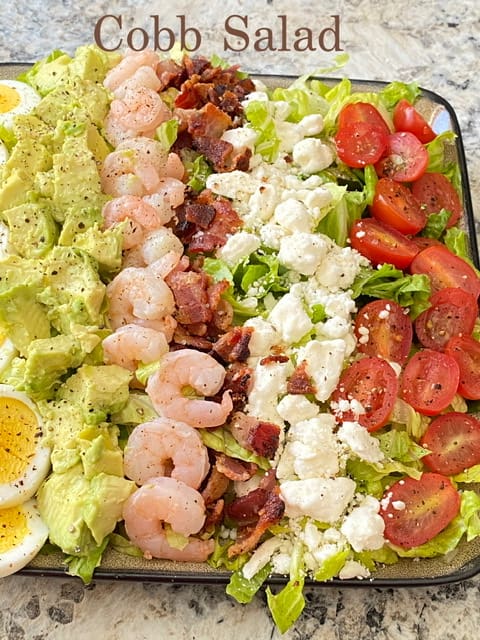 Overnight Sensation
Bob then took some crisp bacon from one of the chefs and started chopping the ingredients. He grabbed a bowl and started to assemble the salad by laying each ingredient in row. Cobb shared his new salad with his friend Sid Grauman, proprietor of Grauman's Chinese Theatre. Grauman came back the next day and asked for a "Cobb Salad" After that the "Cobb Salad" was put on the menu and became an overnight sensation.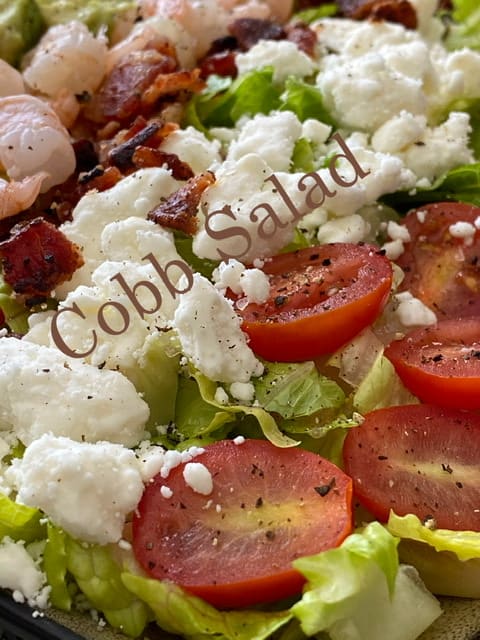 Over the Years
Over time, like so many things, the Cobb Salad has undergone a few changes. Cobb Salad is now often served with the ingredients laid out on a plate in rows rather than in a bowl like it originally was made. Many times a Cobb Salad will be served like a chefs salad, with the ingredients served atop the greens. Cobb Salad can be made with any extra or added ingredients such as; ham, corn, celery, bell peppers, green onions, and homemade croutons. Feta cheese is a great substitute for blue cheese, tomatoes can be replaced with red peppers and those of you who don't eat bacon can substitute kidney beans or my favorite, cannellini beans which are basically white kidney beans.
UP NEXT: Kalamata Olives, Basil, Sun-Dried Tomato Rice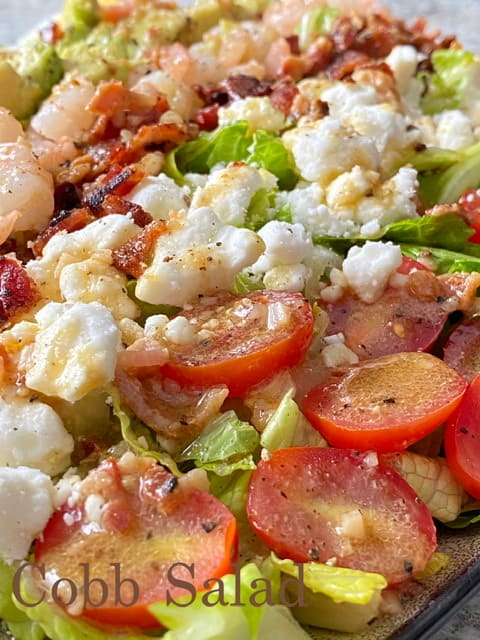 Shrimp Cobb Salad Dressing
From what I could find online or didn't find I guess I can say, is most Cobb Salads are topped with a red  wine, Dijon mustard style vinaigrette. Many classic salads seem to have a specific dressing that goes with the salad, such as Caesar Salad but I couldn't find one definitive dressing for Cobb Salad. Bacon dressing is great drizzled over any salad as far as I'm concerned, and it's fantastic on Shrimp Cobb Salad. Spinach Salad with Warm Bacon Dressing is another tasty salad topped with bacon dressing.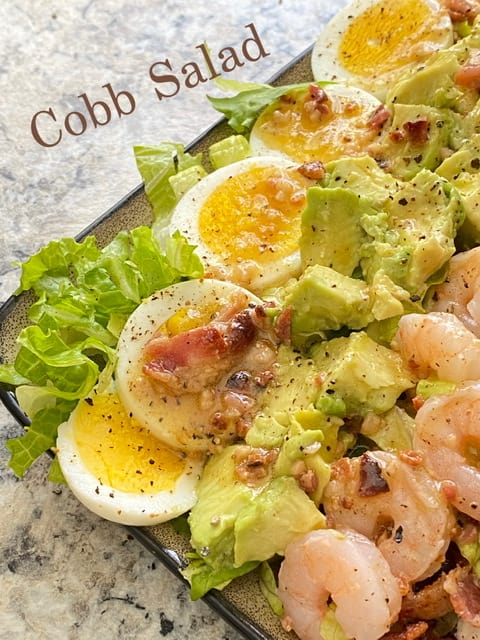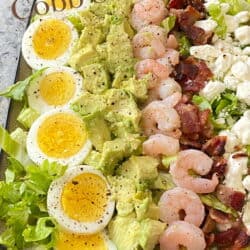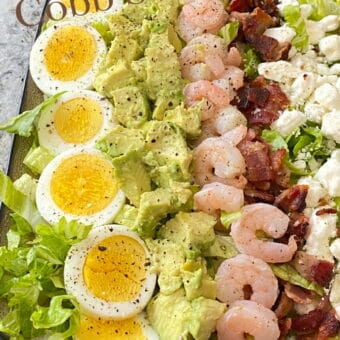 Shrimp Cobb Salad with Bacon Dressing
Ingredients
1/2 lb

thick-cut slices

bacon

1/2

head each

romaine lettuce and iceberg lettuce

2

hard-cooked

eggs, peeled and sliced

1

pound

steamed medium shrimp, peeled and deveined

1

cup

cherry tomatoes, cut in half

1/2

cup

chopped red onion

1

ripe avocado, chopped

1

cup

feta cheese, crumbled

1

clove

garlic, minced

1/2

teaspoon

kosher salt

1/2

teaspoon

black pepper

1/4

teaspoon

granulated sugar

3

tablespoons

extra-virgin olive oil

2

tablespoons

red wine vinegar
Instructions
Cook bacon in a skillet over medium heat until crisp, about 10 minutes. Transfer bacon to a plate lined with paper towels, reserving drippings in skillet. Set bacon aside. Pour drippings into a small bowl; set aside to cool slightly.

Reserve 2 bacon slices. Roughly chop remaining bacon slices and arrange on a large platter with lettuce, eggs, shrimp, tomatoes, onion, avocado, and cheese.

Add reserved bacon slices, garlic, salt, pepper, and sugar in a food processor. Pour in reserved drippings, olive oil, and vinegar; pulse 5 times until blended. Drizzle over salad; serve immediately.