Kalamata Olives, Basil, Sun-Dried Tomato Rice
We may earn money or products from the companies mentioned in this post.
Kalamata Olives, Basil, Sun-dried Tomato Rice
Todays recipe is fantastic. It's great served as a side dish or even a light lunch. Kalamata Olives, Basil, Sun-dried Tomato Rice would be perfect served alongside grilled chicken breast or pork tenderloin. I'm a huge fan of kalamata olives but if you or your family aren't, feel free to leave them out altogether. Since my hubby is not a fan of any olive, I leave them out of his serving. My hubby doesn't like olives but he loves pickles. I'm the complete opposite, so it equals itself out in the end.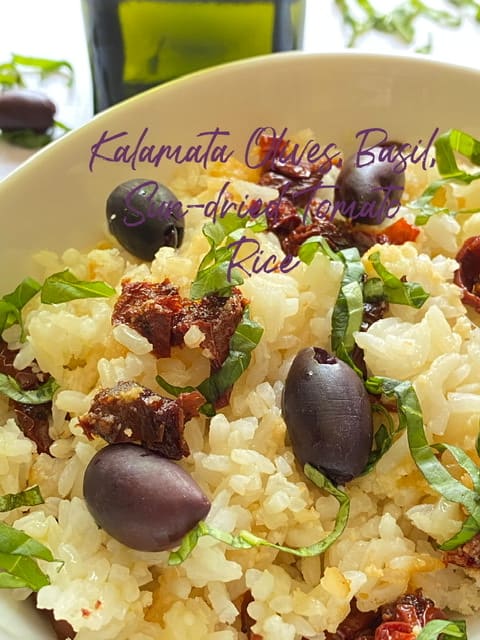 Kalamata Olives
Kalamata olives are only found on the Peloponnese peninsula in southern Greece. They have been an important part in the Greek diet for thousands of years. Greek olive trees have much larger leaves than other types of olive trees grown around the world. Therefore, the leaves absorb more sunshine, producing olives that are distinctive to Greece. This dark cherry size fruit serves up a host of nutritional benefits. Serve kalamata olives with a meal of Greek Pastitsio Greek Orzo Salad, Greek Lemon-Herb Cookies  and small glasses of Ouzo.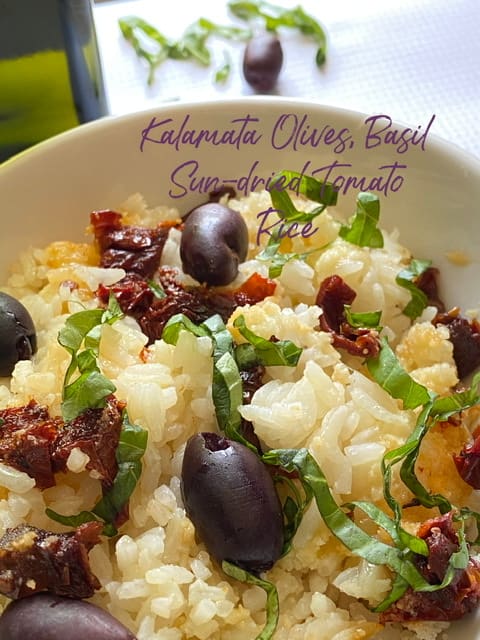 Healthy Olives
Doctors and Dietitians call kalamata olives one of the healthiest foods on earth. Basically because they are high in sodium, rich in healthy fats and contain a natural antioxidant. Kalamata olives contain health-promoting vitamins, minerals and are high in iron and vitamin A. It's said that regular consumption may help lower the risk of cardiovascular disease along with various cancers. Here are a few guidelines when hosting a Greek themed party: Host a Greek Meze Feast.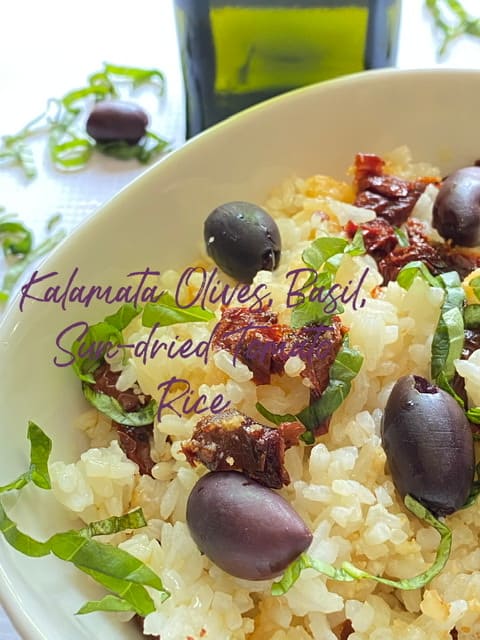 Brief History
Despite being known as 'Greek black olives,' they are in fact purple in color. Compared to green and black olives, they are generally bigger in size and oblong shape. Growers pick Kalamata olives by hand to avoid bruising the fruit. After harvesting the olives, they are processed into olive oil or prepared to be used as table olives. Kalamata olives contain a stone in the middle. Generally, they are not pitted before being sold. Kalamata olives are extremely bitter when fresh hence the reason they are cured before eating.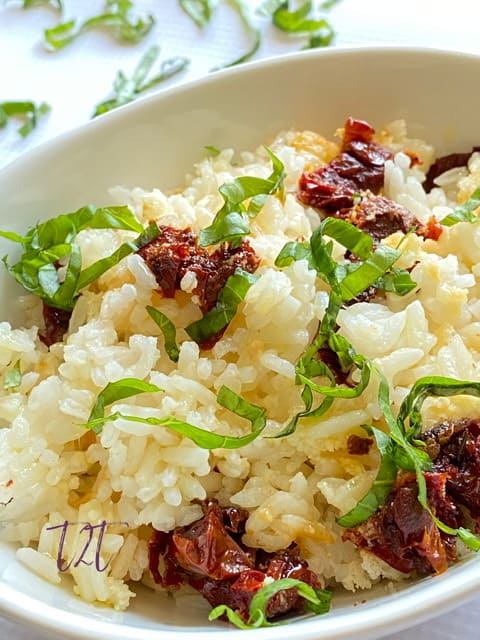 General Nutrition 
Kalamata olives are a good source of fibre, calcium, vitamin C, vitamin A, vitamin E and vitamin K. They also provide some magnesium, phosphorous and potassium per serving as well as B vitamins. While Kalamata olives are high in fat considering their serving size, the majority of their fat is monounsaturated, also known as a "healthy" fat. Kalamata olives, like pure Greek olive oil, contain phenolic compounds, which are natural antioxidants. It is this compound that gives olives their unique taste. Phenolic compounds in olives and olive oil is a strong antioxidant. Kalamata olive information from: Greek City Times
Up Next: Elote Corn Dip and Wisconsin Corn Roasts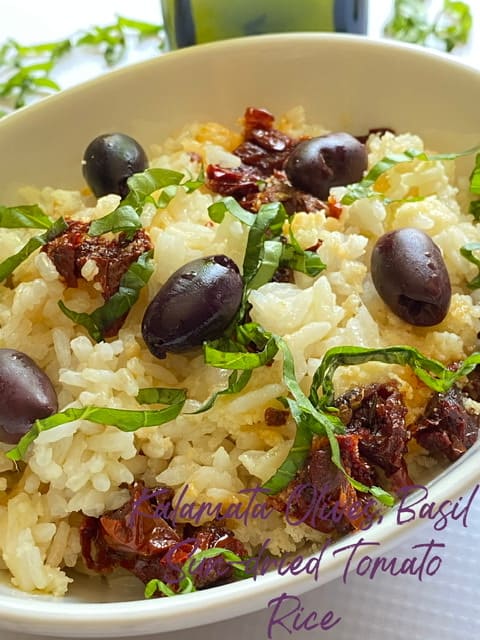 Kalamata Olive, Basil, Sun-dried Tomato Rice
Light, Flavorful and Delicious. The perfect side dish for summertime.
Ingredients
2

cups

chicken broth or vegetable broth

1

cup

Jasmine rice, uncooked

2

tablespoons

olive oil, divided

1/4

teaspoon

salt

1/2

cup

sun-dried tomatoes in oil, drained and chopped

1/4

cup

fresh basil leaves, sliced into thin ribbons

1/2

cup

parmesan cheese, shredded

1/2

cup

kalamata olives
Instructions
In a large saucepan add chicken broth, uncooked rice, one tablespoon olive oil and salt. Bring to boil. Reduce heat to simmer. Cover the skillet with a lid. Simmer for 15-20 minute on a low simmer until all water is absorbed.

Remove the skillet from heat. Stir into rice; 1/2 cup sun-dried tomatoes, fresh basil ribbons, 1/2 cup shredded Parmesan cheese, and olives. Drizzle rice mixture with one tablespoon of remaining olive oil. Serve