Pumpkin Maple Frozen Pie
We may earn money or products from the companies mentioned in this post.
Pumpkin Maple Frozen Pie
If you're looking for a new and delicious pie to serve for dessert after your Thanksgiving dinner, than look no further. Do I have a recipe for you! Pumpkin Maple Frozen Pie is beyond delicious. Your family, friends and guests will love it. Another plus, this pie is stored in your freezer, leaving extra room in your oven and/or refrigerator. This pie can be made a week in advance too. Pumpkin Maple Frozen Pie is definitely worth a try.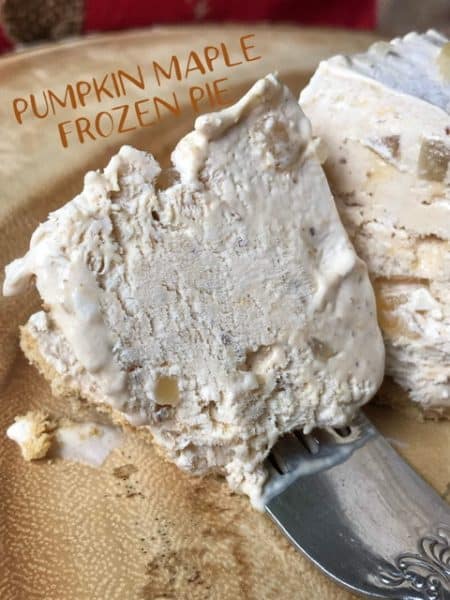 Melody of Flavors
Pumpkin Maple Frozen Pie is made with several of my favorite ingredients. For this recipe I used a pre-made graham cracker crust for convenience sake but feel free to make a "from scratch" graham cracker crust. Another option that would be perfect for this pie is to make a gingersnap cookie crust. Make it the same as you would a graham cracker crust except substitute crushed gingersnap cookies for the crackers.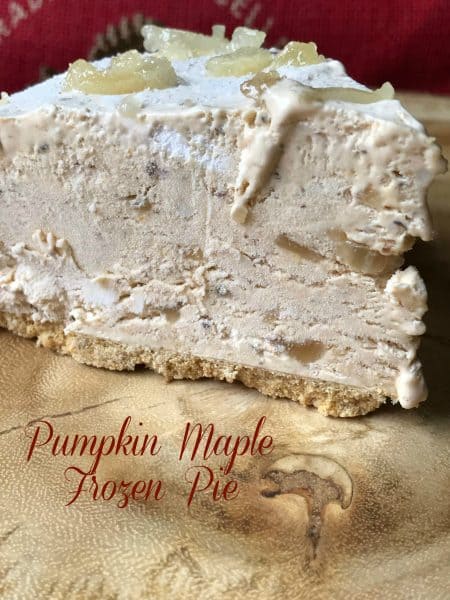 100% Canned Pumpkin
My next favorite ingredient on the list is 100% canned pumpkin. This time of year I like to stock up on canned pumpkin. Canned pumpkin can be used in many different recipes from breads, cakes, cookies, slow cooker oatmeal and pies. There was a time not so long ago that you could only find canned pumpkin in grocery stores during the holidays. Thankfully, 100% canned pumpkin can now be found in grocery stores throughout the year.
Maple Sweetened Condensed Milk
Maple Flavored Sweetened Condensed Milk by Eagle Brand If you have yet to try maple sweetened condensed milk, get to the store ASAP and buy yourself a few cans. This stuff is pure liquid gold. Thick and creamy, with just the right amount of maple flavor. It's simply perfect in my humble culinary opinion:) Eagle Brand® Sweetened Condensed Milk hasn't changed much since its debut in 1856. Here's a brief look at their long history, starting all the way back to before the Civil War up until the 1960's. Read more about their history and to find many delicious recipes on Eagle Brand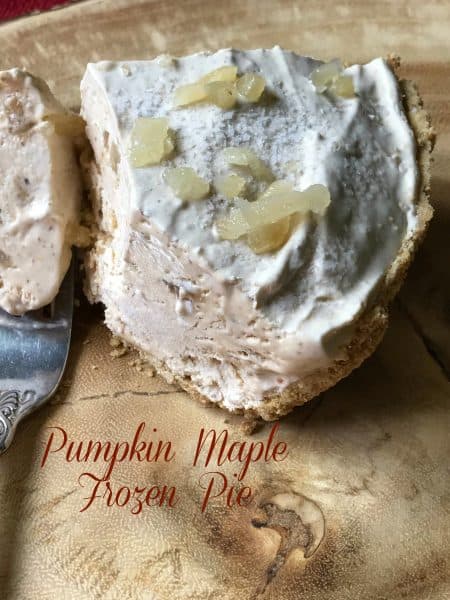 Starting in 1856
Gail Borden introduced Eagle Brand in 1856 to fight food poisoning and other illnesses related to lack of refrigeration and preservation techniques. The Civil War helped Eagle Brand become a household name. The military needed milk that would keep well, and Borden's products filled that need. Eagle Brand Sweetened Condensed Milk was credited with significantly lowering the infant mortality rate in North America. Gail Borden's discovery provided milk that would remain safe and wholesome, at the time an important contribution to the nourishment of infants and children. Original Eagle Brand Sweetened Condensed Milk was introduced in 1856 and has been #1 in the Sweetened Condensed Milk category for over 147 years.
By 1931
In 1931, a Borden Kitchens' promotion offered homemakers $25 for their original recipes. The rules called for "recipes in which Eagle Brand Sweetened Condensed Milk makes cooking quicker, easier, and surer." Over 80,000 recipes were submitted. Quick and easy foolproof recipes have been a key benefit of Eagle Brand® Sweetened Condensed Milk through the decades.
By the 1960's
Eagle Brand Sweetened Condensed Milk continued to grow in popularity, gaining promotional assistance from Elsie®, the Borden® Cow. Elsie® made her debut in national consumer magazines in 1938 and starred in Borden's exhibit at the New York World's Fair in 1939. Elsie® had become America's best-known spokes-cow—a recognized symbol of wholesomeness and quality. Good cooks throughout the country continue to create desserts with Sweetened Condensed Milk from the can bearing the Elsie image.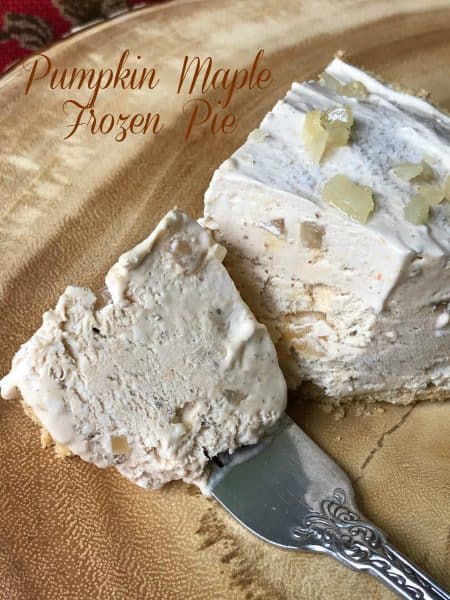 Paradise Fruit Co.
This recipe is packed full of another favorite ingredient of mine and that is crystallized ginger. We made this pie using Paradise crystallized ginger. Diced pieces of crystallized ginger are folded into the pie filling. More diced crystallized ginger is sprinkled over the top and gently pressed into the filling. Paradise Fruit Co. has asked me to develop recipes using their super dried fruits and I'm more than happy to oblige.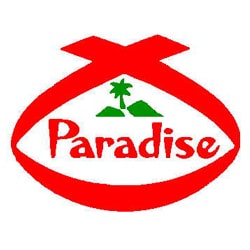 Pie Perfection
You can never go wrong with cream cheese or cool-whip and this recipe has both. With the addition of ground ginger, brown sugar, vanilla extract and ground flax seed, this recipe has something for everyone. Delicately spiced with a subtle maple and pumpkin flavor. The texture is nice and creamy, with just the right amount of richness. Pumpkin Maple Frozen Pie is the perfect pie to serve anytime. It really is pie perfection.
Tis' the Seasonal
Tis' the Season for all things Pumpkin! Pumpkin this, pumpkin that. Pumpkin and pumpkin spice is everywhere and with good reason, it's super delicious. I'll admit it, a few years back we over did it on the pumpkin and pumpkin spice flavor. We went into somewhat of a pumpkin coma. It was difficult to eat anything pumpkin. Lo and behold after taking a few years off, I'm back in the saddle and enjoying this perennial favorite.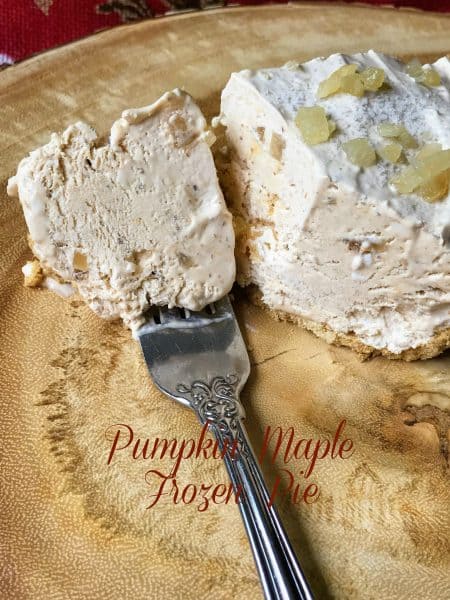 More Pumpkin Favorites
Canned pumpkin can be used in many different recipes, everything from chili to oatmeal. Check out these recipes and add a little pumpkin to your diet. After all, it's pumpkin season:) Black Bean Pumpkin Chili   Slow Cooker Pumpkin Pie Oatmeal  Pumpkin Chocolate Chip Sunflower Seed Bread and Pumpkin Bars with Cream Cheese Frosting.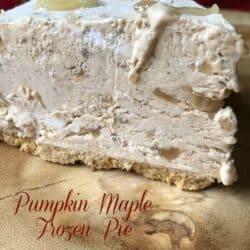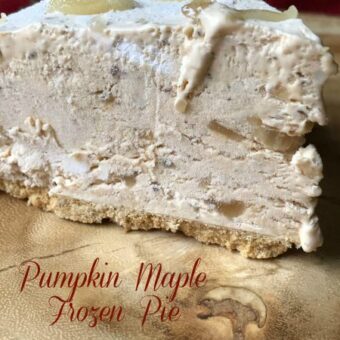 Pumpkin Maple Frozen Pie
A delicious frozen creamy pie, with just the right amount of pumpkin and maple flavor. Crystallized ginger adds another layer of delicious flavor. Perfect to serve on Thanksgiving.
Ingredients
1

9-inch

graham cracker crust

1

8 oz package

cream cheese, softened

1

14 oz can

maple flavored eagle brand sweetened condensed milk

1

tablespoon

brown sugar

2

tablespoons

pure maple syrup

1/3

cup

canned pumpkin

1/2

teaspoon

vanilla extract

1/4

teaspoon

ground ginger

1

tablespoon

ground flax seed

1

8 oz

tub whipped topping, thawed

1/2

cup

chopped crystallized ginger plus 2 tablespoons
Instructions
In a large bowl beat together softened cream cheese and maple flavored sweetened condensed milk until creamy using an electric mixer.

Beat in brown sugar, maple syrup, canned pumpkin, vanilla extract, ground ginger and ground flax seed.

Fold in cool whip and diced crystallized ginger. Spoon filling into prepared crust. Sprinkle 2 tablespoons diced crystallized ginger over the top.

Place pie in the freezer. Freeze pie for several hours. When filling is firm, place pie in a large zip-lock freezer bag and seal bag. Store Pie in freezer.
Notes
Recipe Note: Take pie out of the freezer 5 to 10 minutes before serving. This will make it easier to cut the pie into serving pieces.
Nutrition
Serving:
1
g
,
Calories:
163.95
kcal
,
Carbohydrates:
26.66
g
,
Protein:
1.38
g
,
Fat:
5.75
g
,
Saturated Fat:
1.15
g
,
Cholesterol:
0.18
mg
,
Sodium:
103.75
mg
,
Potassium:
63.41
mg
,
Fiber:
0.94
g
,
Sugar:
15.42
g
,
Vitamin A:
1588.72
IU
,
Vitamin C:
0.43
mg
,
Calcium:
16.5
mg
,
Iron:
0.74
mg
This recipe was made with these fine products: Libby's Canned Pumpkin and Paradise Fruit Company