Green and Gold White Chocolate Fudge
We may earn money or products from the companies mentioned in this post.
Green and Gold White Chocolate Fudge
Today's recipe for Fudge on Friday is based on the team colors of the Green Bay Packers. As most of you know I'm a Wisconsin food blogger. My recipes feature many foods that Wisconsin is famous for. Foods such as cheese, cranberries, maple syrup, honey, farm fresh produce and of course beer. Sports are also rich in Wisconsin's history and today's recipe for Green and Gold White Chocolate Fudge showcases our favorite team colors. Serve green and gold fudge with another green and gold favorite; Green and Gold Corn Dip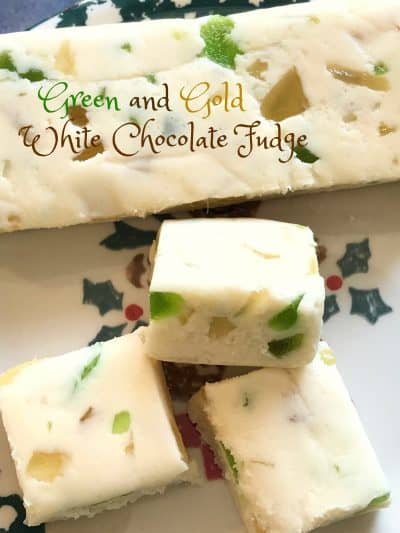 Paradise Fruit Co.
Green and Gold White Chocolate Fudge is made with Paradise Fruit. This is my second year developing recipes using Paradise Fruit. Dried fruit can be used in so many recipes! Everything from bread, cookies, fudge to smoothie bowls. Here are just a few recipes that use Paradise Fruit, Chocolate Covered Cherry Fudge, Pumpkin Maple Frozen Pie, Giddy Up Cowboy Cookies  and Tropical Smoothie Bowl Paradise Fruit.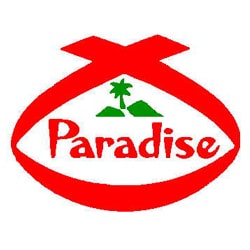 Classic Fudge Recipe
Green and Gold White Chocolate Fudge is another great recipe to make using Paradise Fruit. This classic Toll House fudge recipe features two different kinds of dried fruit; candied green cherries and candied tropical pineapple. Both the candied green cherries and pineapple are diced into small pieces and folded into a mixture of melted white chocolate chips, evaporated milk, sugar, butter, vanilla extract and mini marshmallows.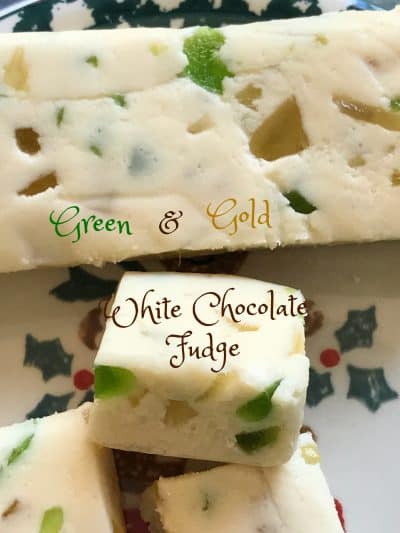 Fudge Galore
Here at Turnips 2 Tangerines we love our fudge and we have the recipes to prove it! Not all fudge recipes can be rated the same. Some of the fudge recipes we've made we have loved, some have been pretty good, while others have been so-so. For the most part though, all of the fudge recipes here on T2T are tried and true recipes. My friend Cindy from Canada asked me once, "Have you really made all of the recipes on your blog?" and I have answered, "Yeppers!"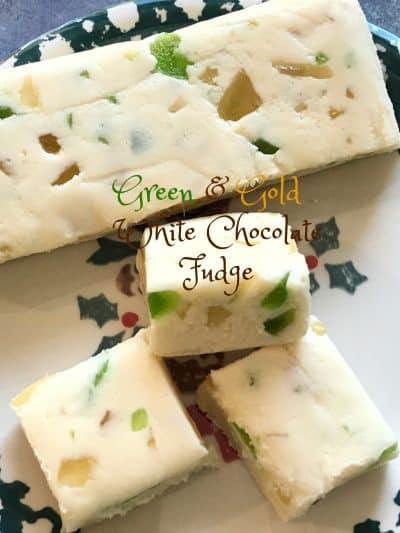 Holiday Time
Holiday Time for me wouldn't be the same without fudge. My grandma was well known and famous for her fudge. She started making batches upon batches of fudge right after Thanksgiving and continued to Christmas. I do believe she made her fudge well into her 70's and possibly her 80's. Even though I've tried to make my grandma's fudge recipe several different times, it just doesn't taste the same. I remember as a young girl saying something like that to my mom, that the ice cream didn't taste the same unless she dished it up..I'm not sure if it's a psychological thing or what but sometimes its true:)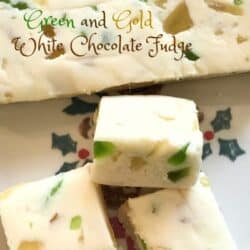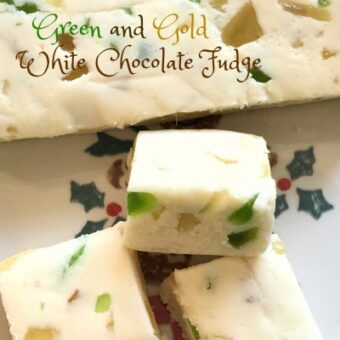 Green and Gold White Chocolate Fudge
A delicious fruity fudge made with white chocolate chips and diced Paradise fruit.
Ingredients
1 1/2

cups

granulated sugar

2/3

cup

evaporated milk

2

tablespoons

butter

1/4

teaspoon

salt

2

cups

miniature marshmallows

1 1/2

cups

white chocolate chips

1/2

cup

diced candied green cherries

1/2

cup

diced candied pineapple

1

teaspoon

vanilla extract
Instructions
INSTRUCTIONS

LINE 8-inch-square baking pan with foil. Lightly butter.

COMBINE sugar, evaporated milk, butter and salt in medium, heavy-duty saucepan. Bring to a full rolling boil over medium heat, stirring constantly. Boil, stirring constantly, for 4 to 5 minutes. Remove from heat.

STIR in marshmallows, chocolate chips, diced candied cherries, pineapple and vanilla extract. Stir vigorously for 1 minute or until marshmallows are melted. Pour into prepared baking pan; refrigerate for 2 hours or until firm. Lift from pan; remove foil. Cut into 48 pieces.
Nutrition
Serving:
1
g
,
Calories:
499.57
kcal
,
Carbohydrates:
88.95
g
,
Protein:
3.76
g
,
Fat:
15.34
g
,
Saturated Fat:
9.34
g
,
Cholesterol:
20.8
mg
,
Sodium:
169.65
mg
,
Potassium:
161.17
mg
,
Fiber:
0.8
g
,
Sugar:
78.76
g
,
Vitamin A:
159.81
IU
,
Vitamin C:
0.93
mg
,
Calcium:
142.51
mg
,
Iron:
0.49
mg