Pineapple Pork Tenderloin Kabobs
We may earn money or products from the companies mentioned in this post.
Pineapple Pork Tenderloin Kabobs
This post is a sponsored by the Wisconsin Pork Association. I was compensated for my time in writing this. As always, my words and thoughts expressed here are my own.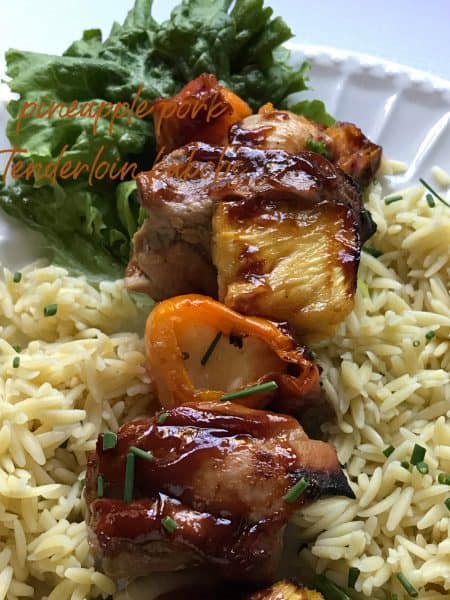 June is Dairy Month
The month of June has come to an end and the 4th of July is in a few short days. Once again, summer is flying by. Time to get outside and enjoy all the fun festivities summer has to offer. June is Dairy Month here in America's Dairyland and a great time to visit one of the many "Breakfast on the Farm" that takes place throughout the month of June. It's a fantastic way for kids to get a taste of "life on the farm" and enjoy a delicious breakfast. Each year, different farms are selected from every county to participate in this program. I wanted to incorporate cheese somehow into my recipe.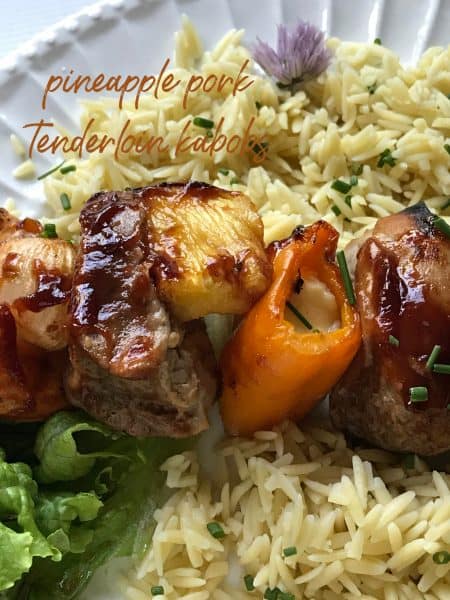 Chandoka Cheese
For this recipe we used a Chandoka cheese. It's a cheese made with part cows milk and part goats milk. Chandoka is a mild fruity cheddar cheese made from whole pasteurized cow and goat milk. The cheese is ripened for about one month and has approximately a year's shelf life. Chandoka has fruity characteristics of cow's milk and sweet tangy notes of goat's milk, which makes this cheese wonderful and full of flavor. Chandoka Cheese is 'Something Special from Wisconsin.'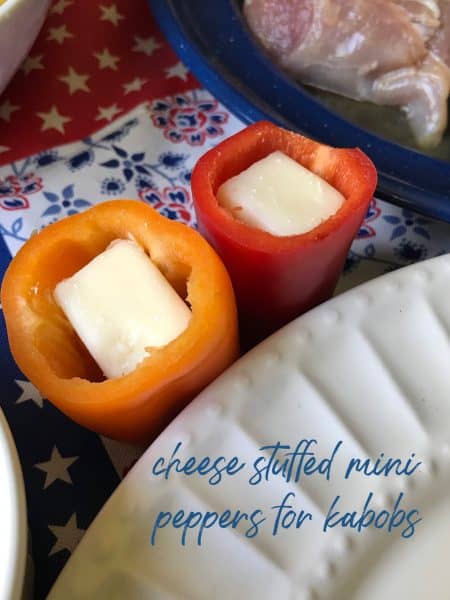 July 4th
Last year for the 4th of July, we spent the day at the Brewers game with our grandson. It was one of the hottest days of the summer, with temps in the high 90's. It was blazing hot! I mean fry an egg on the hot pavement hot. I almost cried when I saw that our seats were in the sun and on the wrong side of the stadium to boot. This year we've staying home to enjoy the fireworks right from our dock. Grilled Pineapple Pork Tenderloin Kabobs will be perfect.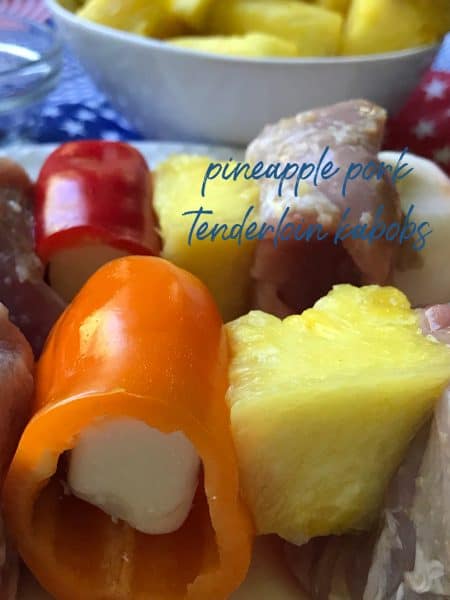 Make Life Easier
To make life a little easier when making this recipe, you can take advantage of the produce section of your favorite grocery store. Most stores now offer pre-cut vegetables and fruits. Purchase minced garlic in a jar and squeeze ginger. Mini vegetables like peppers, onions, potatoes, sweet potatoes and zucchini are kabob lovers' dream come true. The options are really unlimited. Skip the potato salad and serve Pineapple Pork Tenderloin Kabobs with coconut lime jasmine rice. The flavors are super delicious together.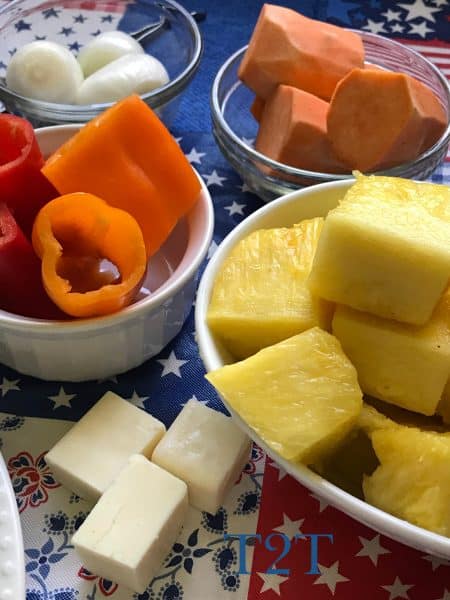 Make Extra
Make a few extra pineapple pork tenderloin kababs, without the barbecue sauce, and turn today's supper into tomorrows lunch. Grill or oven bake pineapple pork tenderloin kabobs per directions. Remove pork tenderloin and vegetables from skewers. Cool about 15 minutes, place in an air-tight container and refrigerate. To prepare, saute pork tenderloin mixture in a few tablespoons of hot oil. Stir in ½ bottled stir fry sauce and serve over jasmine rice. Delicious!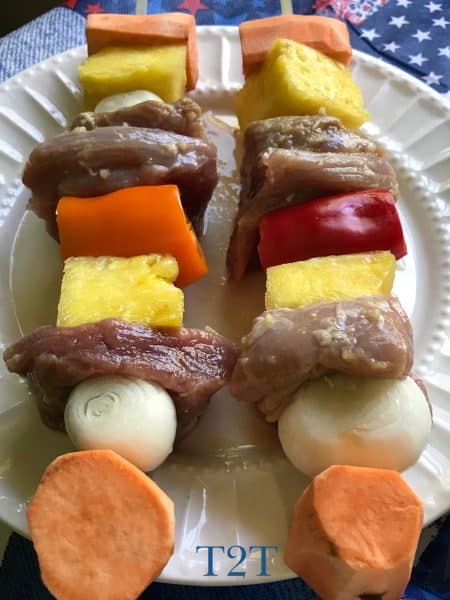 Versatile Pork Tenderloin
Baked in the oven or grilled on the grill, pork tenderloin kabobs are versatile, lean and good for you too. Pork Tenderloin is perfect for kabobs because it cooks up fast and still remains tender.  Kabobs can be made with any combination of vegetables and/or fruits your family loves. Pork tenderloin can be baked, breaded, pan fried, roasted, sauteed, simmered and slow cooked. All of the methods that I've used to prepare pork tenderloin:)
All pork tenderloins have a 'silvery skin' attached. Much like you'd find on beef or lamb tenderloins. You need to remove the silvery skin before preparing any tenderloin. If you don't, you will lose an endless chewing battle:) Removing the silver skin or connective tissue, is easy. Personally, I think the most important step to removing the silver skin is having a sharp knife. Just remember to angle the knife slightly upwards and away from you.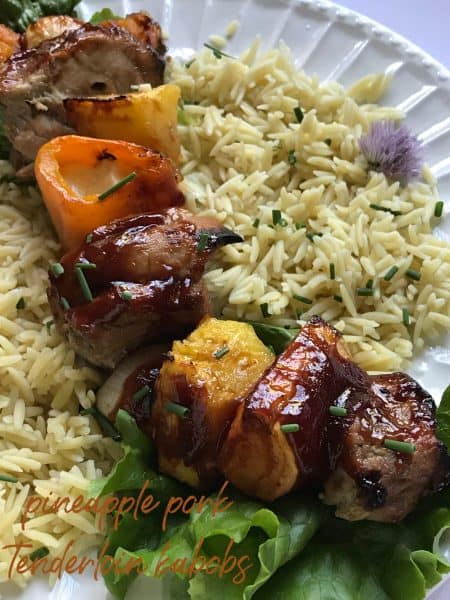 Removing the Silver Skin
Removing the silver skin from pork tenderloin is actually easier than it sounds. Using a sharp knife, slip the knife between the silver skin and the meat. Cut a small piece of silver skin away from the meat. Now you'll have a small piece to hang on too while you work the knife along the silver skin. Keep the knife close to the skin without removing meat. Sometimes it's possible to grab onto a piece of the silver skin and pull some of it off.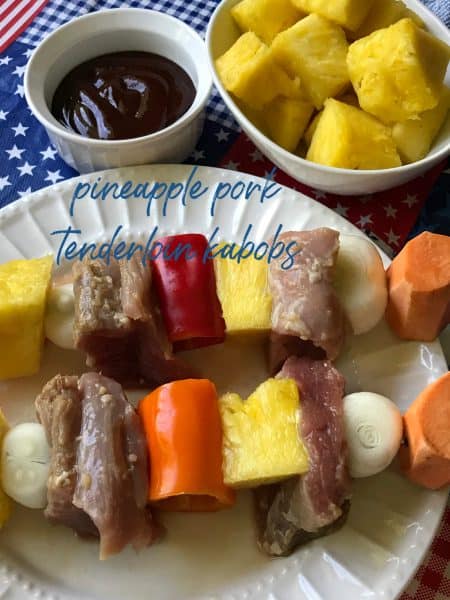 When Is Pork Done?
Pork today is very lean, making it important to not overcook and follow the recommended pork cooking temperature. The safe internal pork cooking temperature for fresh cuts is 145° F. To check properly, use a digital cooking thermometer to measure the temperature at the thickest part of the cut without touching any bone. Once you have reached the desired internal temperature, remove from heat and let it rest for three minutes.
Fresh cut muscle meats such as pork chops, pork roasts, pork loin, and tenderloin should measure 145° F, ensuring the maximum amount of flavor. Following these pork cooking temperature guidelines will not only result in a safe eating experience, but also preserve the quality of your meat for a juicy, tender, delicious meal.
[easy-image-collage id=24184]
Benefits of Pork
There are several benefits of pork in your diet. Pork is both a good source of protein and also provides several important vitamins and minerals. A 3 ounce serving of pork is an "excellent" source of thiamine, selenium, protein, niacin, vitamin B6 and phosphorus. A 'good' source of riboflavin, zinc and potassium. Pork is naturally low in sodium and a "good" source of potassium. Both can help regulate blood pressure.
The American Heart Association has certified the pork tenderloin and pork sirloin roast meet the criteria as heart-healthy foods, indicating that they contain less than 5 grams of fat, 2 grams or less of saturated fat and 480 milligrams or less of sodium per label serving. To learn more about pork, the benefits of pork in your diet and the proper temperatures to cook pork go to: Pork Checkoff.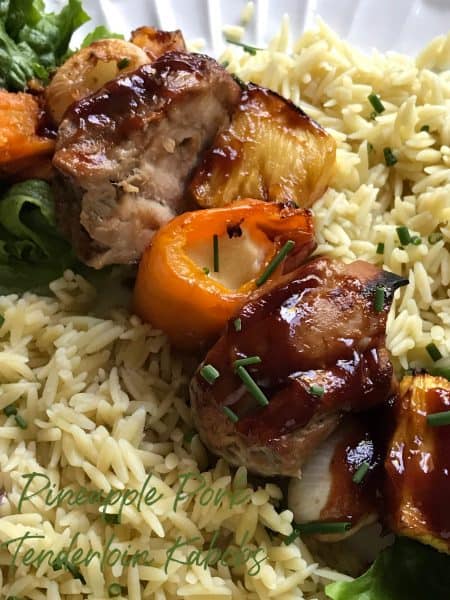 Pork Farmers Care
Few people have firsthand knowledge of what modern pig farming looks like. Now more than ever, pig farmers have access to tools and resources to better care for their animals and meet consumer demand. These advancements have helped make the U.S. pork supply safer and more nutritious than at any time in our nation's history.
No matter the farm, the basic tenet of animal agriculture is the same: Good animal care is imperative to produce healthy food for consumers. For pig farmers, ensuring the well-being of animals is about more than taking care of business. It is part of America's agricultural heritage. Pig farmers are intent on preserving and building upon that legacy.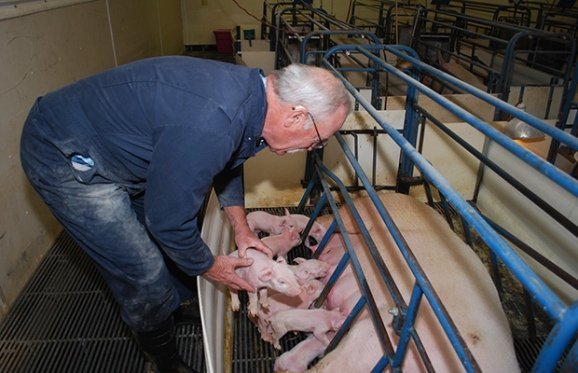 Working Together
Pig farmers work through national and state organizations to collaborate with agriculture experts and researchers whose goal is to advance animal well-being and pig farming practices. Committees led by farmers, veterinarians and animal well-being experts work in partnership to develop standardized programs and practices for proper pig handling to share with farmers nationwide.
This coordinated, unified approach ensures that the latest knowledge and research is available to pig farmers on topics such as pig care and handling, transportation, feeding and nutrition, food safety, environmental management, and worker safety. To learn more about Pork Farmers go to: Pork Cares
A Few Terms Used in this Recipe 
Kebab; kabob [kuh-BOB] Small chunks of meat, fish or shellfish that are usually marinated before threaded on a skewer and generally  grilled over coals. Pieces of vegetables can also accompany the meat on the skewer and you have shish kebabs.
Marinade [MEHR-ih-nayd] A seasoned liquid in which foods such as meat, fish and vegetables are soaked (marinated) in order to absorb flavor and, in some instances, to be tenderized.
Marinate [MEHR-ih-nayt] To soak a food such as a meat, fish or vegetable in a seasoned liquid mixture called a marinade. The purpose of marinating is for the food to absorb the marinade flavors and to tenderize.
Recipe Note: Always marinade in glass, ceramic or stainless steel containers. Never in aluminum. Foods should be covered and refrigerated while marinating. A big Thanks to Jennifer @ Plowing Through Life and Wisconsin Pork Producers Association for giving me this awesome opportunity.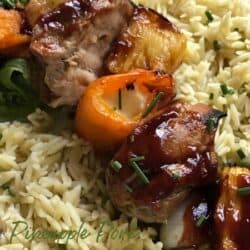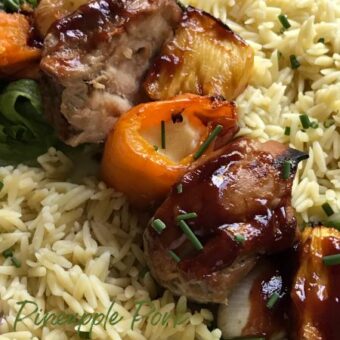 Pineapple Pork Tenderloin Kabobs
Tender Pork Tenderloin is paired with juicy pineapple to create an easy and elegant entree.
Ingredients
1

cup

unsweetened pineapple juice

1/4

cup

minced fresh ginger

1/4

cup

reduced-sodium soy sauce

4

garlic cloves, minced

1

teaspoon

ground mustard

2

pork tenderloins

1

fresh pineapple, cut into chunks

6

sweet baby peppers, stem end removed

6

cubes

Chandoka cheese or string cheese

6

whole baby onions

6

small sweet potatoes

2

small

zucchini, cut into thirds, optional

1

bottle

Hawaiian-style BBQ Sauce
Instructions
In a small bowl, whisk together first 5 ingredients. Place pork tenderloin in a 11 x 7-inch baking dish or large resealable plastic bag. Pour marinade over pork tenderloin, turn to coat. Cover baking dish with plastic wrap or seal plastic bag. Refrigerate for 8 hours or overnight.

Drain and discard marinade. Slice marinaded pork tenderloin into medium size pieces. Carefully stuff cheese cubes into baby sweet peppers, cutting cheese if necessary. On metal skewers, thread pineapple chunks, pork tenderloin pieces, cheese stuffed sweet peppers, onions, sweet potatoes and zucchini if using.

Oven Method: Place pork kabobs in a 13 x 9-inch baking dish or on top of a broiler pan. Bake at 375° for 35-45 minutes or until a thermometer reads 145° Baste kabobs with barbecue sauce during the last 10 minutes of baking. Let kabobs stand 5 minutes before removing from skewers, Serve with additional bbq sauce,

Grill Method: Moisten a paper towel with cooking oil; using a long-handled tongs, lightly coat the grill rack. Preheat gas grill to medium-hot. Grill pork kabobs, covered, over medium heat for 25-30 minutes or until a thermometer reads 140°. Baste kabobs with barbecue sauce during last 10 minutes of grilling. Let kababs stand 5 minutes before removing from skewers. Serve with additional bbq sauce.
Notes
Side Notes:
For easy preparation, this recipe can be made with: squeeze ginger, ready-to-use garlic and ready-to-eat pineapple chunks and vegetables. All can be purchased  in the produce section of most grocery stores.
Purchase a Hawaiian-Style BBQ Sauce, one that is made with pineapple juice, or you can certainly make your own Hawaiian BBQ sauce.
Recipes On Tap
Hawaiian BBQ Bratwurst Kabobs, Oven Roasted Pork Tenderloin Kabobs and Key Lime Fruit Dip with Fruit Kabobs are all super delicious. Serve Pineapple Pork Tenderloin Kabobs with Coconut Lime Jasmine Rice.