Waldorf Chicken Salad
We may earn money or products from the companies mentioned in this post.
Waldorf Chicken Salad
Waldorf Chicken Salad is a delicious salad recipe packed full of all kinds good for you ingredients. This super, summertime salad will hit the spot on a hot day. Made with the classic 'Waldorf' ingredients, chopped apples and celery, but with the added bonus of chopped chicken, grapes and raisins. A light yogurt dressing gives this salad a fresh, clean taste.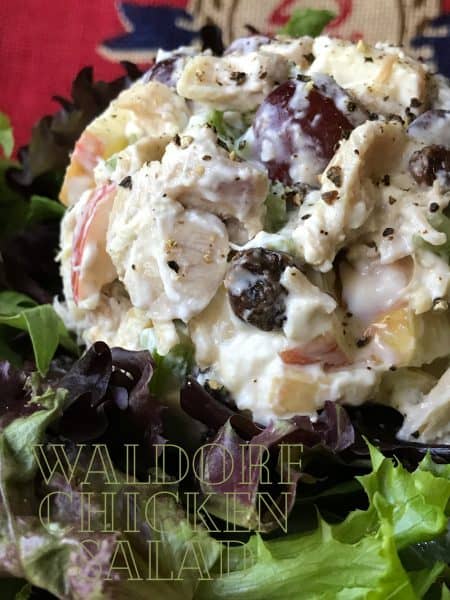 Made With
Waldorf Chicken Salad is made with cubed cooked chicken breast, chopped apples, sliced red grapes, diced celery, raisins and walnuts. All of the classic Waldorf salad ingredients plus a few extra. A homemade dressing combines the ingredients together. The dressing is made with a Greek yogurt, honey and a pinch of ground ginger. Giving this salad a light, yet tangy zip.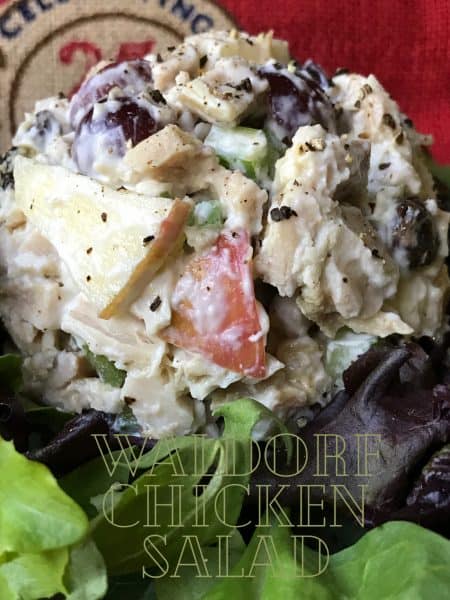 Taste of Home
Recipe Credit: I found this recipe in one of my gazillion Taste of Home recipe books. More specifically, TOH Healthy Cooking, 2016 annual recipes. It's listed under the name, 'Waldorf  Turkey Salad.' We substituted chopped cooked chicken for the turkey but we're looking forward to making this salad again using leftover holiday turkey. Waldorf Chicken Salad will be especially tasty made with fresh crisp apples during apple season.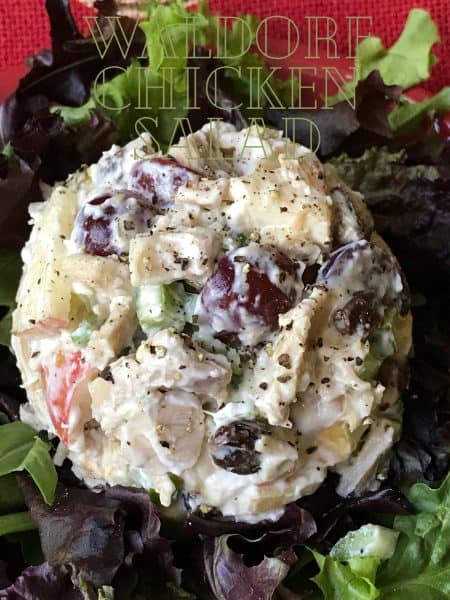 Created By
Waldorf Salad [WAWL-dorf] was created at New York's Waldorf-Astoria Hotel in the 1890's. The salad was created by Oscar Tschirky, the maÎtre d'hôtel. The Waldorf Salad was an immediate success and still is. The original version of this salad contained only apples, celery, and mayonnaise. Chopped walnuts later became an integral part of the salad. Waldorf Salad is usually served on top of a bed of lettuce.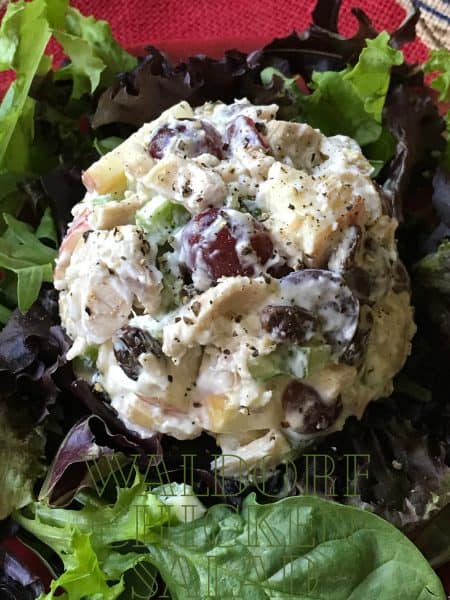 Many Variations
Since its conception in the 1890's, this salad has gone through many changes. Diced apples, celery and chopped walnuts have remained the mainstays. Grapes, raisins and cubed chicken or turkey have entered the mix over the years. Another change this salad has seen over the years can be seen in this recipe. The Greek yogurt dressing is a relatively new, replacing the mayonnaise. Over the years, I have replaced almost all regular mayonnaise in my diet, opting for olive oil based mayo or yogurt dressings like this one.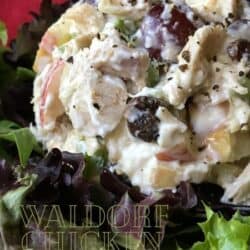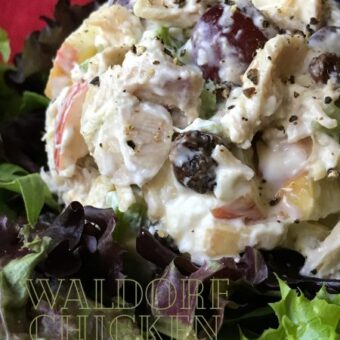 Waldorf Chicken Salad
A delicious blend of flavors.
Ingredients
1

cup

plain Greek yogurt

2

tablespoons

honey

1/8

teaspoon

ground ginger

1/4

teaspoon

salt

2

cups

cubed cooked chicken breast

1

cup

chopped apple

1

cup

seedless red grapes, halved

1/2

diced

celery

1/2

cup

raisins

1/4

cup

chopped walnuts

mixed spring salad greens
Instructions
In a small bowl, whisk together yogurt, honey, ground ginger and salt.

In a large bowl toss together chicken, apples, grapes, celery and raisins. Pour dressing over all and gently toss together. Top with chopped walnuts and serve on mixed spring salad greens.
Recipes On Tap
Cantaloupe Berry Salad , Cherry Grape Chicken Salad  and Easy Chicken Salad  are cool summer favorites.
For this recipe we used plain Greek Gods Yogurt