Beet Orange Salad
We may earn money or products from the companies mentioned in this post.
Beet Orange Salad
If its been awhile since you've tried beets, I suggest you give this recipe from Taste of Home a try. When we were without power for four days, I did what people used to do for entertainment, I read a book:) Not just any book either but one of my 250 Taste of Home Cookbooks. I came across this recipe while I was sitting in the dark, with my trusty flashlight, reading my cookbooks and thought, hmm I need to try this recipe for Beet Orange Salad.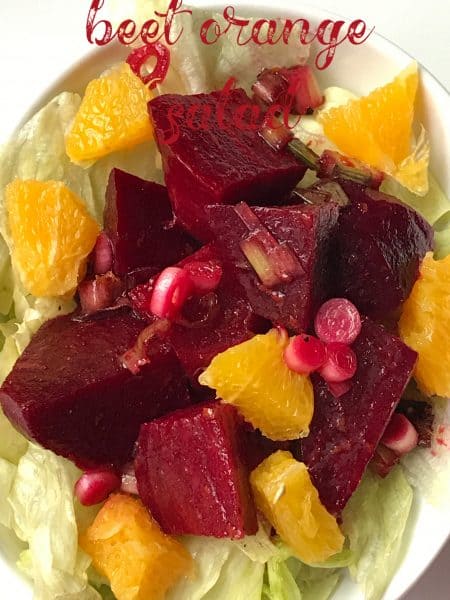 Read A Cookbook?
I know what many of you are thinking, "C'mon lady, you can't read a cookbook." Well, as a matter of fact I certainly can! I start at the beginning of the cookbook and read through the recipe. How is the recipe made, why is it a family favorite or tradition and so on and so forth. If you're like me when it comes to reading cookbooks, you totally get what I'm talking about. If you're not, then you might be thinking that I need to get a life:) Or as my 4 yr old grand-daughter Iris would say, "I need to get a wife." I'm so glad I decided to read my TOH Heathy Cooking 2012 Annual Recipes Cookbook. I'm even happier that I found this recipe for Beet Orange Salad.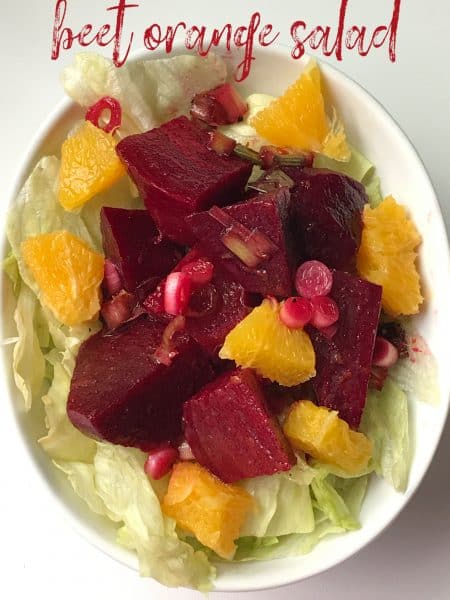 Fresh Beets
A few days later when I was on my way home from the grocery store, my favorite farm stand had their sign out by the road. Zucchini, cucumbers and beets were listed. I pulled the car over, got out and bought    roughy five of all three. The zucchini was shredded, and frozen, the cucumbers were made into refrigerated pickles and with the beets we made this super cold salad. I had never made or eaten beets as a cold salad before and was anxious to try this recipe.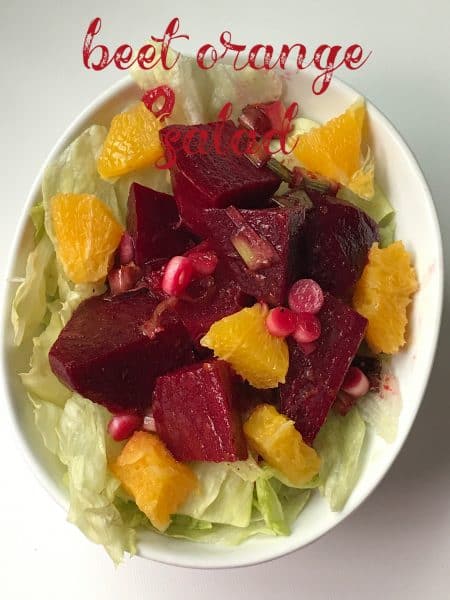 Beets and Oranges
Beets and oranges are a match unlike no other. They go together beautifully in this salad. In fact, all of the ingredients go together perfectly. I'll admit I wasn't a super big fan of beets. I liked them, would eat them but I didn't flip over them. After making this recipe, I can now say I've flipped for beets. The tender beets are allowed to soak up a simple vinaigrette of apple cider vinegar, olive oil, sugar, salt, curry powder, orange juice and pepper. Served over lettuce with orange sections and additional vinaigrette, this recipe will surely change the way you think about beets.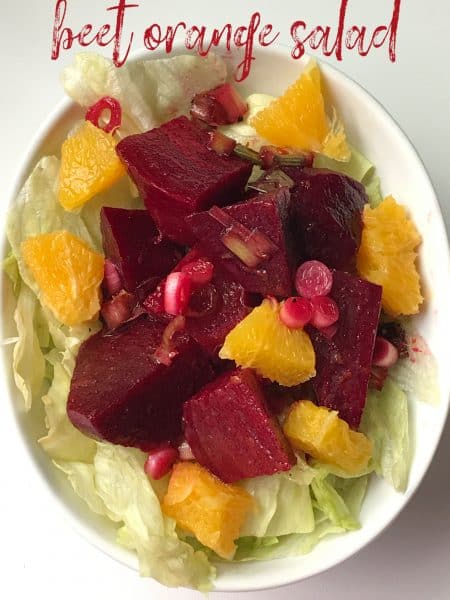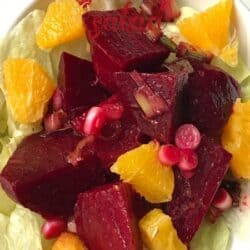 Fresh Beet Orange Salad
A delicious mixture of fresh beets, oranges and a tangy vinaigrette.
Ingredients
5

whole

fresh beets

4

green onions, thinly sliced

1/4

cup

apple cider vinegar

3

tablespoons

olive oil

2

tablespoons

sugar

1/2

teaspoon

salt

1/2

teaspoon

curry powder

1/4

teaspoon

white pepper

1

orange, juiced

1

tablespoon

grated orange rind

1

package

salad mix

2

medium

navel oranges
Instructions
Place beets in an 11 x 7-inch baking dish; add 1-inch of water. Cover and bake at 400 for 40-45 minutes or until tender. Cool; peel, slice and quarter. In a large bowl, combine beets and green onions. In a small bowl, whisk the vinegar, oil, sugar, salt, curry powder, pepper, orange juice and zest. Pour over beets; toss to coat. Cover and refrigerate for 2 hours.

Before serving, cut each orange widthwise into slices. Slices in half, cut halves into sections and cut off rinds. Divide lettuce among six plates. Using a slotted spoon, top lettuce with beet mixture. Arrange orange sections over salad. Drizzle with vinaigrette.
Orange Glazed Roasted Beets, Pickled Eggs with Beets and Russian Beet Salad  are recipes that are made with beets. Recent Recipe: Savory Onion Muffins