Clubhouse BLT Sandwich
We may earn money or products from the companies mentioned in this post.
Clubhouse BLT Sandwich
The definition for a club sandwich or clubhouse sandwich according to the Food Lover's Companion    is as follows; "A double-decker sandwich consisting of three slices of toast or bread between which are layers of chicken, turkey, bacon, lettuce, tomato and whatever else pleases the sandwich maker." That pretty much sums up our Clubhouse BLT Sandwich, minus the chicken or turkey.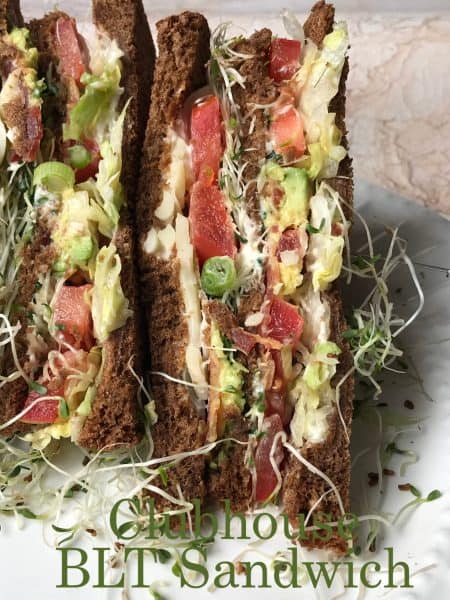 Hot and Muggy Weather
In my house hot and muggy weather signals it's time to eat lighter meals. When the hot and muggy weather hits, in my opinion anyway, it's even to darn hot to grill. Even with the air conditioning running at full tilt, it's difficult to enjoy something that's "hot off the grill." I've always been this way. Even when I was a kid, I wasn't fond of hot weather. It might have something to do with the fact that when I was growing up, we didn't have air-conditioning, we were lucky to even have a fan:) I'm just pulling your leg, back then no one had air-containing. My bedroom was located upstairs and it had one tiny window. I can remember tossing and turning, trying to fall asleep. We'd push the bed as close to the window as possible, in order to catch the slightest breeze.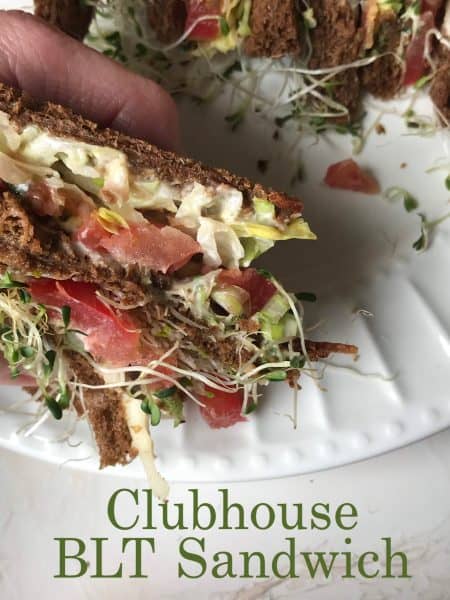 Air-Conditioners
Years later when I got married, we lived in a small upstairs apartment with no air-conditioning. It was so frickin hot in that upstairs apartment!! I had my son in August, at the tender age of 20. While pregnant I would lay on the couch, in front of a fan trying to cool off. I truly thought that that summer was the hottest summer on record. Eventually we did get a window unit for the bedroom, which did help considerably. Back in the old days, (the early 80's), it was rare to have a car that was air conditioned, let alone your home. For some people humidity doesn't bother them but for people like me, who can't stand hot and humid weather, central air is just short of a miracle.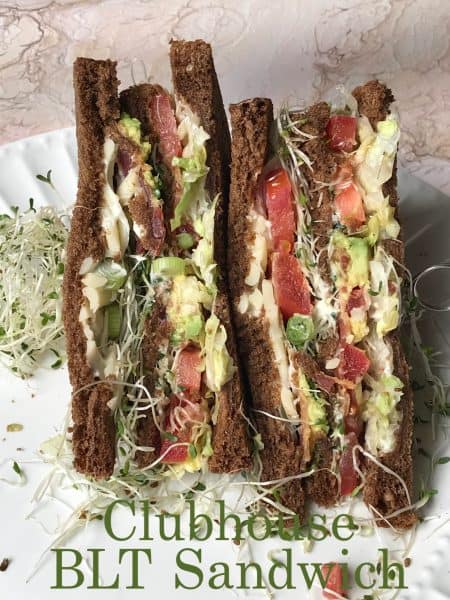 Lighter Meals
Lighter meals can mean many different things to different people. Some people might consider a burger cooked on the grill with a side of baked beans a light meal. While others might consider a slice of watermelon a light meal. In my house a lighter meal consists of pretty much anything that can be eaten cold. At the top of this list are: sandwiches, followed by salads and lastly a simple stir-fry or kabobs. Clubhouse BLT Sandwich is at the very top of the list.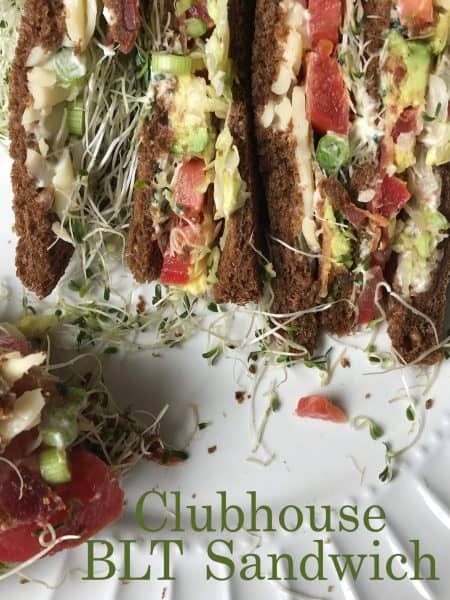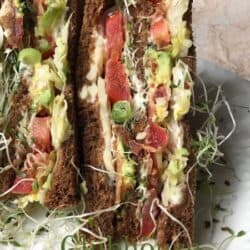 Clubhouse BLT Sandwich
This delicious sandwich that is big on taste and low in calories.
Ingredients
6

slices

barley rye bread

1/3

cup

olive oil mayonnaise

1/2

cup

shredded reduced-fat Italian cheese blend

2

cups

shredded romaine lettuce

2

Roma tomatoes thinly, sliced

4

strips

bacon, cooked and crumbled

1

medium

ripe avocado, peeled and cut into slices

4

tablespoons

sliced green onions

2

tablespoons

fresh basil leaves, torn

1

cup

alfalfa sprouts
Instructions
Spread mayonnaise on slices of bread. Sprinkle bottom slices of bread with shredded cheese, shredded romaine lettuce, sliced tomatoes, crumbled bacon, avocado, green onions, and basil. Top with alfalfa sprouts. Top with second piece of bread, repeat with cheese, lettuce, tomatoes, bacon, avocado, green onions, basil and sprouts. Place on top piece of bread. Cut in half and Serve immediately. 
The bread used to make this super sandwich is from Angelic Bakehouse
You can never have too many sandwich recipes! Here are just a few of our favorites. Egg Salad Sandwich, Ham Salad Sandwich and Open Faced Cucumber Sandwich. Recent Recipe: Cannellini Bean Salad