Giddy Up Cowboy Cookies
We may earn money or products from the companies mentioned in this post.
Giddy Up Cowboy Cookies
Giddy Up Cowboy Cookies are our version of the classic cowboy cookie that is everyone's favorite. Cowboy Cookies, Ranger Cookies, Lone Ranger Cookies, and Laura Bush's Cowboy Cookies are all names for this much loved classic. A local bakery near me makes what they call a Hilary Cookie. Hilary Cookies are very similar to cowboy cookies made with the same ingredients except Hilary cookies have chopped walnuts instead of pecans. All of the cookies, no matter what name they go by, seem to have the same ingredient thread; oatmeal, chocolate chips, coconut and nuts. You can see why Cowboy Cookies are a favorite!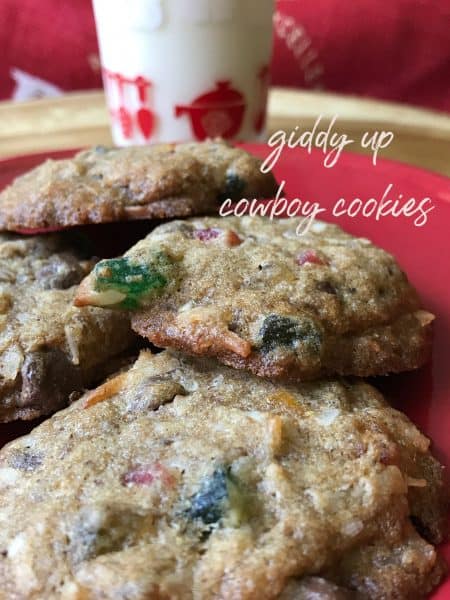 Legend Has It
Legend has it that Cowboy Cookies originated in the great state of Texas. This certainly makes sense, since Texas is known for its cowboys, horses and ranch life. Another theory is, cowboy cookies were a favorite with cowboys on the long dusty trail. The reason being the cookies kept well and contained healthier, almost 'power bar' ingredients. After reading the list of ingredients, it didn't seem to me anyway that the ingredients coincides with the long  dusty trail theory. I'm not certain but I don't think cowboys on the dusty trail gave a hoot about healthy or power bars. I also find it hard to believe that any cookie containing chocolate would hold up well in the Texas heat. Well, any hoot, back to the giddy up part.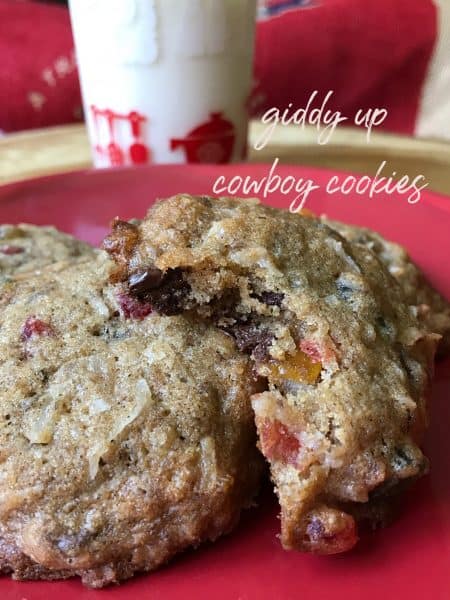 Giddy Up
The giddy up part in our recipe for "giddy up" cowboy cookies, in addition to the traditional ingredients, is the addition of extra fancy fruit cake mix from Paradise  Extra fancy fruit cake mix is a mixture of dried fruit that is typically used to make holiday fruitcake. This super mix includes orange peel, cherries, lemon peel, pineapple, and citron. Extra fancy fruit cake mix works great in many recipes besides fruit cake. Everything from cookies to bread to fudge, will benefit from the addition of this delicious mix. Extra fancy fruit cake mix isn't just for fruitcake anymore!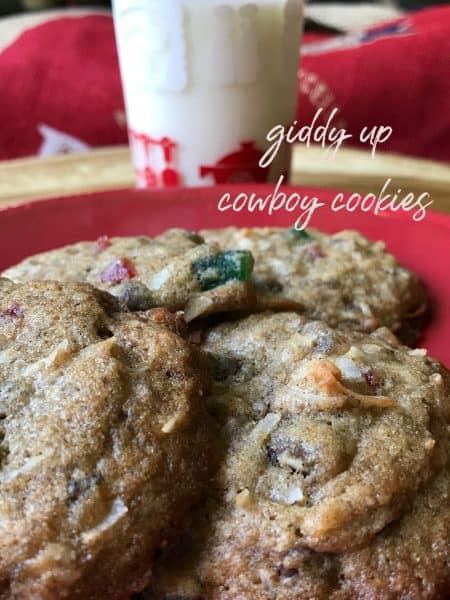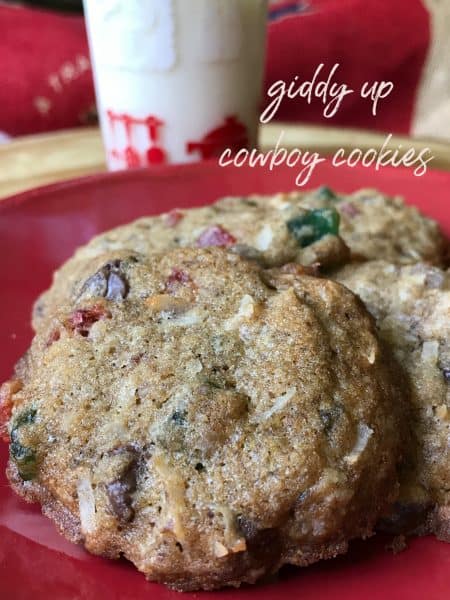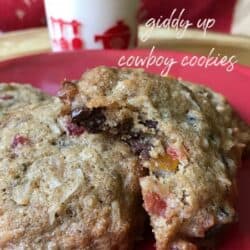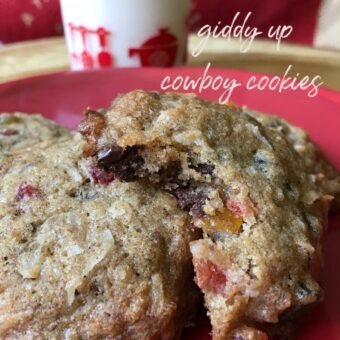 Giddy Up Cowboy Cookies
A delicious Cowboy cookie made special with Paradise Extra Fancy Fruit Cake Mix
Ingredients
1

cup

butter, softened

3/4

cup

brown sugar, packed

1/2

cup

sugar

2

eggs

2

teaspoons

vanilla extract

1 1/4

cups

flour

3/4

cup

whole wheat flour

1/4

cup

ground flaxseed

1

teaspoon

baking soda

1

teaspoon

ground cinnamon

1/2

teaspoon

salt

2

cups

semi-sweet chocolate chips

1

cup

sweetened flaked coconut

1 1/2

cups

Paradise extra fancy fruit cake mix

1/2

cup

chopped pecans
Instructions
Preheat oven to 375 degrees F.

In mixing bowl, cream butter and sugars. Add eggs and vanilla; mix well. In separate bowl, combine flours, flaxseed, baking soda, cinnamon and salt; add to creamed mixture. Stir in chocolate chips, coconut, extra fancy fruit cake mix and pecans. Drop by heaping tablespoonfuls onto ungreased cookie sheets. Bake at 375 degrees for 8-10 minutes. Cool on wire cooling racks.
Cookies, Cookies and More Cookies! Chocolate Crinkle Cookies, Cherry Winks, Back to School Pencils and Snickerdoodles.
Browse Hungryroot's wholesome, convenient, and flexible menu!