Make a Bloomin' Onion at Home
We may earn money or products from the companies mentioned in this post.
Make a Bloomin' Onion at Home
To Make a Bloomin' Onion at Home is really quite easy. All you need are some large sweet onions or onions of your choice, whole wheat flour, spices, milk and eggs. Along with oil, a deep-fat fryer or deep cast-iron skillet and you'll be enjoying bloomin' onions at home in no time.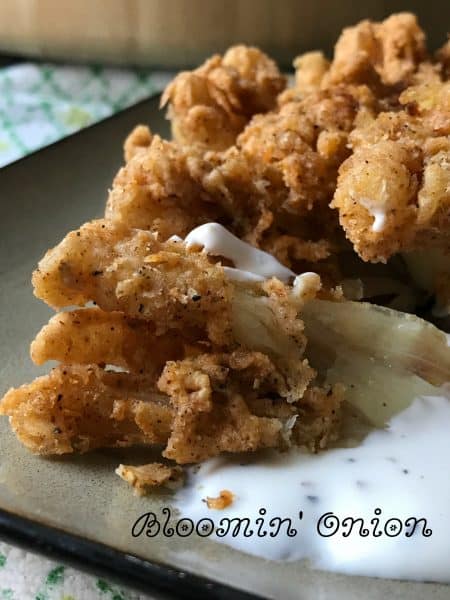 Bloomin' Onions
Bloomin' onions or sometimes called "onion blossoms" and have been around for for-ever. With good reason, they're delicious. Just about everyone has heard of a Bloomin' Onion and most people have probably even eaten a one. My first bloomin' onion experience was when we ordered one at Outback Steak House several years back. Outback was one of many new restaurants that opened in our area at that time.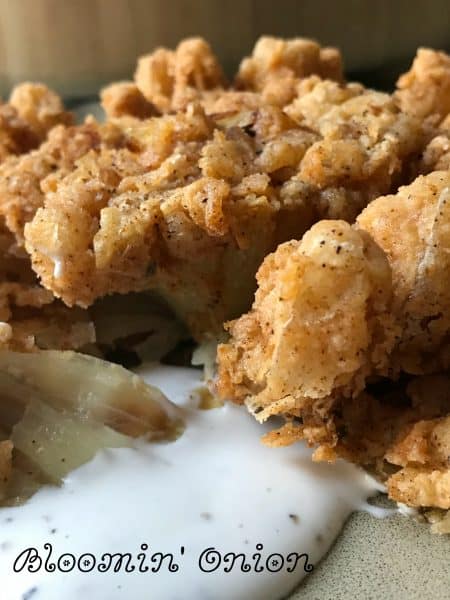 Bloomin' Onion Maker
Many of you may have already made a bloomin' onion at home. I'm not sure where I was when the Bloomin' Onion craze was in full swing but no doubt I was tearing down a wall or pulling up carpet in our Seymour St. house. I've always been a step or two behind everyone else. I always seem to miss the hullabaloo and my kids will say to me, "Mom, that was so like 5 years ago."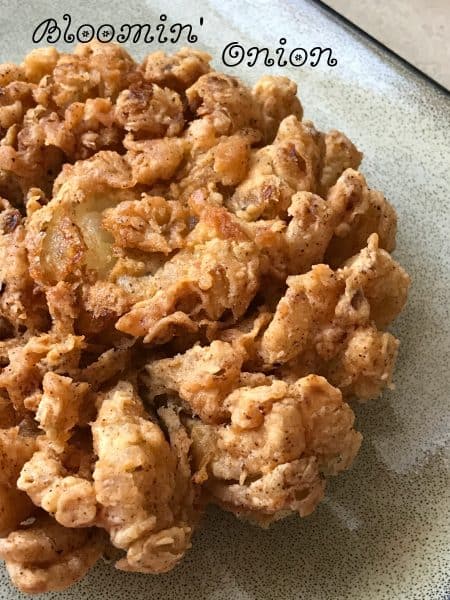 Another Kitchen Gadget
What inspired me to make a bloomin' onion at home was I came across this bloomin' onion maker on one of my many thrift store shopping expeditions. In fact, you can find these gadgets at just about every Goodwill, St. Vinny and Thrift Store you walk into. It got me thinking,"Do these things really work?" Is this another "kitchen gadget?" I decided to take the plunge and buy one, I mean it was only $2.00.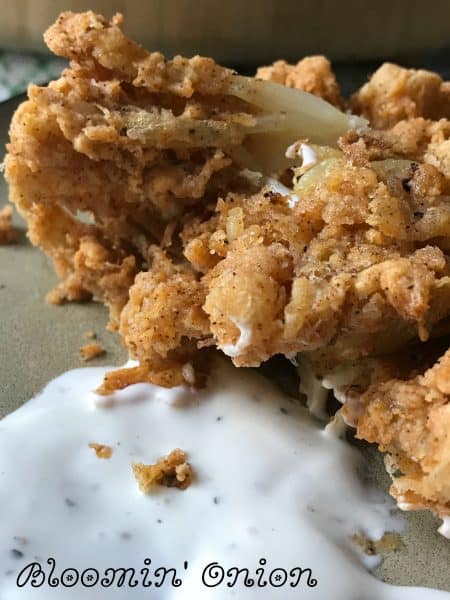 Onion Machine
The name of the "onion machine" I purchased is called: Great American Steakhouse Onion Machine. It came in the original box, with the onion machine and a cookbook & instruction booklet. The only thing missing was the corer/poker unit. In the booklet under the heading of "Helpful Hints" it states that Great American Steakhouse Onion Machine is ideal for cutting onions, bricks of cheese, apples into wedges and to make steak fries.
Recipe Booklet
The booklet gives cooking instructions, cleaning instructions and several recipes. Recipes for Great American Steakhouse Dry Onion Mix, and Great American Steakhouse Beer Batter with directions for making flavored batter alternatives. The booklet has nine recipes for dipping sauces that seem easy enough to make. We opted for a bottled of original ranch salad dressing by Hidden Valley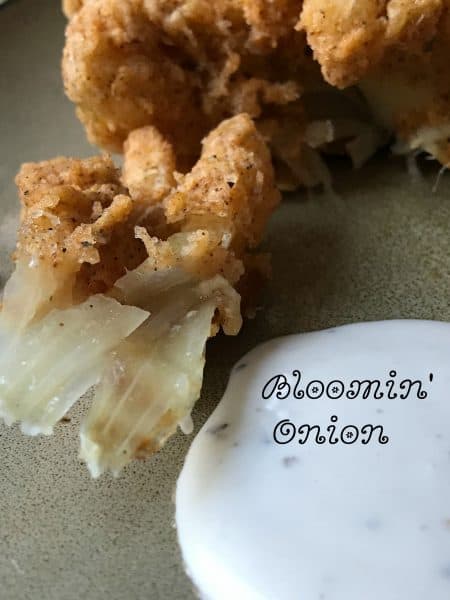 Followed Directions
When making a Bloomin' Onion I followed the step by step directions in the booklet. The directions were easy to follow and made the process go smoothly. Great American Steakhouse Onion Machine comes with this warning: This product has extremely sharp blades and must be handled with the utmost care, keep this product away from children. I can definitely vouch for that, the blade on this onion machine is super, super sharp.
*The directions given below are the exact directions given in the booklet. Let's Get Cooking!
Like Onions? Try this recipe for Slow Cooker Caramelized Onions or Buttermilk Batter Fried Onion Rings