Slow Cooker Caramelized Onions
We may earn money or products from the companies mentioned in this post.
Slow Cooker Caramelized Onions
Slow Cooker Caramelized Onions are not only fast and easy to make, they're delicious. If you and your family love caramelized onions as much as we do you'll love this recipe. The hardest part of this recipe, if you want to call it that, is slicing all the onions…this is a good time to call in any favors from your family and friends. Once you get the onions sliced, everything goes in the slow cooker and hours later, you'll have caramelized onions.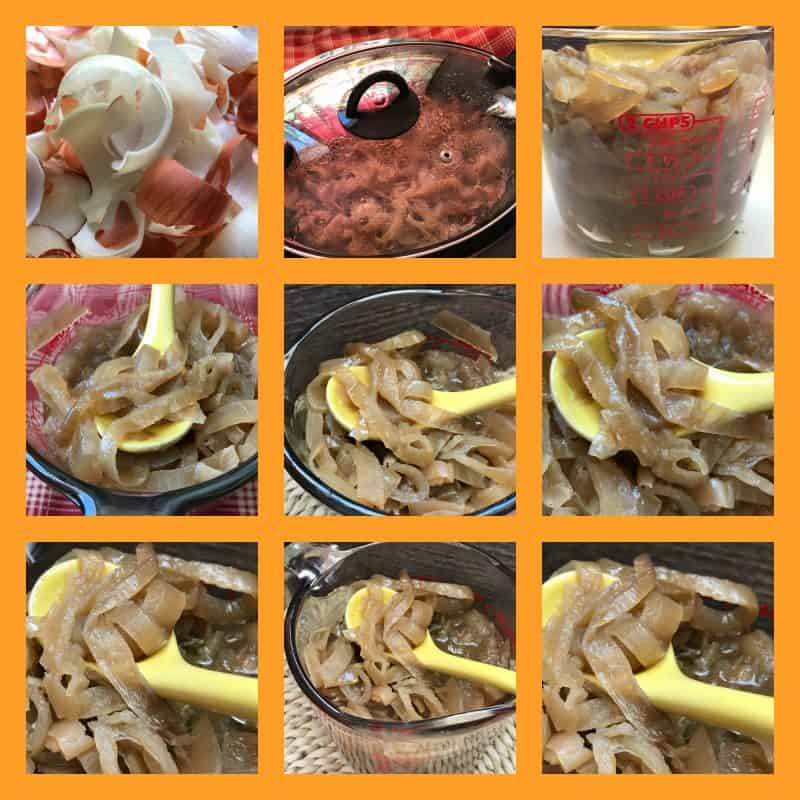 Delicious Served On
Caramelized onions are delicious served with brats, burgers, hot dogs, chicken, roast beef sandwiches or anything else you can possibly think of. I recently put some in a Sausage Caramelized Onion Cheese Quiche and it turned out delicious. Caramelized onions can also be frozen and saved for later, then added to many dishes. My only suggestion would be to let them drain well, after thawing, before adding them to recipes.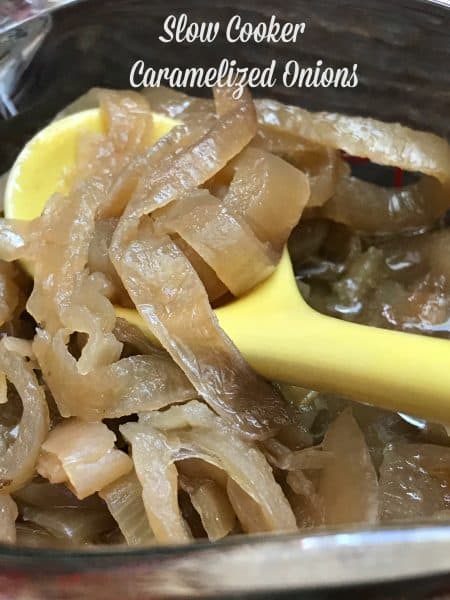 Three Favorite Ways
Three of our favorite ways to use caramelized onions is to make a delicious dip made with cream cheese, Worcestershire sauce, along with a few other ingredients (recipe will be posted shortly) Two other recipes: French dip sandwiches and French onion soup, both recipes are easy to prepare and both can be made in the slow cooker. Making a batch of caramelized onions is a time-saving and economical way to get a head start on dinner.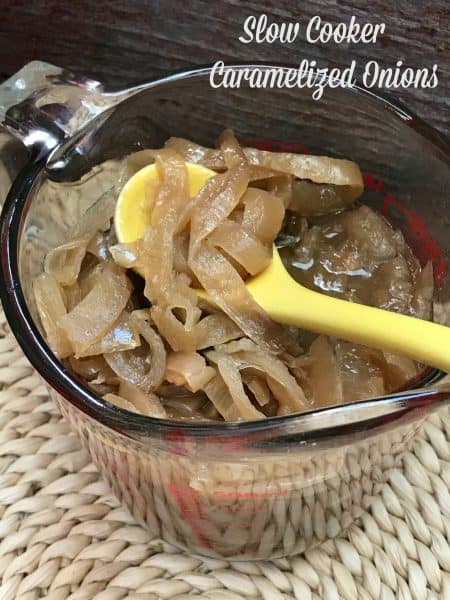 Kitchen-Tip
Here is a great kitchen tip for your next party. Serve a slow cooker full of caramelized onions along with the other condiments at your next party, picnic, or back-yard barbecue. I for one would much rather have caramelized onions on a grilled burger vs raw onions any day, my hubby would too but when it comes to a grilled bratwurst, now that's a different story. My hubby prefers caramelized onions on his brat and I prefer raw.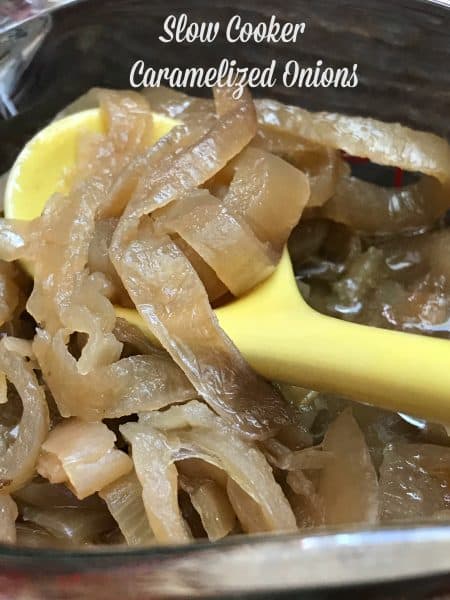 The slow cooker or crock-pot has been popular for over 70 years. In my humble culinary opinion, the Rival Crock-pot changed the way working mom's made dinner for their family. Back when I was a young mom, in the late 70's early 80's, everyone I knew had and used a crock-pot. If you were getting married, a crock-pot was one of the items you wanted. Things have changed since then but I still use and love my crock pot.
Slow Cooker Caramelized Onions
Author:
Prep time:
Cook time:
Total time:
This fast and easy recipe for caramelized onions is just that, Fast and Easy.
Ingredients
1/4 cup butter
2 tablespoons vegetable oil
6 pounds sweet onions
1 teaspoon salt
1 teaspoon Worcestershire sauce, optional
Instructions
Turn a large 6-quart slow cooker on low setting.
Add butter and oil to the slow cooker and let it melt.
Peel the onions. Slice each onion into 1/4-inch slices.
Place the sliced onions into the slow cooker.
Cover and cook the onions on low for 10 to 12 hours.
Sir onions once or twice during cooking.
Once the onions are light brown, soft and sweet, cool to room temperature.
Store in airtight containers and refrigerate or freeze until ready to use.