Healthy Yogurt Breakfast Bowl
We may earn money or products from the companies mentioned in this post.
Healthy Yogurt Breakfast Bowl 
Healthy Yogurt Breakfast Bowl is a delicious way to start your day. I started whipping this together a few years back when I began adding ground flax seed to my diet. A few tablespoons of ground flax seeds is all it takes to add extra boost to your diet. Now ground flaxseed gets sprinkled on or gets put into everything. Take a break from cold cereal and whip up a bowl of this healthy and delicious yogurt breakfast bowl.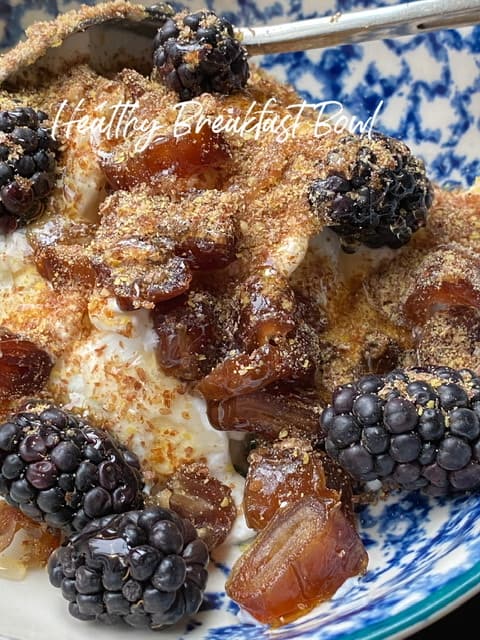 Ingredients
For this recipe, use organic Greek yogurt. I'm not a fan of vanilla flavored yogurt so it's plain ol' Greek yogurt for me. The honey of course is from our friend Andy but any good real honey will do. Fresh blackberries, strawberries, blueberries or raspberries are perfect in this recipe. Mix and match berries, or add some sliced bananas too.The last ingredient in this super easy recipe is ground flax seed. Aldi sells bags of whole and ground flax seed for a very reasonable price. I'm not positive what size the bag is but if I had to guess, I'd say roughly 16 ounces, for under $3.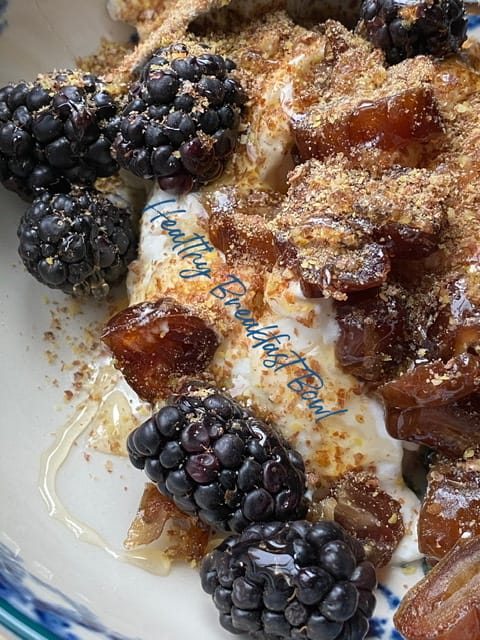 Ground or Whole
Most nutrition experts recommend ground over whole flaxseed. The ground form is easier to digest. For instance, whole flaxseed may pass through your intestine undigested, which means you won't get all the benefits. Flaxseed's health benefits come from the fact that it's high in fiber and omega-3 fatty acids. Flaxseed also contains phytochemicals called lignans. One tablespoon (7 grams) of ground flaxseed contains 2 grams of polyunsaturated fatty acids (includes the omega 3's, with 2 grams of dietary fiber and 37 calories.)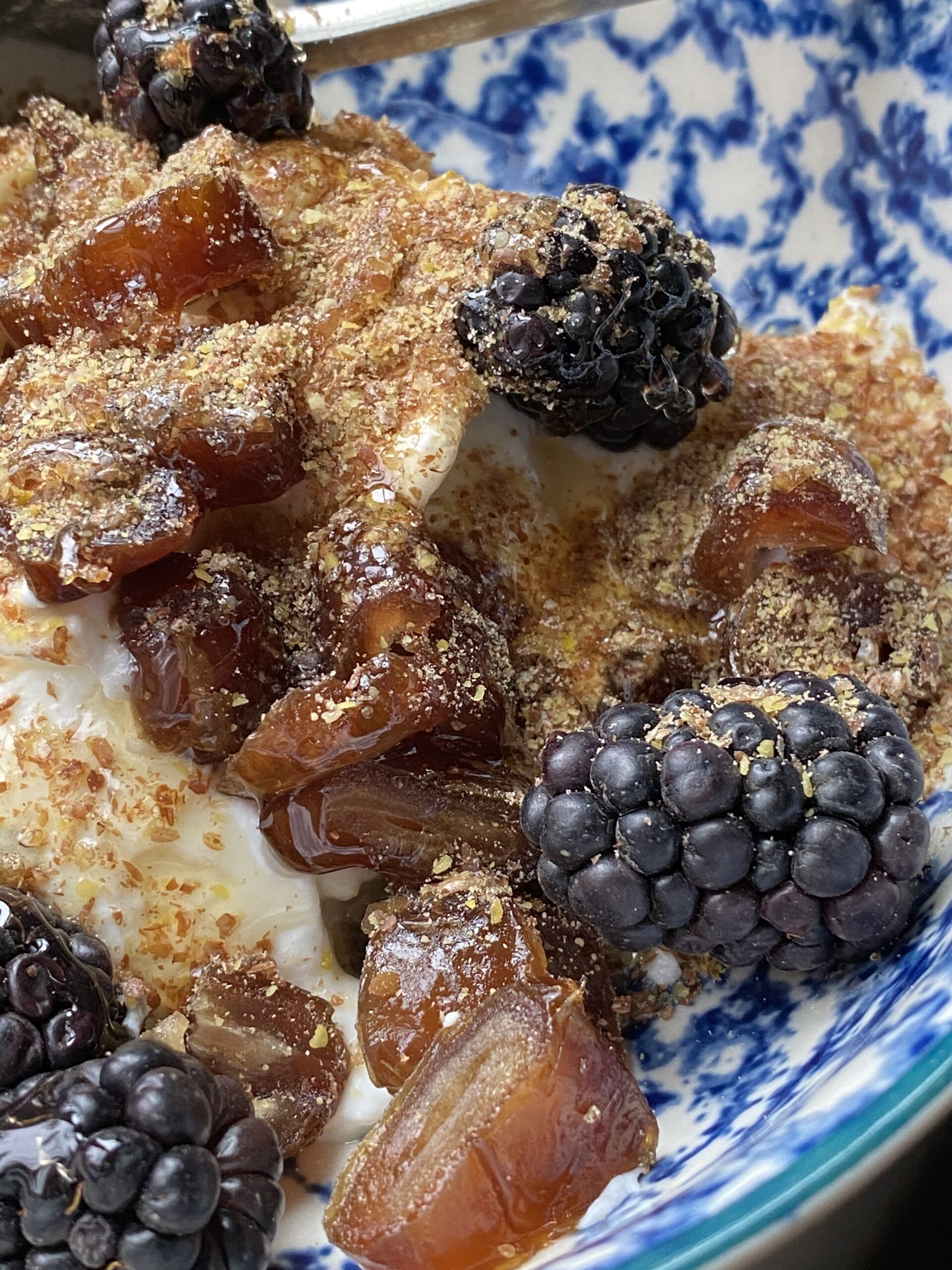 Good For You
Flaxseed is commonly used to improve digestive health or to relieve constipation. Flaxseed may also help lower total blood cholesterol and low-density lipoprotein (LDL, "bad" cholesterol levels, which may help reduce the risk of heart disease.) Buy flaxseed in bulk either whole or ground, at many grocery stores and health food stores. Whole seeds can be ground at home using a coffee grinder or food processor.
Tips for including flaxseed instead in your diet:
Add a tablespoon of ground flaxseed to your hot or cold breakfast cereal.
Add a teaspoon of ground flaxseed to mayonnaise or mustard when making a sandwich.
Mix a tablespoon of ground flaxseed into an 8-ounce container of yogurt.
Bake ground flaxseed into cookies, muffins, breads and other baked goods.
Add a few tablespoons to smoothies.
Breakfast Recipes
Looking for more breakfast recipes? Here are some suggestions.
Apple Yogurt Pancakes
Banana Split for Breakfast
Avocado and Egg on Toast
Amish Style Baked Oatmeal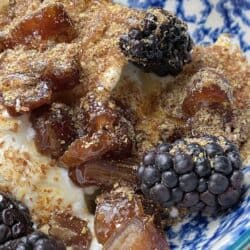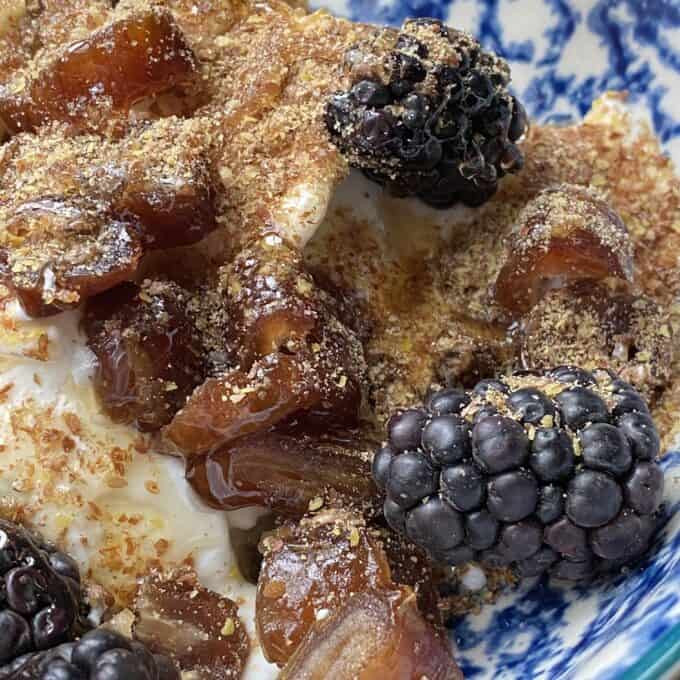 Healthy Yogurt Breakfast Bowl
Dates and honey go extremely well together in this fast and healthy breakfast bowls.
Ingredients
1

cup

Greek yogurt

6

dates, chopped

2

tablespoons

ground flax seed

1

cup

fresh blackberries

1

teaspoon

honey, or to taste
Instructions
In a medium bowl mix together yogurt, dates, flax seed, blackberries and honey.

Divide the yogurt mixture between two bowls. Serve
Flaxseed Information: Mayo Clinic