Easy BLT Salad with Homemade Dressing
We may earn money or products from the companies mentioned in this post.
Easy BLT Salad with Homemade Dressing
What to you make when the only thing staring back at you from inside the refrigerator is a package of endive, cherry tomatoes and a pound of bacon? Easy BLT Salad, that's what! Topping Easy BLT Salad with homemade dressing  and homemade croutons takes it a step above the rest. Both are easy to whip up and adds so much more flavor. You can certainly use pre-made croutons however, every once in awhile you get that one bag of croutons that can literally crack your teeth. A nice ranch dressing such as Hidden Valley Ranch,  will fill in nicely for the homemade dressing, if that's all you have on hand.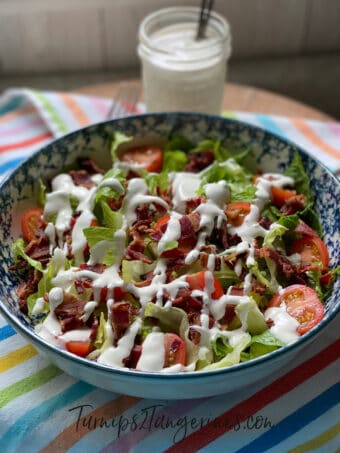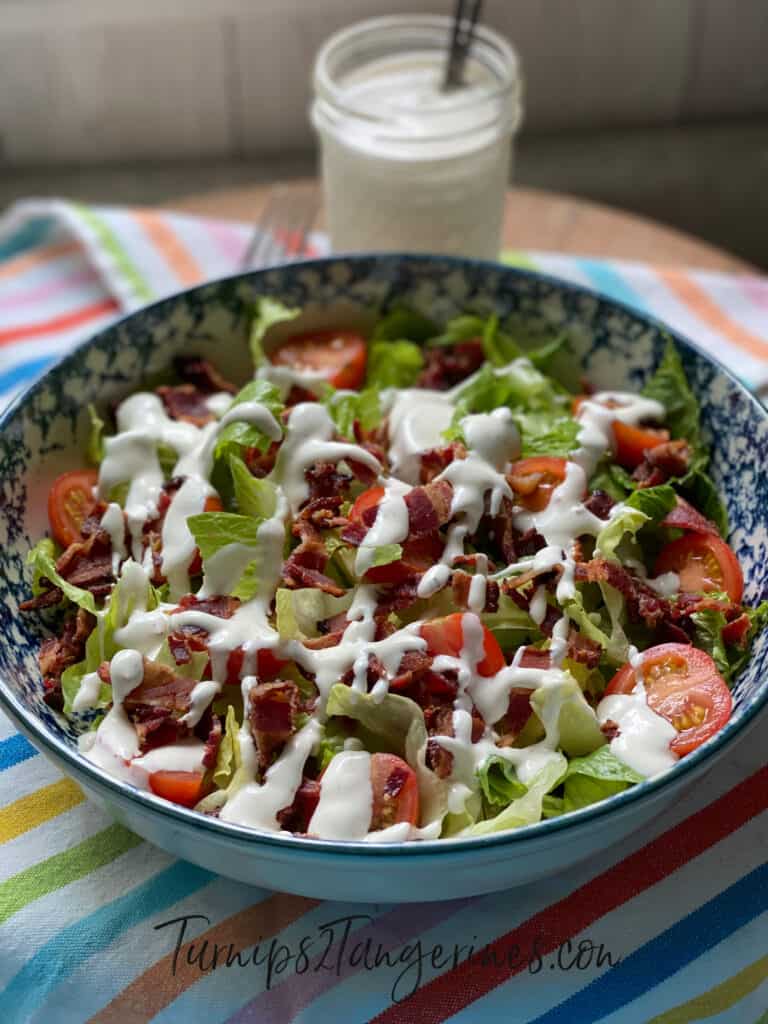 BLT Salad
You don't have to be a rocket scientist to throw this salad together. It's really a no-brained. Think of a BLT sandwich and turn it inside out. Chop up some of your favorite lettuce, throw it in a bowl, top the lettuce with your favorite tomatoes sliced or chopped and fry up some bacon until crispy. Toss together the bacon, lettuce and tomatoes and you're almost finished constructing your salad or deconstructing your sandwich. Then you can whip up some easy, peasy croutons and make a mayo based dressing. All you'll need is a fork.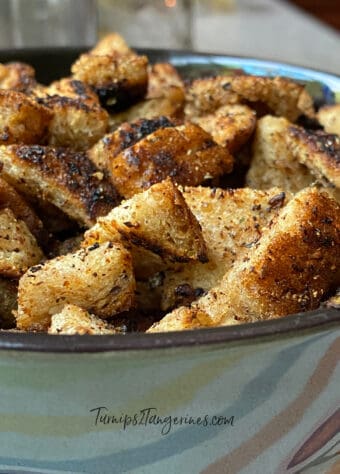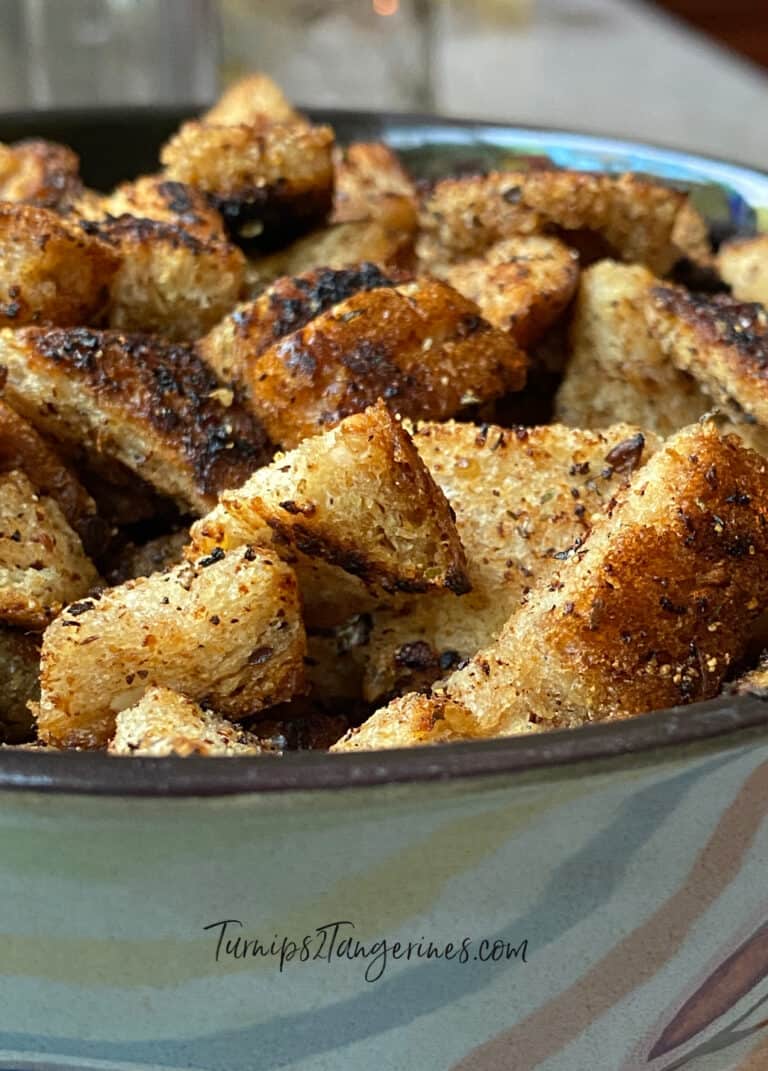 Homemade Croutons
Making homemade croutons is about the easiest thing you can possibly do. Next time you have some stale bread sitting around, make croutons! Any sort of bread will do to make croutons. French bread, crusty Italian bread, white bread or even brioche hot dog buns will do the job. Now, should I bake them in the oven or make them on the stove top? That depends. I've made them both ways. Personally, for me it all depends on how many croutons I need. If I want to top my bowl of tomato soup with a few croutons, I use the stove top method.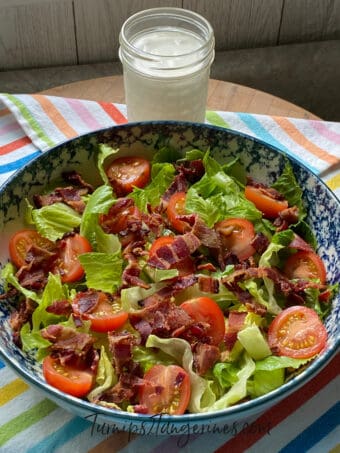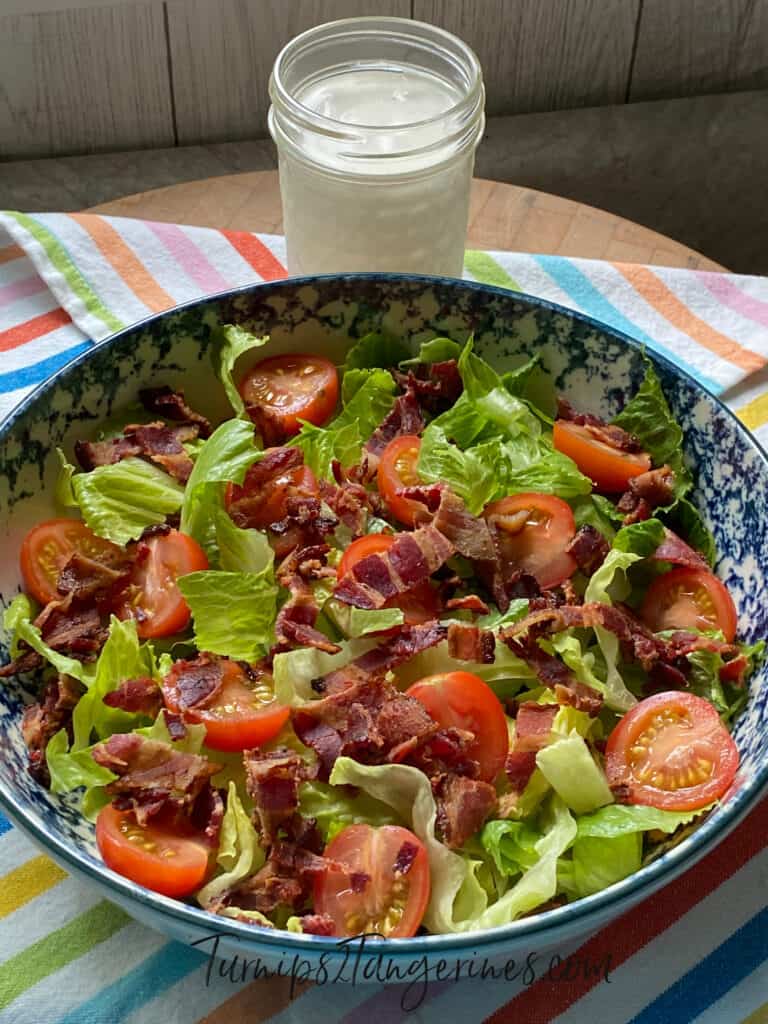 If I need to top a salad or feed a small army, I use the oven method. (Recipes follow) We like the flavor of both olive oil and butter to make our croutons. Gives them a little more depth. Also, we prefer to use garlic powder vs fresh. Fresh garlic tends to burn, both in the oven and on the stove top. Many recipes call for infusing your olive oil first with fresh garlic before drizzling over the bread cubes and baking. Instead of going through all of that, why not use Colavita Roasted Garlic Infused Extra Virgin Olive Oil that can be purchased on Amazon. Use instead garlic powder, onion powder, salt  pepper and/or Italian seasoning and so on.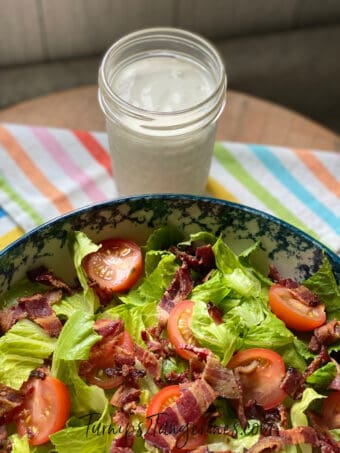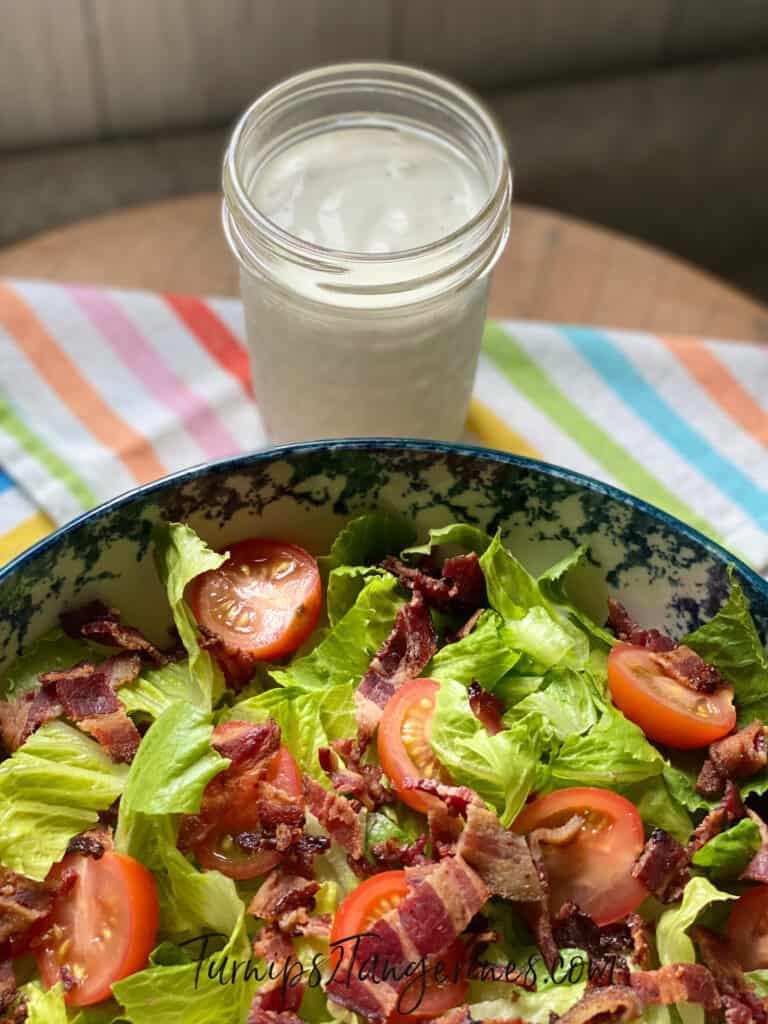 Mayo Dressing
After assembling the salad and making your homemade croutons, the finishing touch is going to be the dressing. I have made this salad many times with ranch dressing. Though it's wonderful and I like it served that way, I wanted to try this salad with a "mayonnaise-based" dressing. I found what I was looking for on a great blog that I've been following for years; Natasha's Kitchen. This simple dressing is made with mayo, sour cream, garlic clove, salt, pepper and chopped fresh chives. A small amount of milk is added to thin the dressing to desired consistency. The dressing turned out to be exactly what I was looking for and tasted delicious.
UP NEXT: Cooking Up A Storm With Tuna Steaks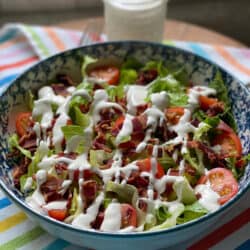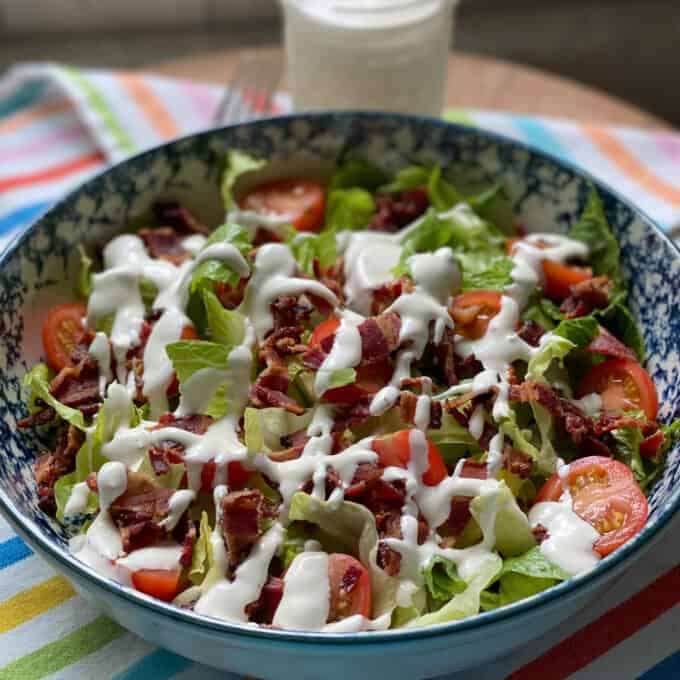 BLT Salad with Homemade Dressing and Croutons
So Very Easy and So Very Delicious
Ingredients
1

16 oz package

sliced bacon, cooked until crispy

3

cups

tomatoes, any kind, chopped

1

large head

large head lettuce, rinsed, spun dried, chopped

3

tablespoons

mayonnaise

4

tablespoons

sour cream

1

large

clove garlic, pressed

1/4

cup

finely chopped fresh chives

1/8

teaspoon

black pepper

1/4

teaspoon

salt or to taste

1 to 2

tablespoons

milk

5

cups

bread cubes

2

tablespoons

unsalted butter, melted

2

tablespoons

olive oil

1

teaspoon

garlic powder

1

teaspoon

onion powder

1

teaspoon each

dried parsley and Italian seasoning

1/4

teaspoon

salt

1/4

teaspoon

black pepper
Instructions
Make the dressing first to allow the flavors to meld. In a small bowl, combine mayo, sour cream, garlic, chives, pepper and salt. Whisk in milk to desired consistency. Cover and refrigerate until ready to use.

Oven Method:

Cut bread into 3/4" cubes, crust and all. Transfer to a large mixing bowl. Sprinkle with all seasonings.

Drizzle bread cubes with olive oil and butter. Toss until bread cubes have an even coating of oil, butter and seasonings.

Spread the bread in a single layer on a baking sheet and bake at 375˚F for 20 minutes or until they are golden brown and crunchy.

Stove Top Method:

Cut bread into ¾" cubes, crust and all.

Heat the oil and butter in a large skillet or frying pan over medium-high heat.

Add the bread cubes to the pan, sprinkle with seasonings.

Toast the bread cubes, tossing every minute or so, until the bread cubes are golden-brown on all sides, about 5-8 minutes total.

In a large mixing bowl, combine lettuce, tomatoes, bacon and croutons. Just before serving, drizzle with dressing and toss to combine.
Croutons can be used as a breading for fresh mushrooms , a topping for soup as a crunchy addition to a pasta salad  or as a topping for a casserole.