Polish Reuben Casserole Marble Rye Croutons
We may earn money or products from the companies mentioned in this post.
Polish Reuben Casserole
with Homemade Marble Rye Croutons
Polish Reuben Casserole is our version of the Classic Reuben Sandwich. Only we it made into a casserole instead of a sandwich. Smoked Polish sausage, sauerkraut and Swiss cheese are used. Medium noodles replace the rye bread and homemade marble rye croutons top the casserole. Cream of mushroom soup is combined with thousand island dressing, for a different yet delicious casserole the whole family will enjoy.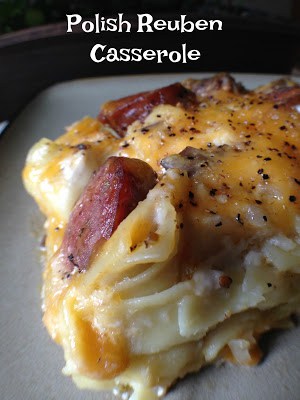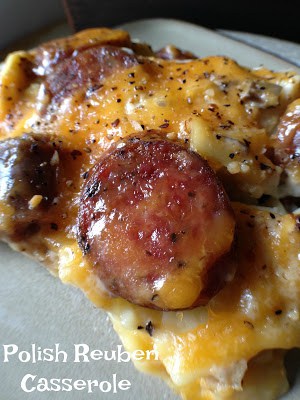 Forgot the Croutons
Polish Reuben Casserole is topped with homemade marble rye croutons and then the croutons are dotted with butter. You can probably see by the pictures, that I forgot to top the casserole with the marble rye croutons. Dang it all! Have you ever done that? Forgot to add something? I made the croutons but forgot to put them on top of the casserole….shoot! The casserole was still great without the croutons but adding the homemade marble rye croutons definitely adds that extra yum to the dish. So make your marble rye croutons first then make the casserole. This way you won't forget to cover the top of the casserole with the marble rye croutons, which in my humble opinion makes this casserole extra special.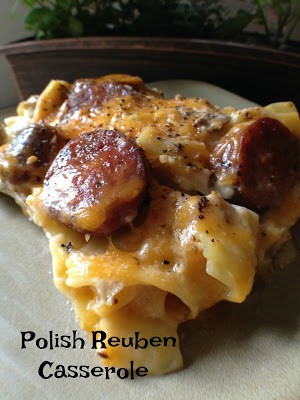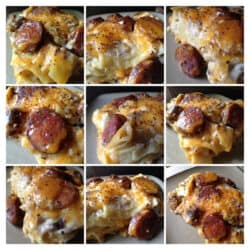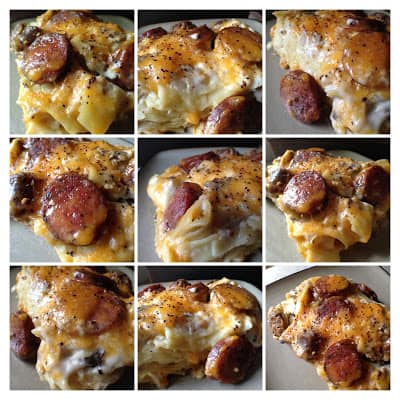 Polish Reuben Casserole with Marble Rye Croutons
A delicious comforting casserole
Ingredients
1

can

cream of mushroom soup

1/2

soup can

milk

1/3

cup

Thousand Island salad dressing

1/3

cup

chopped onion

1

tablespoon

Dijon mustard or (Substitute German or Polish mustard)

1

can (14-16 oz.)

sauerkraut, drained

1

8 or 10 oz package

(extra wide) egg noodles, cooked until al dente

1 1/2

pounds smoked

Polish sausage, cut into 1/2-inch slices

2

cups

shredded Swiss cheese

salt and pepper, to taste

1

tablespoon

butter, cubed

Homemade Marble Rye Croutons

6 to 8

slices

slightly stale marble rye bread

1/4

cup

butter

1

clove

garlic, minced

2

teaspoons

oregano

sea salt, to taste
Instructions
Preheat oven to 375º

Rub a baking sheet with a stick of butter to coat.

Cut slices of bread into bite-size cubes.

Lay bread cubes on prepared baking sheet in a single layer.

Melt butter and whisk in garlic and oregano.

Drizzle over the top of the bread cubes.

Bake for 5 minutes, toss bread cubes with a wooden spoon, continue this method, stirring every 5 minutes until bread is toasted to your desired crispiness or about 15 minutes. Watch closely.

Remove from oven and sprinkle with sea salt.

Reduce oven temperature to 350º.

Combine soup, milk, salad dressing, onion, and mustard in medium bowl; blend well.

Spread sauerkraut in greased 2-quart casserole dish.

Top with cooked noodles.

Spoon soup mixture evenly over top of noodles.

Top with sliced smoked sausage.

Sprinkle cheese over the top.

Cover top of casserole with marble rye croutons. Dot with cubed butter.

Cover pan tightly with foil.

Bake in oven for 45 minutes.

Remove foil, bake 15 minutes more or until hot and bubbly.
**Note: I'd like to thank the reader who brought to my attention that I forgot to list one can of cream of mushroom soup in the ingredient list. Thanks again!! (And Noodles:)
Here are more comfort casseroles you and your family will love. Tater Tot Casserole and Stuffed Chicken Breasts, Reuben Style. Recent Recipe: Grilled Lemon Pound Cake