Creamy Corn Chowder
We may earn money or products from the companies mentioned in this post.
Creamy Corn Chowder
For some reason, my hubby and I always thought that we didn't like corn chowder. I'm not sure where this way of thinking came from either but this is why you won't find any recipes on T2T for chowder. In fact, this is our first recipe for chowder, and it's a good one! Made with fresh corn-off-the-cob, carrots, baby Yukon gold potatoes, broccoli florets and the usual aromatic vegetables. Chicken stock, heavy cream and shredded extra sharp white cheddar cheese makes this tasty chowder smooth and creamy. Whereas typical chowders do not contain cheese…we had to add a little cheese since we do live in America's Dairyland. Creamy Corn Chowder is loaded with good for you farm fresh vegetables.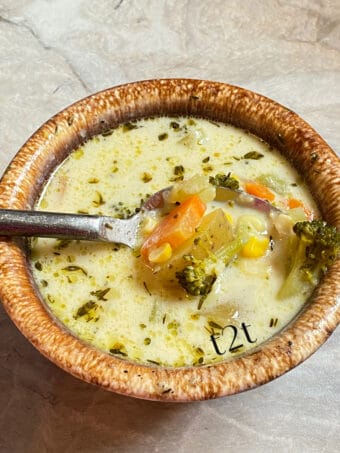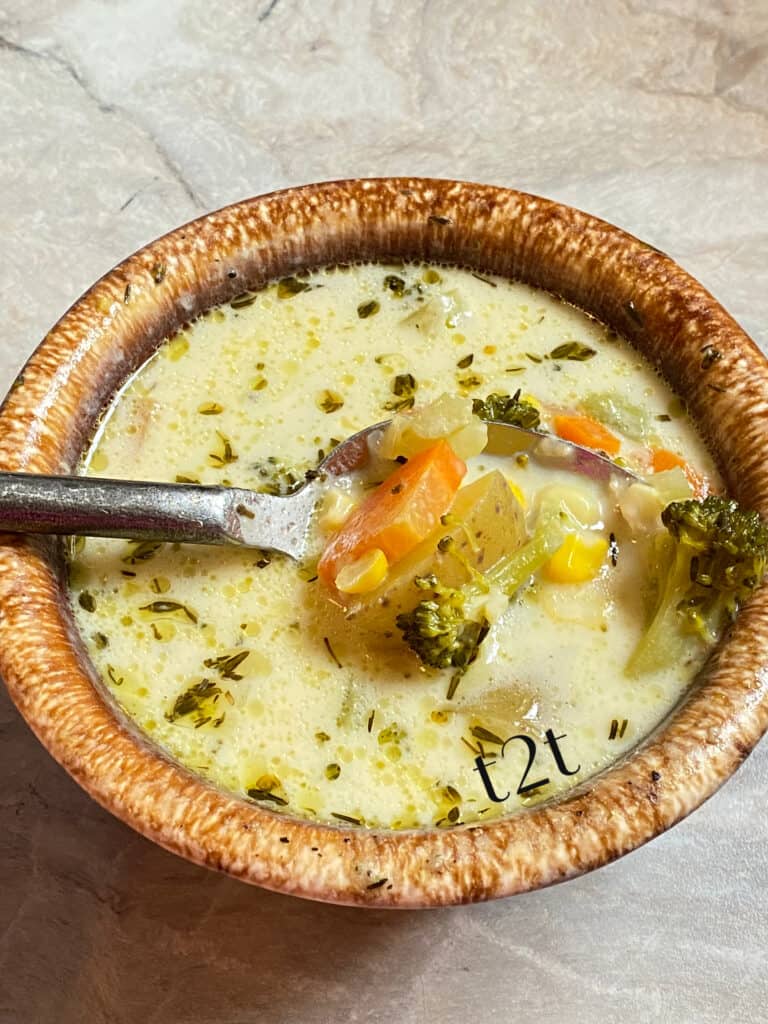 What is Chowder?
Chowder, in North American cuisine, is a hearty soup usually containing fish or shellfish, most commonly clams. The word chowder is said to be a cumulative French word chaudière or "cauldron." Chowder may have originated among Breton fishermen who brought the custom to Newfoundland, whence it spread to Nova Scotia, New Brunswick, and the to New England. The standard New England-style chowder contains fish or shellfish, salt pork, onions, potatoes, and milk. Manhattan-style chowder replaces the milk with tomatoes.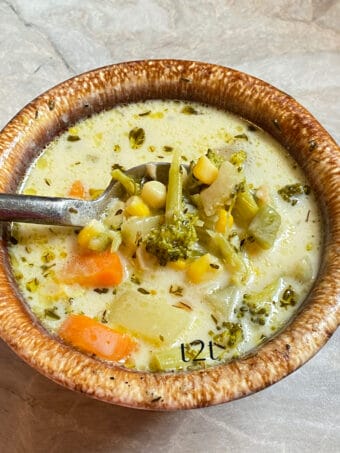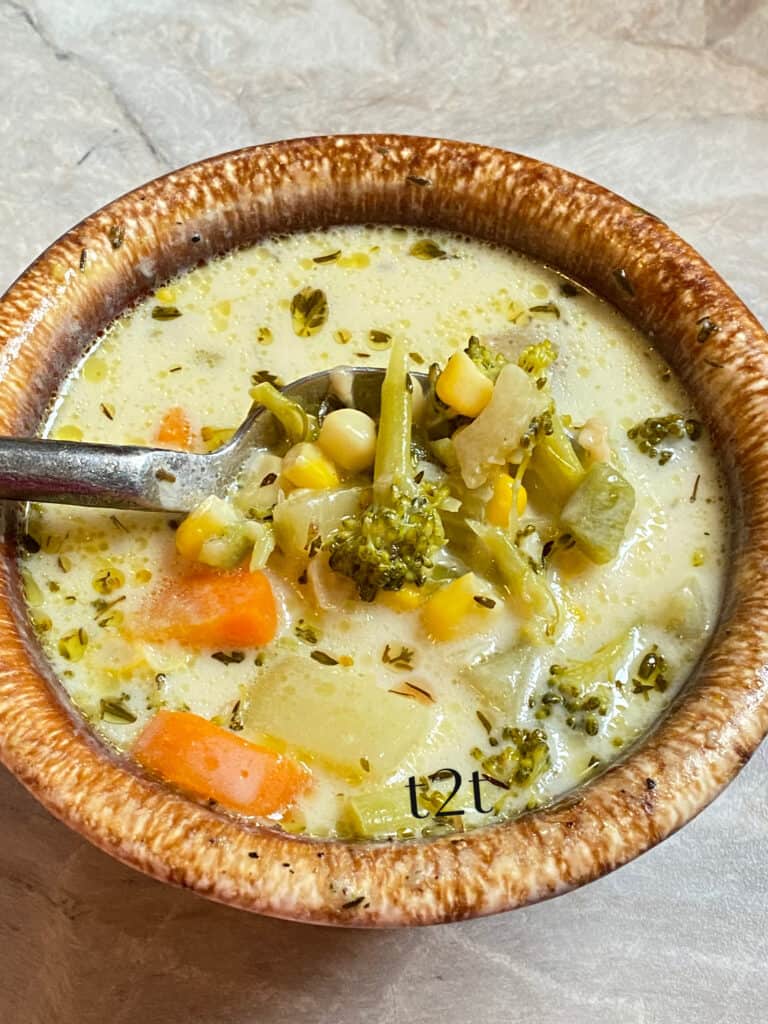 Eighteenth-century chowders were more varied; meat or poultry chowders were made and wine, spices, herbs, cider, and other flavourings were often added. Pounded soda crackers or ship biscuits served as a thickener. In the Southern and Midwestern United States, fresh sweet corn replaces the clams in chowder. Conch chowder is a specialty of  Key West, FL Most chowders are served with the traditional "oyster" crackers.
New England Chowder vs Manhattan
New England clam chowder is thick, creamy, and milky-white. Manhattan clam chowder is tomatoey, brothy, and clear. Both types share a clean, briny, and slightly-sweet flavor thanks to the clams but that's about it. The truth is, claim chowder is intensely different and people typically either fall into one camp or the other.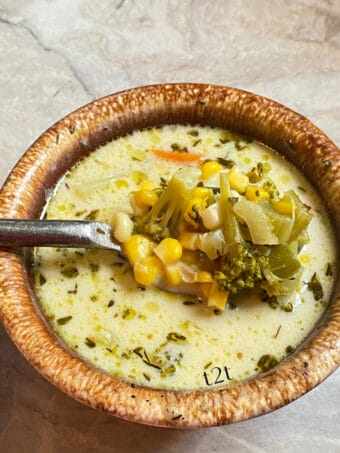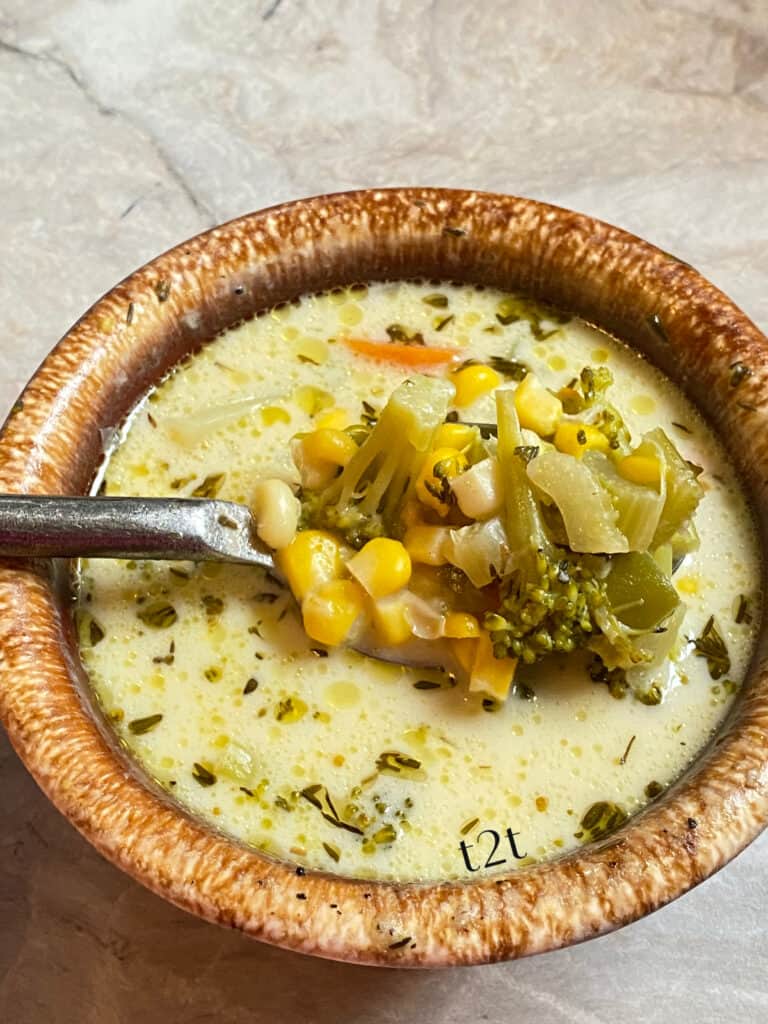 There are many different types of chowders, from shrimp chowder to corn chowder to chicken chowder but clam chowder is arguably the most popular. Whether it's New England or Manhattan, clam chowder typically contains fresh or canned claims, clam broth, potatoes, onions, celery, salt pork or bacon, and either milk, heavy cream, or tomatoes. Here's a breakdown of the major differences between these two.
Clam Chowder
Also called Boston clam chowder, this soup gets its signature white color and creamy consistency from milk, heavy cream, or a mix of the two. New England clam chowder became popular in Boston during the early 1800s, where it was served at Union Oyster House, the oldest continuously operating restaurant in the country.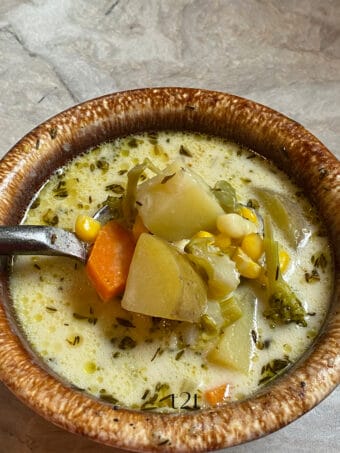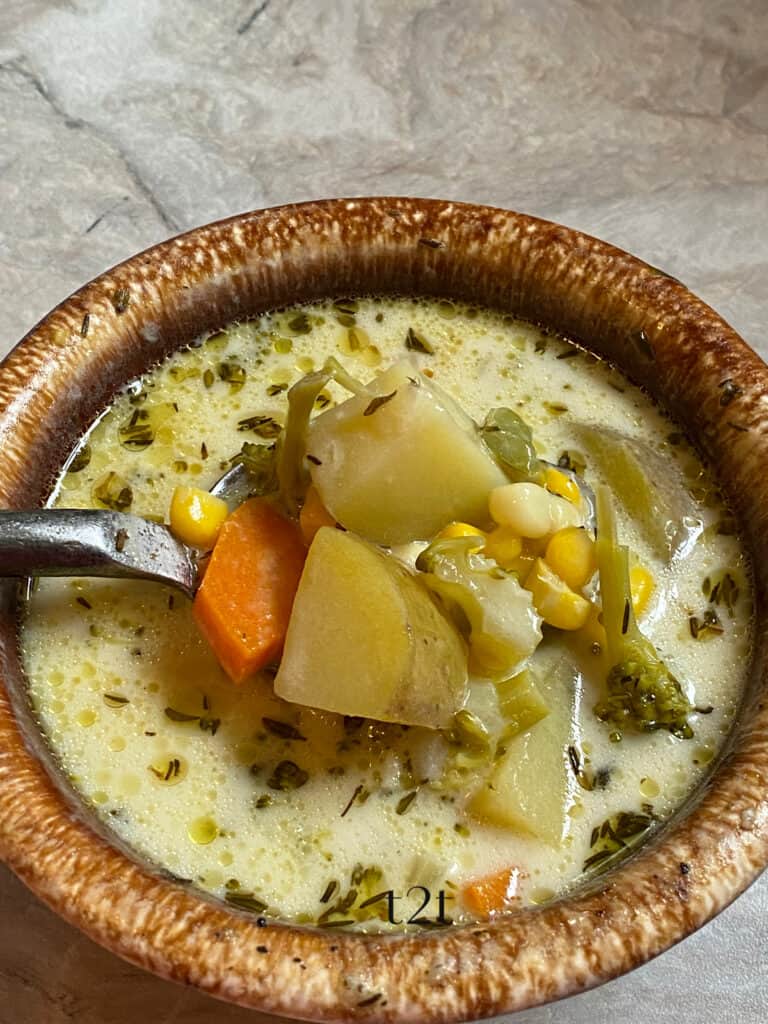 Bacon, clams, and heavy cream make this soup rich, hearty, and satisfying. In addition to those ingredients, you'll also find onions, celery, and potatoes in this soup. New England chowder is almost always topped with oyster cracker, small pillowy crackers that act as the perfect vehicle for flavor.
Manhattan Clam Chowder
Manhattan clam chowder, on the other hand, does not contain any cream. Instead, this light, brothy chowder is tomato-based and has a reddish tint. The exact origin of this chowder is unclear—but many sources agree that it came from Rhode Island's Portuguese fishing communities, who traveled back and forth from New York City's Fulton Fish Market in the mid-1800s.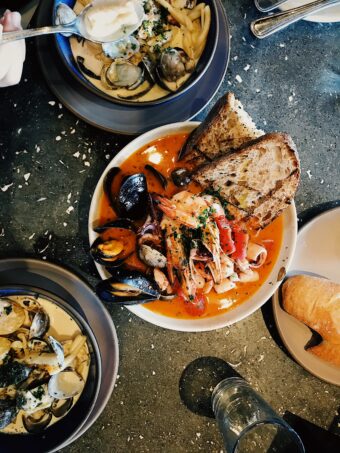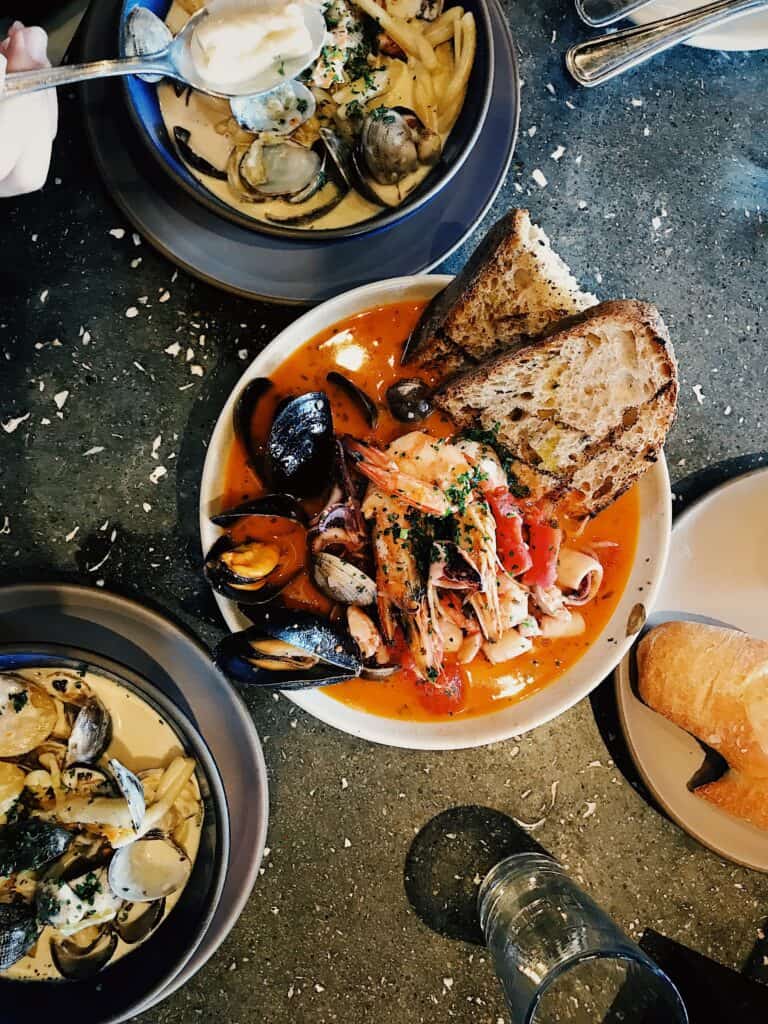 Manhattan chowder typically contains more vegetables than New England chowder, namely onions, celery, sometimes green bell peppers, and potatoes. Some recipes also call for flavorings like chopped garlic or fresh herbs such as thyme. Like New England chowder, Manhattan chowder is served with oyster crackers.
UP NEXT: Slow Cooker Turkey and Dumplings
We love our soup here on Turnips 2 Tangerines. Here is just a sample of some of our favorites.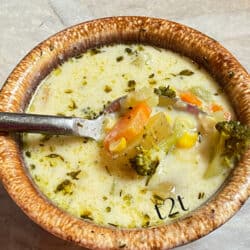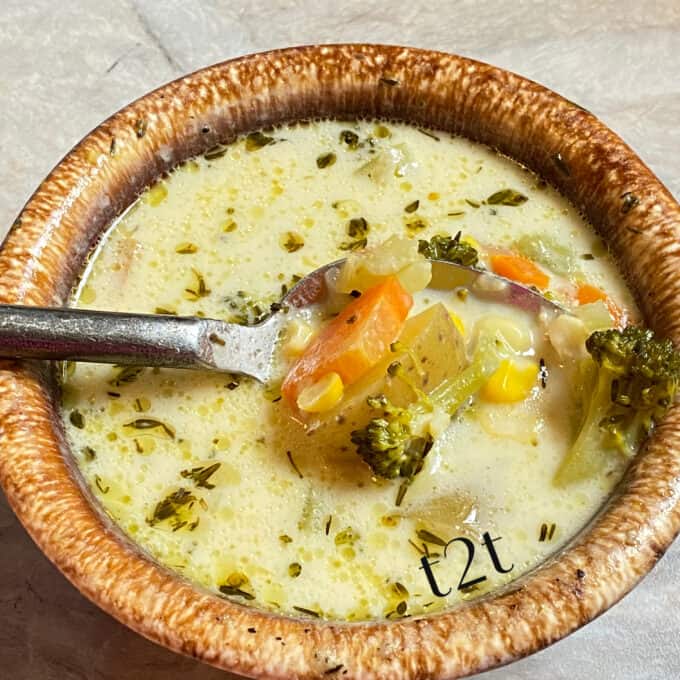 Creamy Corn Chowder
Corn Chowder is a delicious creamy soup made from scratch.
Ingredients
1- 32

oz

carton chicken stock

3- 14.5

oz

cans chicken stock

2

tablespoons

olive oil

1

small

onion, diced

1

small

green pepper, chopped

1

small

head broccoli, separated into florets

2

ribs

celery, chopped

1

large

carrot, peeled and sliced

4

cloves

garlic, minced

2

cups

fresh corn off the cob

2

pounds

small Yukon Gold potatoes, cut into quarters

1

teaspoon

dried thyme

4

bay leaves

1

teaspoon

salt

½

teaspoon

pepper

½

quart

heavy cream

4

cups

shredded extra sharp white cheddar cheese
Instructions
In a large soup pot, heat oil over medium heat until hot, about 2 minutes. Add the onions, green pepper, broccoli, celery, carrots, garlic, corn and potatoes. Stir constantly, until the vegetables are translucent and very soft, about 5 minutes. Stir in the dried thyme, salt and pepper. 

Stir in the flour, continue cooking for about a minute and the flour begins to lightly brown.

Very slowly pour in the chicken stock, whisking it into the flour/vegetable mixture at the same time. 

Add bay leaves and increase the heat to high and bring to a boil. Reduce to a simmer and continue cooking for 45 minutes.

Stir in the cream, and then slowly stir in the cheese. Stir until cheese is melted and soup is nice and hot.

Remove bay leaves and serve. 
Chowder Information from: My Recipes