Award Winning Cream of Cauliflower Soup
We may earn money or products from the companies mentioned in this post.
Award Winning Cream of Cauliflower Soup
With temperatures growing cooler and fresh vegetables in abundance at farmers markets and farm stands. Why not make this easy, yet simple soup. I could easily eat soup every day.  It's easy to make, filling, delicious and good for you too. A few simple ingredients is all that is needed to make this Award Winning Cream of Cauliflower Soup. I found this recipe in one of my many Taste of Home cookbooks.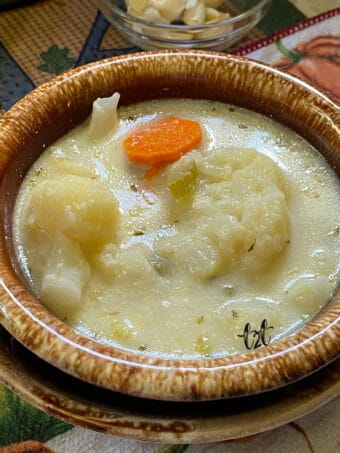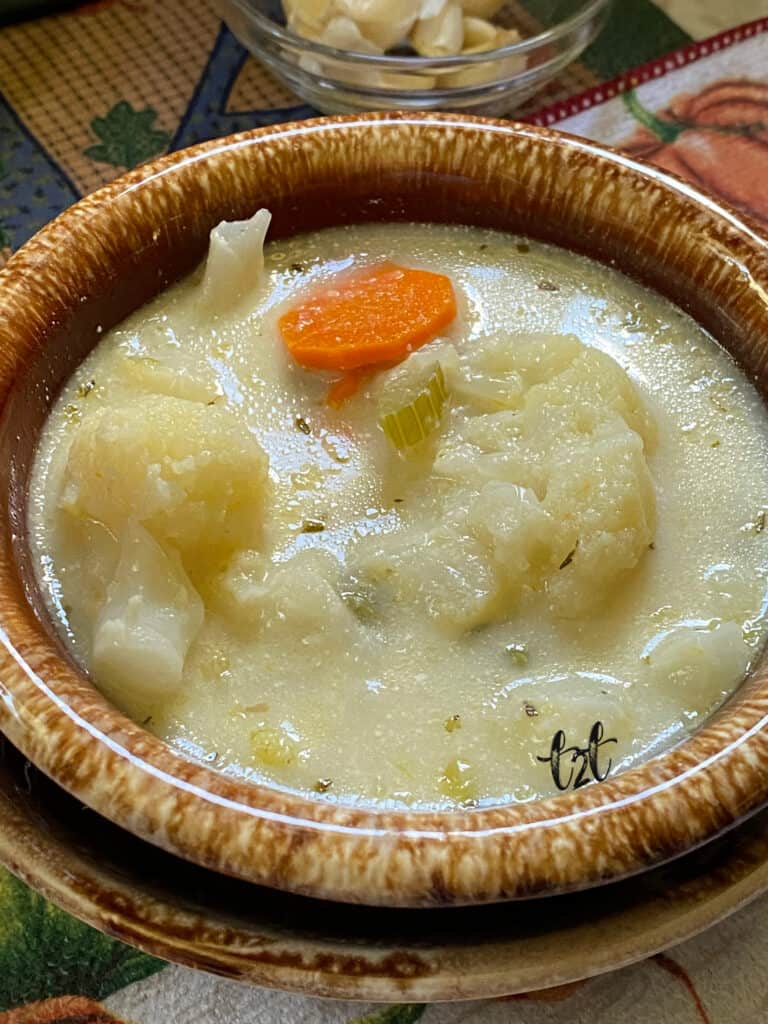 Taste of Home
Turnips 2 Tangerines has been a fan of Taste of Home for many years. Quite possibly since it's conception back in the early 80's. Located in Glendale WI, Taste of Home was one of the few magazines that encouraged home cooks to send in their family favorite recipes for publication. What started out as a small subscription style magazine, soon turned into a large publication company, similar to the success of my other favorite; Gooseberry Patch. However, I still try to keep up with my TOH "Annuals" but there are far to many cookbooks to collect them all. Same goes for the Gooseberry Patch Christmas Numbered Books. I keep up this series but there are too many to buy them all!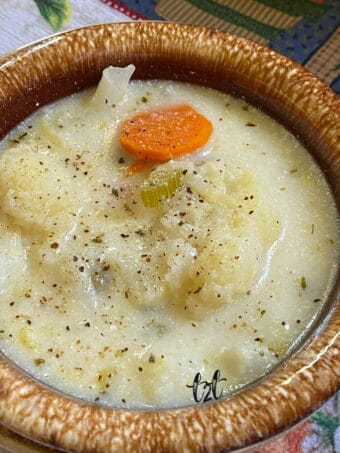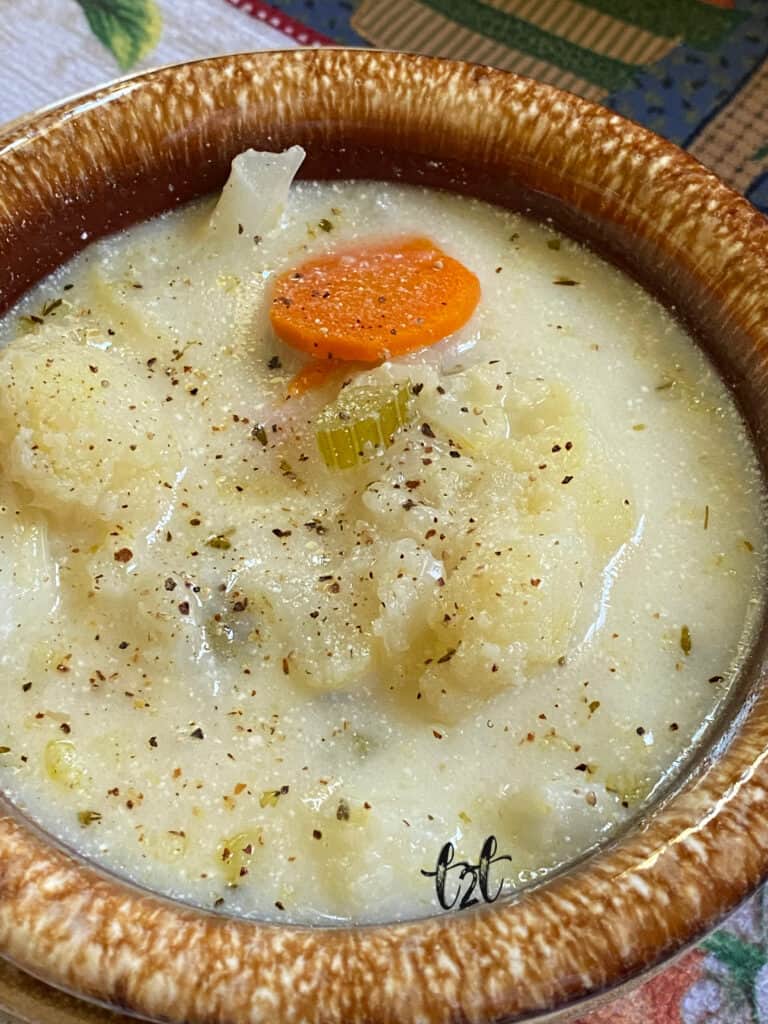 MEET THE COOK
" Meet the Cook: Generally, my husband isn't a soup fan – but his spoon's poised and ready for this version. I adapted this rich and creamy concoction from a recipe I tasted at a local restaurant…and it's since become a popular item on my "menu". -Carol Reaves, San Antonio, Texas"
MADE WITH
Award Winning Cream of Cauliflower Soup is made special by using the freshest cauliflower you can possibly find. We bought a huge head of fresh cauliflower at our favorite place; Wagner's located in Black Creek WI. Along with fresh buying fresh cauliflower for this soup, we bought carrots, an onion, celery, green pepper and garlic. Of course, this delicious cream of cauliflower soup is made with Wisconsin heavy cream and topped with a spoonful of Wisconsin sour cream.
UP NEXT: Creamy Corn Chowder
If you're like my hubby and can't eat soup without crackers, give these tasty oyster cracker options a try for a new taste twist.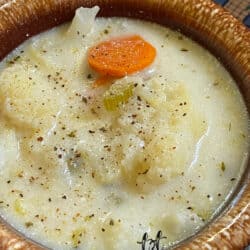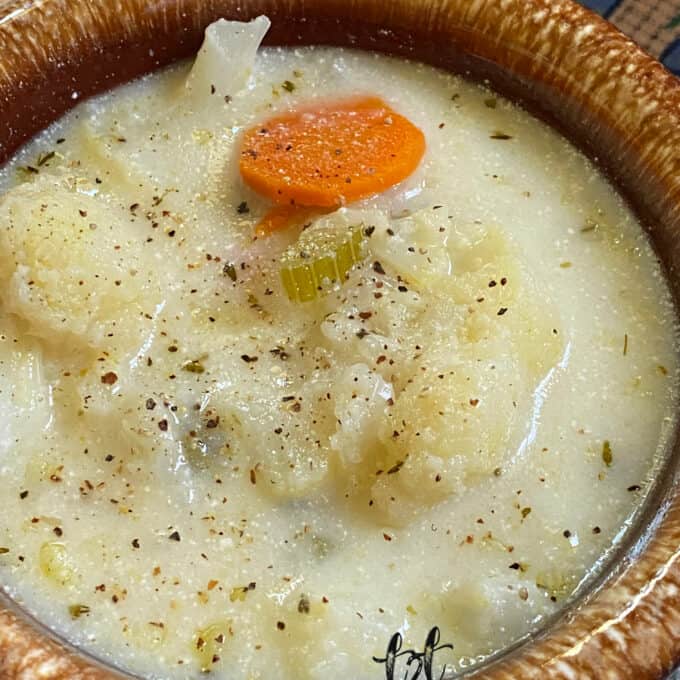 Award Winning Cream of Cauliflower Soup
Ingredients
1

medium

onion, chopped

2

medium

carrots, peeled and sliced

2

celery ribs, sliced

2

garlic cloves, minced

1/4

cup

plus 6 tablespoons butter, divided

1

medium head

cauliflower, chopped

5

cups

chicken broth

1

teaspoon

salt

1

teaspoon

coarsely ground pepper

1/2

teaspoon

dried basil

1/2

teaspoon

dried thyme

6

tablespoons

all-purpose flour

1

cup

whole milk

1/2

cup

heavy whipping cream

1/4

cup

sour cream
Instructions
In a soup kettle or Dutch oven, saute the onions, carrots, celery and garlic in 1/4 cup butter until tender. Add cauliflower, broth, parsley, salt and pepper, basil and tarragon. Cover and simmer until the vegetables are tender, 30 minutes.

Meanwhile, in a saucepan, melt the remaining butter. Stir in flour until smooth. Gradually stir in the milk and whipping cream. Bring to a boil; cook and stir until thickened, 2 minutes. Add to cauliflower mixture. Cook until thickened, stirring frequently, 10 minutes. Remove from the heat; stir in sour cream.