Slow Cooker Turkey and Dumplings
We may earn money or products from the companies mentioned in this post.
Slow Cooker Turkey and Dumplings
This delicious stew with dumplings is the perfect recipe to use up leftover holiday turkey or leftover chicken. It's also made in your slow cooker, which makes it a great weekend meal. I've been using a crockpot or slow cooker for well over 40 plus years. However, this was the first time I've ever made dumplings in my crockpot! Hey, you learn something new everyday. Slow Cooker Turkey and Dumplings is a must try! The dumplings turned out fantastic and I will definitely be making dumplings again in my crockpot. Dumplings are the perfect way to add something "extra" to soup or stew.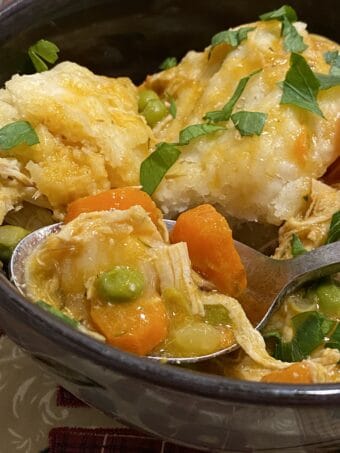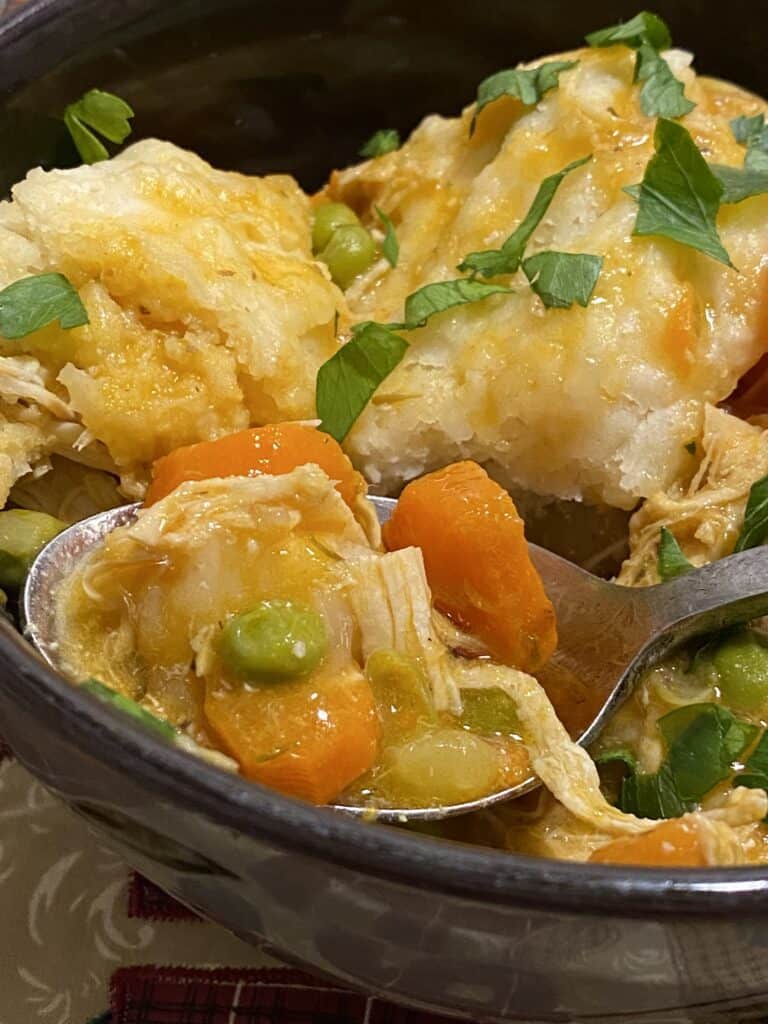 Super Easy Recipe
This recipe is so easy to throw together. Like I mentioned above, it's perfect for using up leftover holiday turkey. Keep this super easy recipe in mind this Thanksgiving when you're looking in the refrigerator at all that leftover turkey. Any type of leftover chicken will also work. Roasted, rotisserie or grilled chicken works great in this recipe. To make this recipe even easier, instead of making from scratch dumplings like we did, simply take a can of home-style buttermilk biscuits, cut each biscuit into quarters and drop them on top of the stew. Cook an hour longer or until biscuits are puffy and done inside.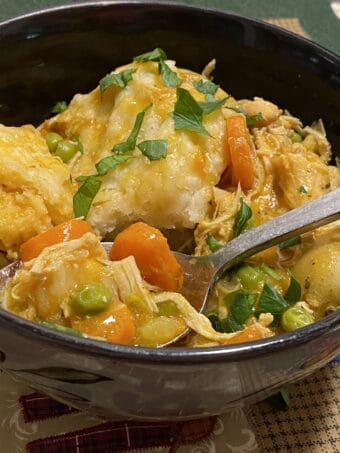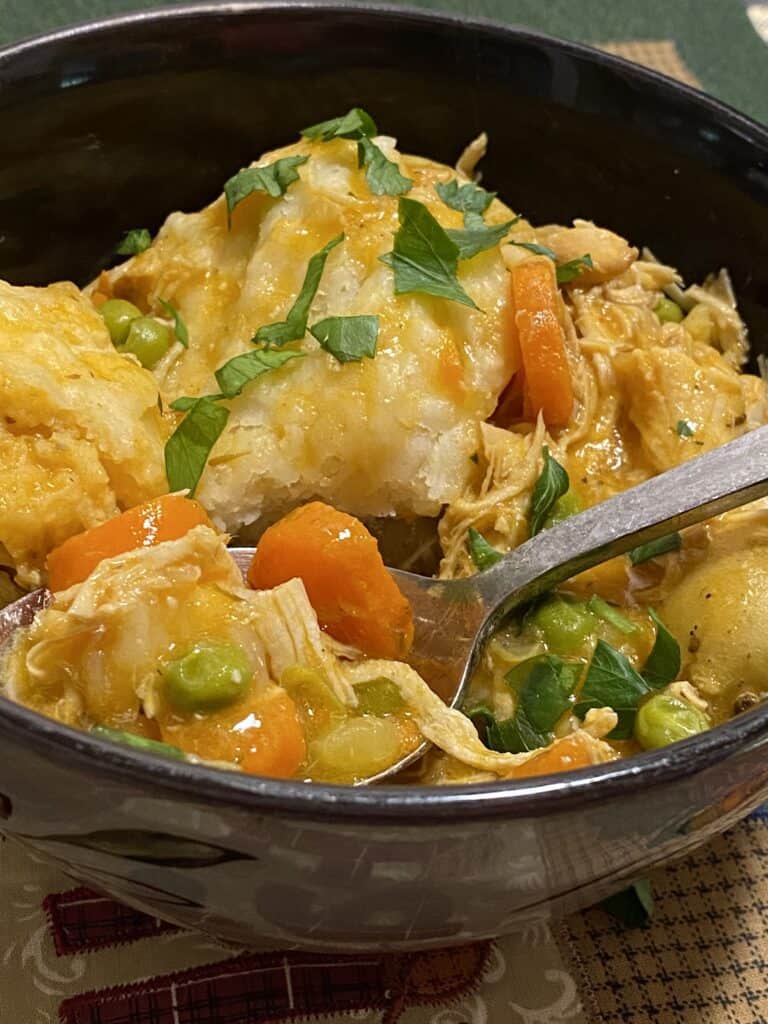 For this recipe you simply make a layer of chopped or shredded turkey or chicken in the bottom of the crockpot. Next is a layer of peeled sliced carrots and then a layer of small Yukon gold potatoes, cut into quarters. Four bay leaves and a couple of sprigs of fresh thyme go on top and you are good to go! About an hour to an hour and a half before your stew has finished cooking, stir the frozen peas into the stew, make from scratch dumplings, (or use buttermilk biscuits) and drop the dumplings on top of the stew. Cook, covered for 45 minutes to an hour. Check your dumplings after an hour to see if the have puffed up and are done inside.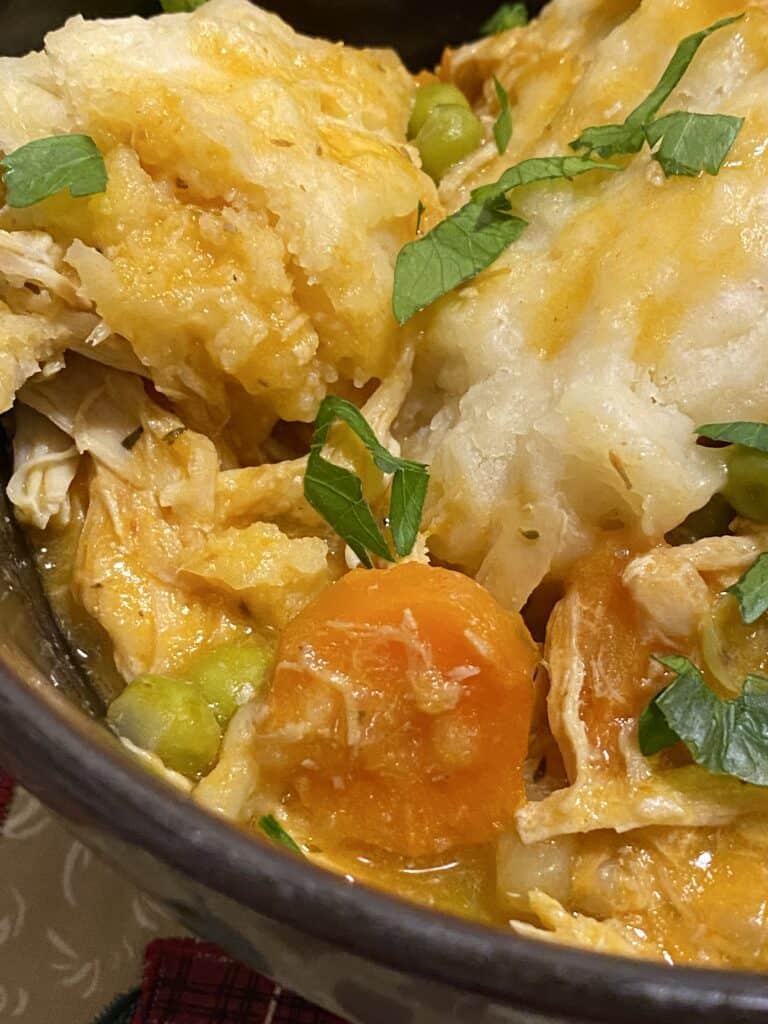 Last Step
The next and last step is to heat olive in a small skillet. Sauté chopped onions and minced garlic in oil for roughly 5-8 minutes. Whisk in the flour and tomato paste. Chicken or turkey broth is slowly whisked in and allowed to simmer for 5 minutes. This will basically be your thickener for your stew. Use canned or homemade turkey/chicken broth or stock. Recipe Note: This recipe note is based on our own personal preference. We like to double the liquid ingredients used to form the sauce if you will, for the dumplings. We like our stew more like a "stoup", a cross between a soup and a stew.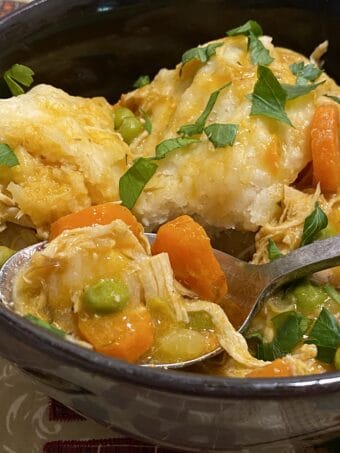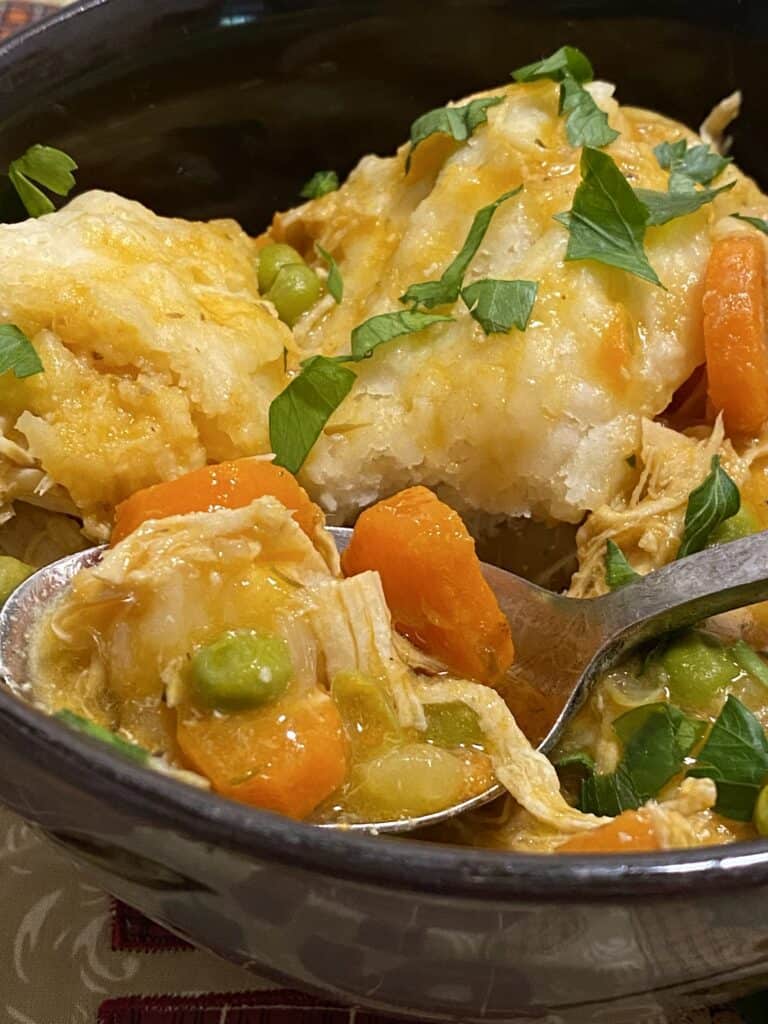 UP NEXT: Dutch Apple Bread with Vanilla Glaze
Looking for more Stew recipes? We're here to help!
Grandmas Chicken n' Dumpling Soup
Chicken n' Dumplings, Bisquick Style
Down Home Chicken with Parsley Dumplings
Yum 9 Things To Know About Dumplings
Slow Cooker Downhome Chicken and Dumplings
Ingredients
2 or more

cups

leftover turkey or chicken

salt and pepper to taste

4

carrots, peeled and sliced

12

oz.

small Yukon gold potatoes, cut into quarters

4

bay leaves

4

sprigs

fresh thyme

2

tablespoons

vegetable oil

2

onions, chopped

4

cloves

garlic, minced

⅓

cup

flour

1

tablespoon

tomato paste

4

cups

chicken broth

½

cup

white wine

1

cup

frozen peas

1

cup

flour

2

teaspoons

baking powder

1

teaspoon

sugar

1/2

teaspoon

salt

1

tablespoon

butter

1/2

cup

milk

2

tablespoons

fresh minced parsley, optional
Instructions
Place leftover turkey or chicken in the bottom of a 5 qt. crockpot. Layer with carrots and potatoes. Season with salt and pepper. Lay bay leaves and thyme sprigs on the top.

Heat oil in a skillet over medium heat. Add onions and garlic, sauté for 5 minutes. Whisk in flour, tomato paste, 2 cups chicken broth and white wine. Whisk until mixture is bubbly. Pour onion mixture over chicken and vegetables. Gently stir.

Turn crockpot on low and cook for 5 hours. Sprinkle peas over the top, place cover back on crockpot and continue to cook on low for 4-5 hours.

Make dumplings: In a small bowl stir together flour, baking powder, sugar, and salt. Cut butter into flour mixture until resembles peas. Stir in milk, just until blended. Don't over mix. Stir stew, drop biscuit batter onto stew using a tablespoon. Place cover back on and continue to cook on low for 45 minutes. Sprinkle individual servings with minced parsley