Chicken n' Dumplings, Bisquick Style
We may earn money or products from the companies mentioned in this post.
Chicken n' Dumplings, Bisquick Style
With all of us being confined to our homes and limiting our contact with the "outside" world. The question everyone is asking, "What are we going to eat?" Instead of ordering "curbside" dinners for the term of our qurentine. It's time to dust off your cookbooks, put your aprons on and get cooking. Curbside is fast and wonderful but c'mon, it's expensive and cold! Chicken n' Dumplings, Bisquick Style sometimes referred to as Chicken Pot Pie, is delicious, comforting and easy to make.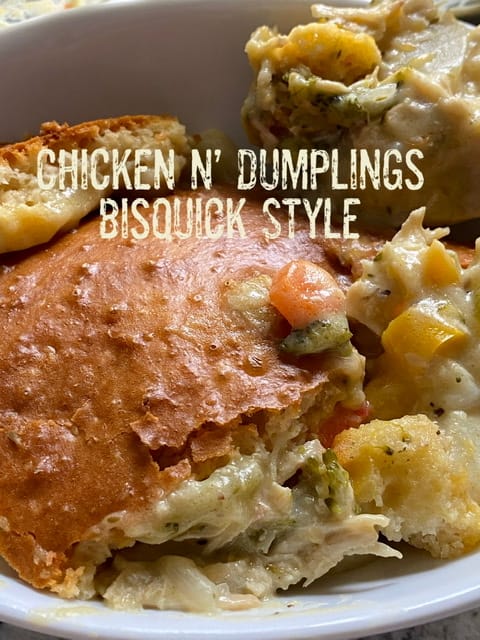 Bisquick
A traveling salesman, clever chef, and a train led to Bisquick. It was a late evening in the 1930's. The train's dinning car was closed. A hungry General Mills salesman named Carl Smith was on that train to San Francisco. A clever cook soon produced hot biscuits for him. Smith was amazed that the chef could deliver fresh biscuits in such a short time. So they went into the galley. The chef showed how he had blended lard, flour, baking powder and salt then stored the mixture in the ice box.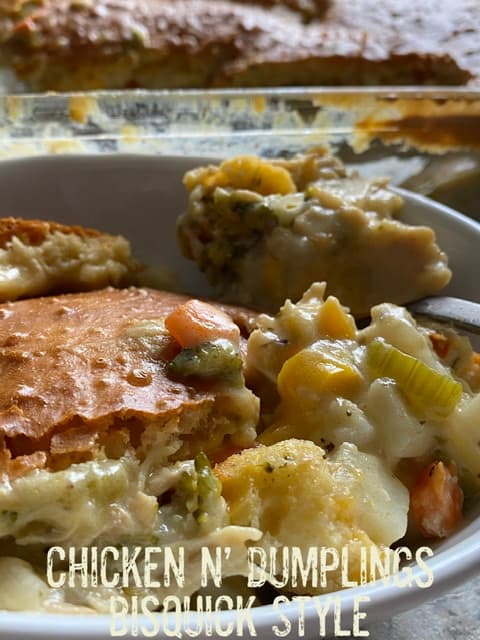 Fresh Idea
From that batter the chef had quickly made biscuits to order. It was a fresh idea in the Depression-era 1930's. There were few of the shortcuts available to us today, no pre-made cake mixes, muffin mixes or biscuit and pancake mixes either. Smith recognized the potential for a mixed baking product and took the idea to a smart food expert at General Mills.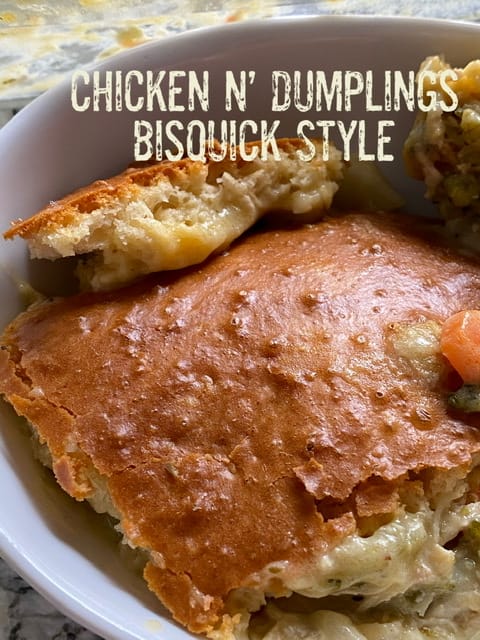 Challenges Were Many
The challenges to produce a mix, with the proper blend of ingredients and to make the biscuits as good as or better than homemade were significant. It took a while but a breakthrough was made. Although the original recipe has changed, for over half a century the product in the familiar yellow and blue package has been used by cooks to create an ever-changing and growing variety of delicious foods. Today, Bisquick remains the country's leading convenience baking mix, in the grocery category it created.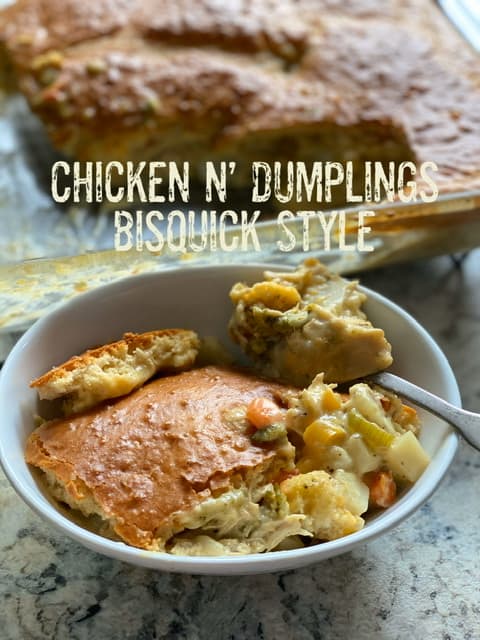 Chicken n' Dumplings
There are oodles and oodles of recipes for chicken n' dumplings. Recipes for moms, grandmas and aunties "favorite" chicken and dumpling recipe. When I worked at the Cracker Barrel many moons ago, I loved their chicken n' dumplings and ordered it whenever possible. This is probably when my love for chicken n' dumplings began because I don't recall Aggie ever making this dish. I soon started to make chicken n' dumplings at home and experimented with many different recipes. Many times combining several different recipes into one. I've made many recipes for this classic dish but I have to admit, this one is my favorite. I found this recipe on Pinterest, so you know it's gotta be good!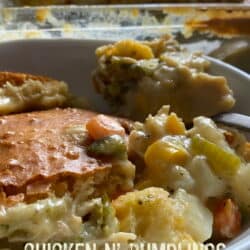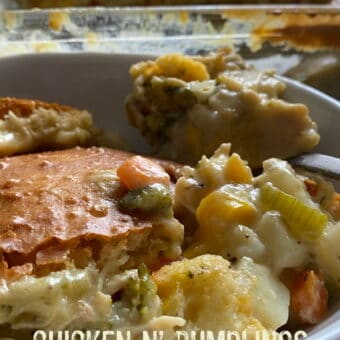 Chicken n' Dumplings, Bisquick Style
Chicken n' Dumplings is a down-home recipe. The perfect comfort food.
Ingredients
4

Tablespoons

butter

½

cup

onions, finely diced

½

cup

celery, finely diced

½

cup

carrots, finely diced

1/2

cup

sliced mini sweet peppers

2

cloves

garlic, minced

2

cups

cooked chicken, chopped

1

Russet potato, peeled and diced

3

Tablespoons

flour

2 1/4

cups

chicken broth

1

can

cream of chicken soup

½

teaspoon

dried thyme leaves

½

teaspoon

dried Rosemary

salt and pepper, to taste

½

cup

evaporated milk

1

cup

frozen broccoli florets

Bisquick Topping

2

cups

Bisquick

1

cup

milk

2

large eggs, beaten
Instructions
Preheat the oven to 350 degrees.

Melt the butter in a large saucepan. Add the onions, celery, carrots and peppers. Saute for 3 minutes, until the vegetables have softened and the onions are translucent. Add the minced garlic and cook for an additional minute. Add the cooked chicken and diced potatoes.

Sprinkle the flour over the top and cook for an additional minute, gently tossing to work in the flour. Let it cook for 3 minutes. Pour in the chicken broth and cream of chicken soup. Add 1/2 tsp dried thyme, & 1/2 tsp dried rosemary.

Pour in the evaporated milk and increase heat until it reaches a soft bubble. Decrease heat to medium low. Let it simmer, partially covered, until the potatoes are fork tender. Stir in frozen broccoli florets. Remove from heat. Season with salt and pepper.

Pour the mixture into a lightly greased 9 x 13 casserole dish.

Combine the Bisquick, milk, and egg until well-combined. Pour it over the filling. DO NOT do this step ahead of time. Wait until the last minute before pouring the batter on the top for the best 'rise'

Bake, uncovered, for 40 minutes, or until the top is golden brown.