Cheesy Potatoes aka Easter Potatoes
We may earn money or products from the companies mentioned in this post.
Cheesy Potatoes aka Easter Potatoes
This recipe for Cheesy Potatoes aka Easter Potatoes has been on our Easter Dinner table for at least 40 years. I can safely say that this recipe is probably the Original recipe. There are many variables on this recipe, some I've even tried but I always come back to this recipe. Why? Because it's the best recipe for cheesy potatoes, ever.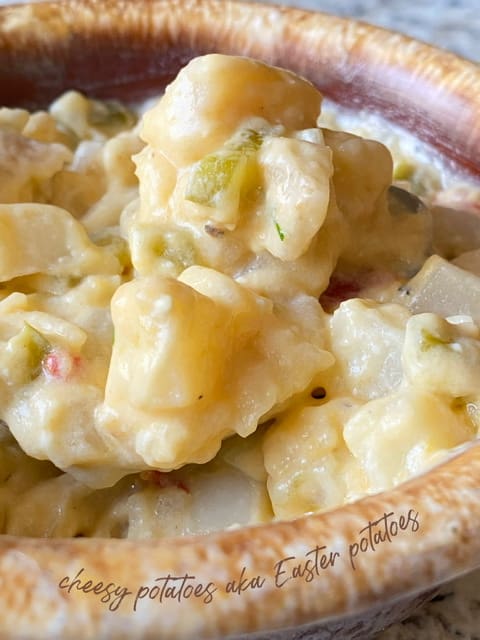 Originated
I like to give credit where credit is due. This recipe was given to me some 40 years ago by my then mother-in-law, who later became my ex mother-in-law. I'm not exactly sure whom she got the recipe from but I'm thinking it might have been from the chorus group she participated in. One Easter, Colleen brought cheesy potatoes to Easter dinner. After that Easter, cheesy potatoes or what they later became referred to as Easter potatoes. Easter potatoes were put on the menu and remained.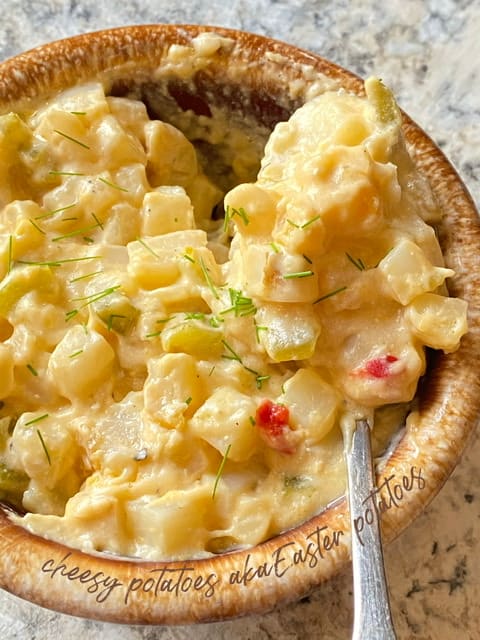 Made One of Two Ways
This recipe for cheesy potatoes can be made one of two ways. Both recipes are basically the same but over the years, depending on who made the potatoes that year for Easter, the recipe has changed slightly. Southern-style hash browns or O'Brien style hash browns? That's the question, but both potatoes can be used interchangeably. What is the difference between the two? O'Brien potatoes have the onions, green & red peppers already added; southern-style potatoes do not. The other difference is whether or not to add a Ritz cracker topping.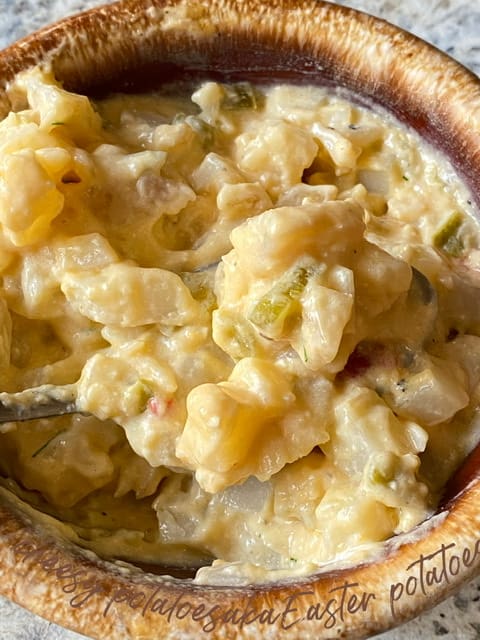 Yes, to the Crackers!
Let me just say, that I will never pass up a cracker crumb topping, drizzled with melted butter. There have been times when I've made a recipe just because it had a cracker topping! A buttery, crunchy, cracker crumb topping can take an ordinary recipe to new flavor heights. After mixing all of the potato ingredients together, sprinkle the top with the crushed crackers and drizzle with melted butter. Cover and bake for an hour and 15 minutes at 325. Remove the cover and bake for an additional 45 minutes. This recipe for cheesy potatoes can easily be doubled.
Up Next: Christmas Scalloped Potatoes and Ham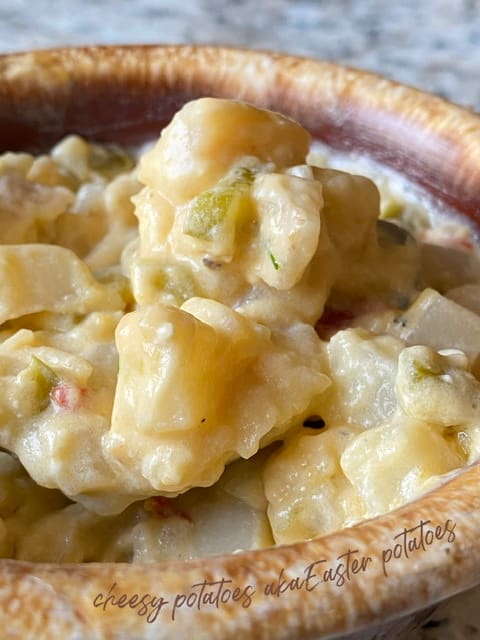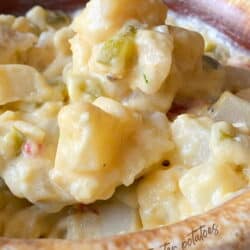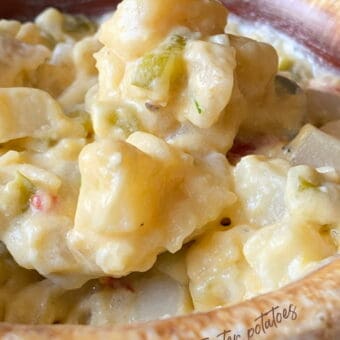 Cheesy Potatoes aka Easter potatoes
Ingredients
1-

2 lb package

southern-style frozen hash browns

1/3

cup

chopped onion

1/3

cup

chopped green peppers

1

can

cream of potato soup

1

can

cream of celery soup

1

8 oz container

sour cream

2

cups

shredded cheddar cheese

salt and pepper, to taste

1

sleeve

buttery crackers, crushed

1/4

cup

melted butter
Instructions
In a large mixing bowl mix all ingredients except crushed cracker crumbs and melted butter. Spoon potatoe mixture into a lightly greased 3 quart casserole dish. Sprinkle crushed cracker crumbs over the top of potatoes, drizzle with melted butter. Cover with aluminum foil. Bake at 325 for 1 hour and 15 minutes. Remove cover, bake an additional 45 minutes
Recipes On Tap: Easter Memories and Smashed Multicolored Little Potatoes. 
UP NEXT: Easy Salad a la Niçoise