Easy Salad a la Niçoise
We may earn money or products from the companies mentioned in this post.
Easy Salad à la Niçoise 
This recipe for Easy Salad à la Niçoise is a super delicious salad that takes under 15 minutes to throw together. I'll admit it's a very simple rendition of the famous Salade Niçoise. You could even say that this simple version is "a far cry" from the Traditional French Salade Niçoise. We'll save the real thing for another time, since the traditional version sounds super delicious indeed. Délicieux!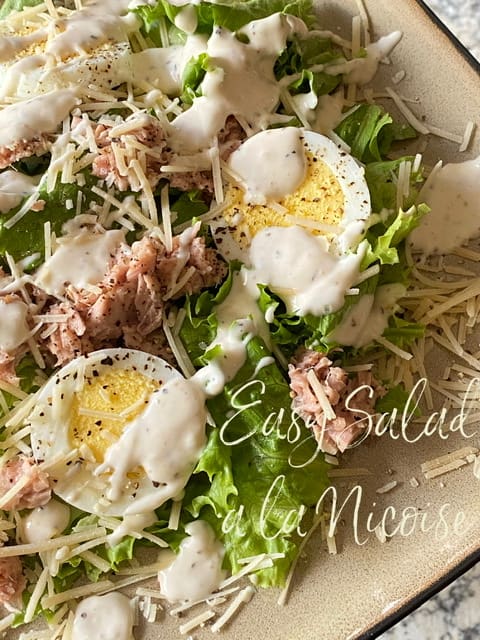 Traditional French Salad Niçoise
Traditional French Niçoise Salad is made with several key ingredients. From what I've read online, without these key ingredients, it's not considered a traditional salad. The key ingredients are; tomatoes, garlic, cucumber, green peppers, green onions, fava beans, Niçoise olives, torn or shredded lettuce, hard-cooked eggs, chopped fresh basil or flat-leaf parsley, freshly ground black pepper, French green beans and anchovy filets or tuna. The only "dressing" on this salad should be; extra-virgin olive oil or a light French vinaigrette.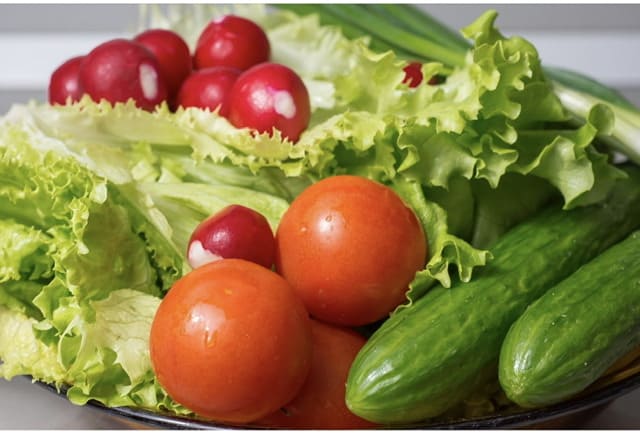 What Does Niçoise Mean?
A French phrase that means "as prepared in Nice," or representing the cuisine found in and around that French Riviera city. This cooking style is identified with hot and cold dishes. They include the integral ingredients of tomatoes, black olives, garlic and anchovies. Salade Niçoise contains these basic ingredients plus French green beans, onions, tuna, hard-boiled eggs and herbs. Now that we know what it means, how the heck do you pronounce Niçoise? It's pronounced [nee-SWAH] or if your like me, you'd rather "listen" to how it's pronounced.
Niçoise Olives
Hailing from the Provence region of France, but also grown in Italy and Morocco, this small, oval olive ranges in color from purple-brown to brown-black. Niçoise olives are cured in brine and packed in olive oil. Good Niçoise olives have a rich, nutty, mellow flavor.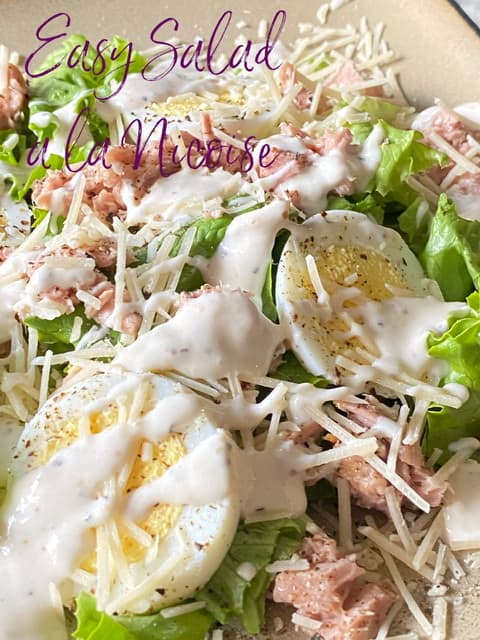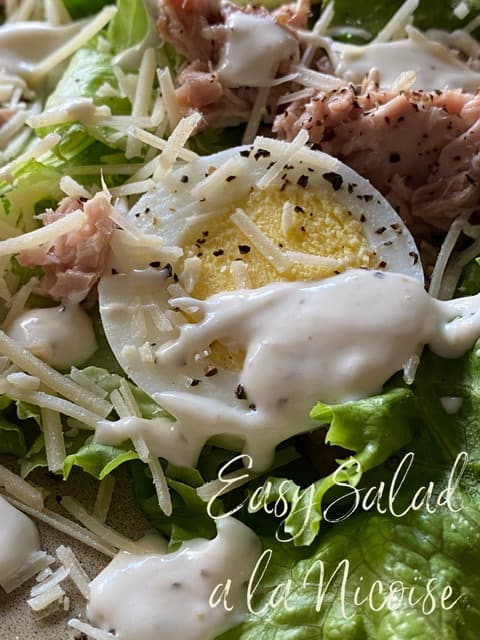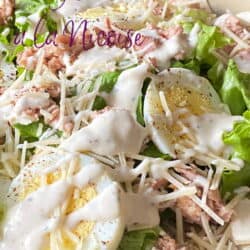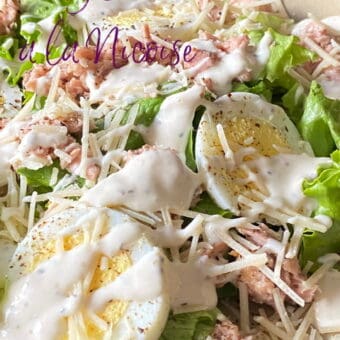 Easy Salad a la Niçoise
A delicious and easy recipe!
Ingredients
2

7 oz cans

tuna, drained

2

bunches

romaine lettuce

2

eggs, hard-boiled, peeled, and coarsely chopped

3

tablespoons

grated Parmesan cheese

1/4

cup

bottled Caesar dressing

freshly ground black pepper
Instructions
Divide the romaine lettuce between 4 salad plates. Using a fork, crumble the tuna over the lettuce. Top with the hard-boiled eggs. Sprinkle each serving with a few tablespoons of grated cheese. Drizzle salads with Caesar dressing. Sprinkle with freshly ground black pepper. Serve.
Recipe was made with: Kraft Original Caesar Dressing