Layered Hamburger Casserole
We may earn money or products from the companies mentioned in this post.
Layered Hamburger Casserole
With all of us doing our part by staying home and social distancing ourselves, many of us, me included, need to come up with something new to make for dinner. In this case though, I went back to my recipe archives and found this recipe for Layered Hamburger Casserole. A recipe I haven't made or even thought of in many years.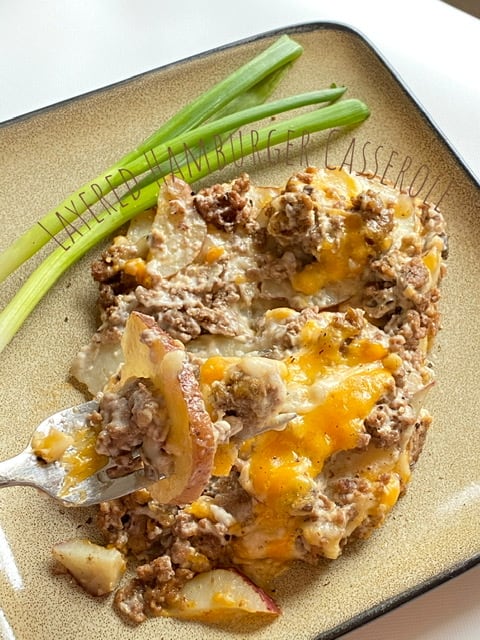 Casserole or Hot Dish
I made a casserole or hot dish on a weekly basis when I had to feed my family on a limited grocery budget. Simple ingredients like ground beef, ground turkey, which was super cheap back then, pasta or potatoes, canned vegetables and creamed soups. Those few simple ingredients made up the majority of the casseroles I made. It still surprises me how tasty these simple ingredients can become when combined together and baked. Of course, being from America's Dairyland, every casserole I made and still make has some kind of cheese in it:)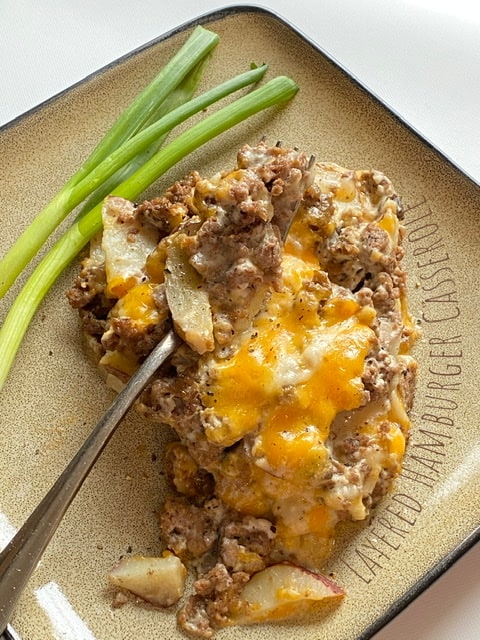 What is a Hot Dish?
A "hot dish" is an anything goes sorta kinda one-dish meal popular in the Upper Midwest. More specifically my neighboring state of Minnesota. A much beloved dish made with a creamy sauce that combines together three essential hot dish components; starch, protein and vegetables. While the rest of the country might call a hot dish a casserole, in Minnesota its called a hot dish and only that. If you are invited to dinner in Minnesota, and something is served in a glass baking dish with ingredients unrecognizable, that's a hot dish. Oh you betcha!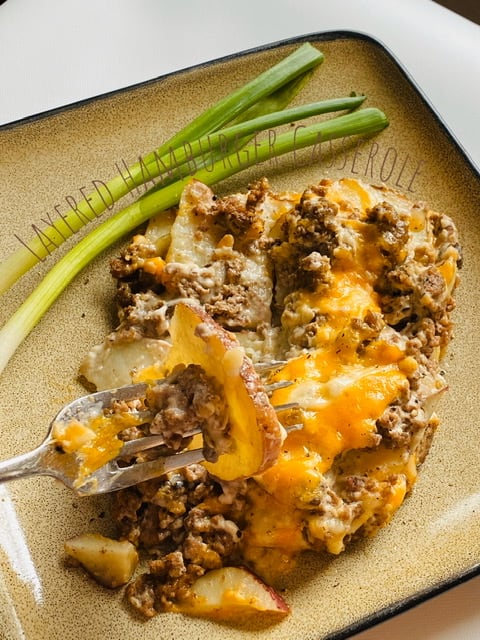 Ingredients Needed
Casseroles are generally made up of four key ingredients. The meat/seafood is usually ground beef, ground turkey, ham, spam, tuna or leftover meat from the previous meal. Then you have the starch. This can be anything from pasta, potatoes, rice, frozen stuffed pasta and boxed stuffing. An important rule of thumb; casseroles and hot dishes have to have at least one can of creamed soup. Cream of mushroom, cream of chicken and cream of celery are the most popular. The cream of something soup holds it all together plus adds flavor and creaminess. You got that right!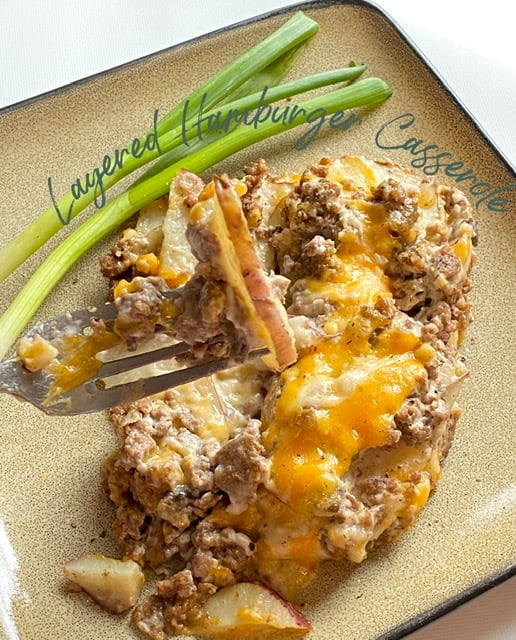 Tater Tot Casserole
Layer Hamburger Casserole reminds me of that other loved casserole,  Tater Tot Casserole. The only difference between these two classic recipes is; one uses real potatoes, and the other uses frozen tater tots. I've even seen recipes for tater tot casserole that substitutes frozen French fries for the tater tots. The tater tot casserole is said to have been "invented" in Minnesota but I'm not sold on that:) A casserole or hot dish can also be made with a few "optional" ingredients such as: chopped onions, celery, green peppers, and carrots. Potatoes chips and crunchy choy menu noodles often top hot dishes, Dontcha know!
UP NEXT: Salisbury Steak with Mushroom Gravy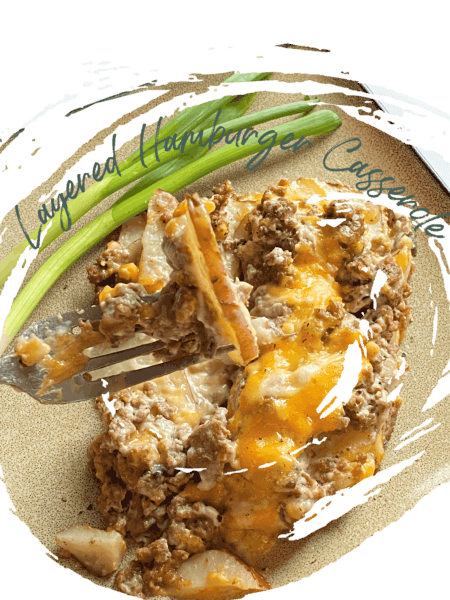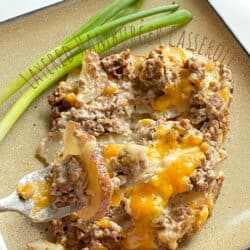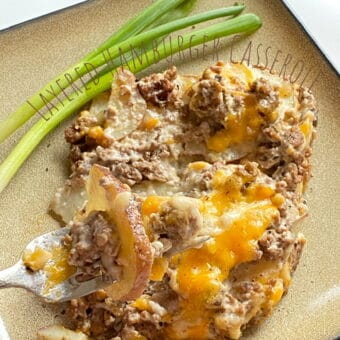 Layered Hamburger Casserole
A delicious, old-fashioned favorite.
Ingredients
5

medium

potatoes

2

lbs

ground beef

1

small

onion, chopped

2

cloves

garlic, minced

2

cans

cream of mushroom soup

1 1/2

cups

milk

1/2

teaspoon each

salt and pepper

2

cups

sharp shredded cheese
Instructions
Preheat oven to 350 degrees.

In a medium skillet, brown ground beef with onion and garlic. Season with salt and pepper. Drain off fat and set aside. Peel and slice potatoes, set aside. *Use a mandoline slicer to slice potatoes thinly and quickly if preferred.

In a mixing bowl, combine cream of mushroom soup and milk until smooth. Set aside.

In a 13 x 9-inch baking dish. Layer potatoes, ground beef, soup, and cheese. Repeat layers. Top with remaining cheese. Cover with foil and bake for 1 hour

Remover foil and bake another 30 minutes or until potatoes are fork tender.
Recipe made with: Campbells Cream of Mushroom Soup.