Egg Salad Topped Hot Dogs
We may earn money or products from the companies mentioned in this post.
Egg Salad Topped Hot Dogs
This coming week when your kids are hungry at lunchtime, why not whip up a batch of egg salad with those left-over Easter eggs. Top grilled or pan-boiled hot dogs with egg salad and sprinkle the egg salad with crushed corn chips (fritos) or French fried onion rings. Egg salad topped hot dogs are a great lunch Idea your kids will love.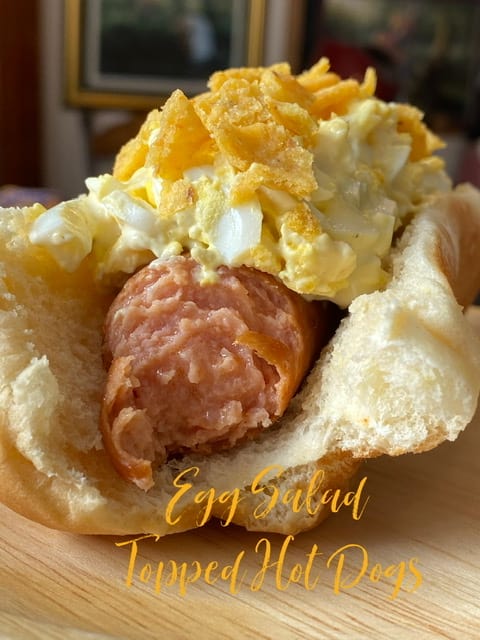 All Beef Hot Dogs
Egg salad topped hot dogs are made with Nathan's brand all-beef hot dogs. You can certainly substitute turkey hot dogs if your kids would rather have those. Any good hot dog will do. There are many different national brands to choose from and many states have local meat markets that make hot dogs that are personal favorites. Purchase the hot dogs that you and your family enjoy.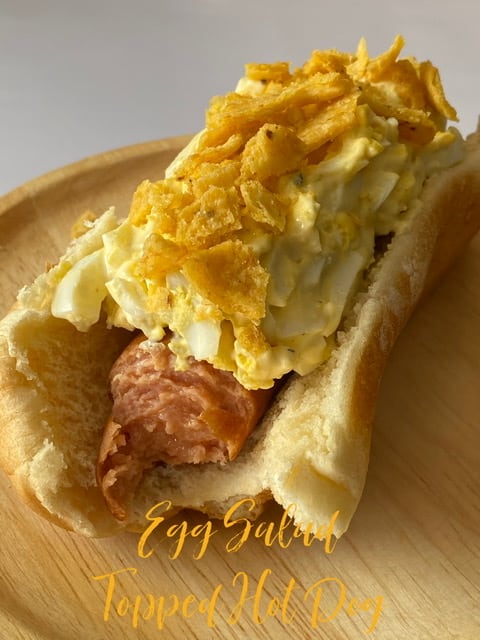 Nathan's Hot Dogs
For this recipe we used Nathan's brand hot dogs. Nathan's hot dogs began in 1917 as a nickel hot dog stand in Coney Island. It bears the name of co-founder Nathan Handwerker who started the business with his wife, Ida Handwerker. Ida created the hot dog recipe they used, and Ida's grandmother created the secret spice recipe. The original Nathan's hot dog stand still exists at its original 1916 location.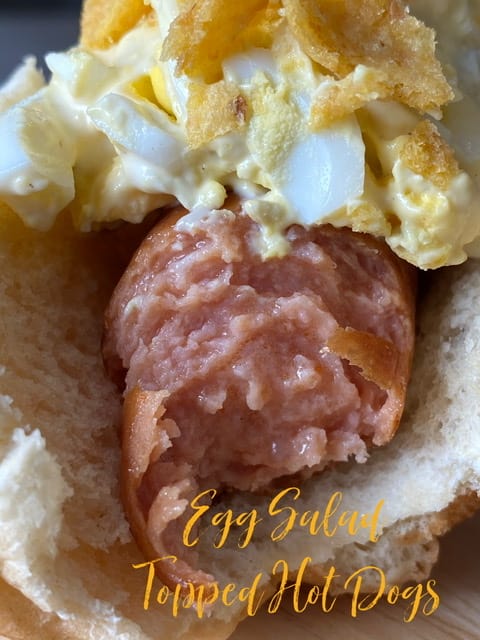 The Original Stand
Having been open for business every day, 365 days a year, since they opened in 1916, the stand was forced to close on October 29, 2012, due to Hurricane Sandy. Thankfully the stand re-opened six months later. The shop is opened year-round, with service provided inside. In the summer additional walk-up windows are opened to serve the larger seasonal crowds. The original location still features frog legs, which have been an original Nathan's menu item since the 1950's. Frog legs are only offered at their original location.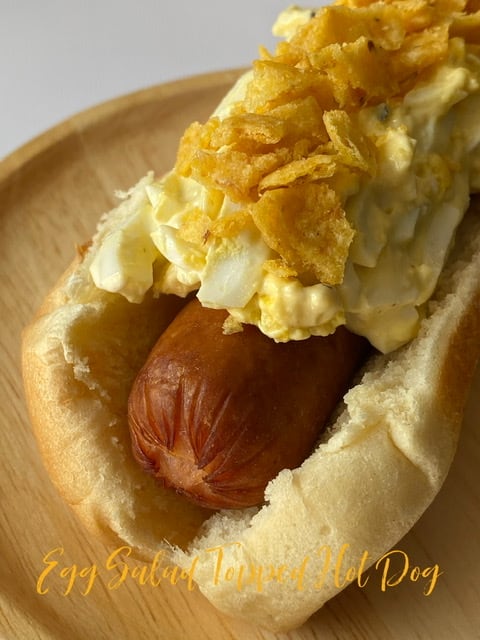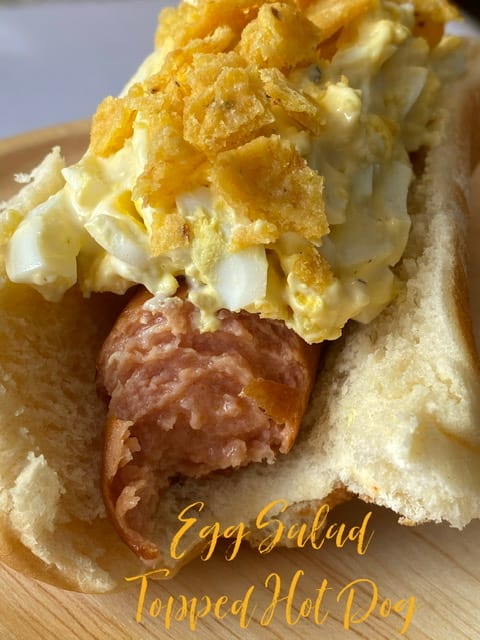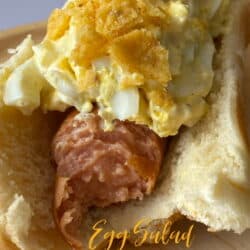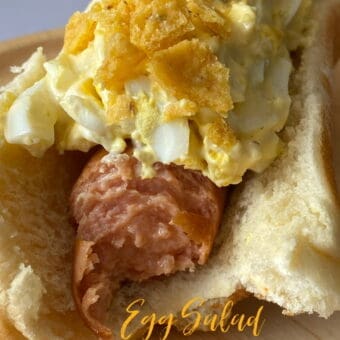 Egg Salad Topped Hot Dogs
Ingredients
6

hard-boiled eggs

,

peeled and chopped

1/4

cup

mayonnaise

1/4

teaspoon

salt

1/4

teaspoon

pepper

1

package hot dogs

1

package hot dog buns

1

cup

crushed corn chips

1

cup

crushed French fried onion rings
Instructions
Make egg salad: In a medium bowl, stir together mayonnaise, salt and pepper. Fold in d chopped hard boiled eggs. Hi by

Bring a large pot of water to a rolling boil. Carefully place the hot dogs into the pot one by one. Boil the hot dogs for 6-8 minutes. If you're boiling a whole pack, you may need to add an extra minute or two to make sure they're cooked all the way through.

Place cooked hot dogs into buns, too each hot dog with egg salad and then top with crushed corn chips or French fried onion rings. Serve.
Recipe on Tap
Crunchy Coleslaw Hot Dogs and Bacon Wrapped Cheese Filled Hot Dogs
This recipe was made using Nathan's Hot Dogs, Frito Lay Corn Chips and French's Onion Rings.