Blackberry Lime Sourdough Muffins
We may earn money or products from the companies mentioned in this post.
Blackberry Lime Sourdough Muffins
If you want to try a really tasty and delicious muffin, Blackberry Lime Sourdough Muffins are just what you're looking for. Big, fresh, juicy blackberries are folded into a tangy sourdough batter that is studded with fresh grated lime zest. A real taste sensation.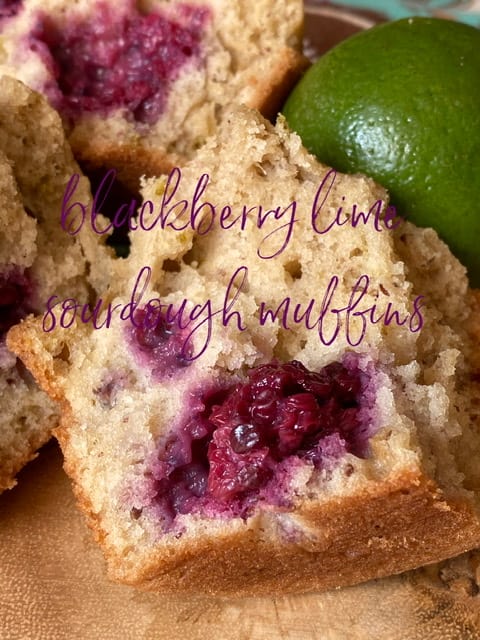 Social Distancing
The other day I was asked what I've been doing to keep myself busy during this time of social distancing. Hmm, let me think. I thought about it for a few minutes. We moved "up north" about 12 years ago so I guess you could say that I've been "social distancing" myself for 12 years:) Because I've been hiding out in the woods for years now, my life hasn't really changed all that much. So I answered that question with, "I've been baking more than usual, and I've become quite familiar with my video camcorders."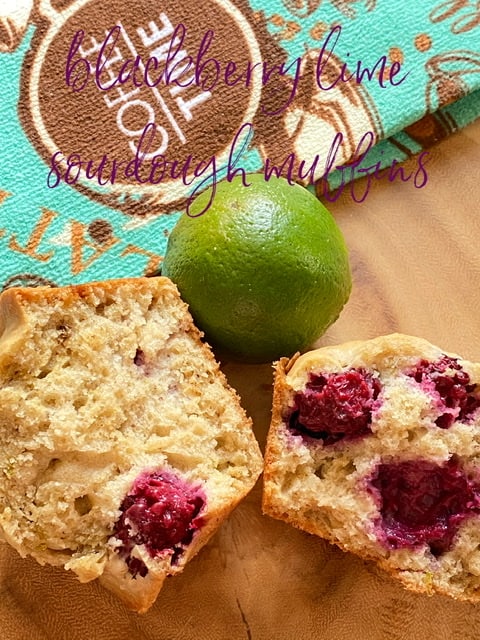 Camcorders
If you know me even slightly, you know that I never buy one of anything. So when I say camcorders, the "s" at the end of the word would make sense. I have three, plus my iPhone 11 Pro:) Anyway, I've been wanting to take videos for sometime now and have procrastinated long enough. I think it might be nice for my grandkids to have some videos of me when I'm gone. When you get to be my age, you think about these kinda things. If this whole virus thing hadn't started, I was hoping to do I few videos with my grandkids. They've been watching YouTube for awhile now and love to watch themselves on videos. Their favorite on YouTube is Cookie Swirl C or something like that. She has over 31.2 M views, over 3,000 videos and her very own look-a-like Barbie Doll. Not bad for a young lady who opens up small packages of toys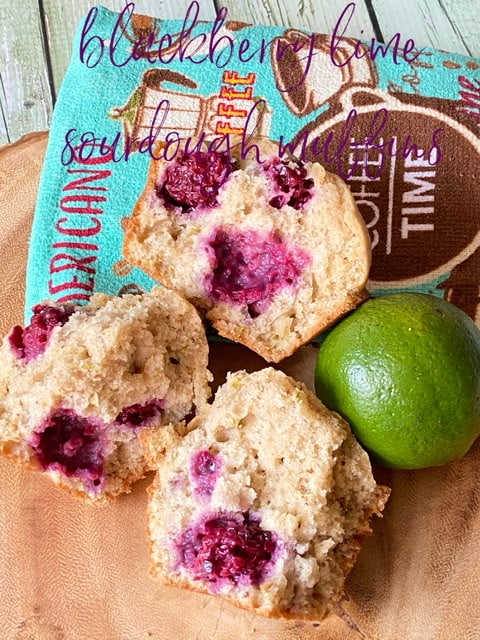 Flavorful
The flavor combination of lime and blackberry is sensational. Add in the tangy flavor of sourdough and you have an unforgettable muffin. Lime has become my new go to flavor. I love anything lemony but the last year or so I've really acquired a huge fondness to lime. Adding fresh lime zest to fruit salads, muffins or scones and frosting gives a clean citrusy flavor. Limes have come a long way in recipes. Once used solely in key lime pie recipes and added to glasses of gin and tonic. Even though both of those examples are very tasty indeed, limes can and should be added more often to recipes.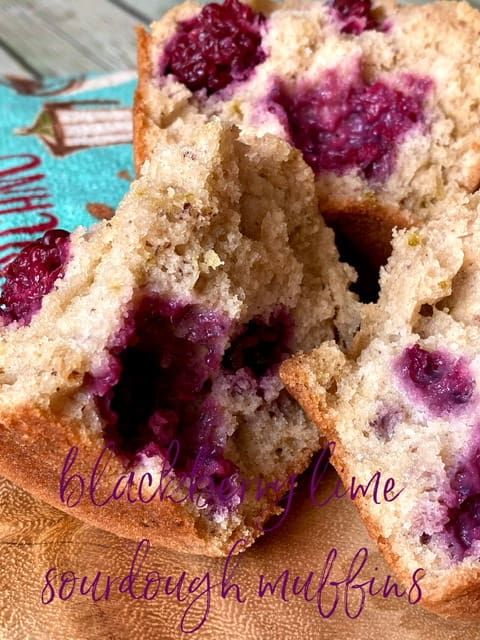 Our Favorites
Here are two of our favorite lime "Recipes On Tap" Lime Garlic Shrimp and Frozen Mini Key Lime Tarts . I've always liked the flavor of lime but what really sparked my lime interest was one sip of La Croix Key Lime sparkling water. After that one sip, my love for all things lime really took off. I just love La Croix key lime sparkling water. To me it has the best authentic true lime flavor, not at all artificial tasting. The only problem I have with La Croix Key Lime water is the fact that it can be hard to find, at least in my area. When I do find it though, I pick up at least 4-12 packs. This keeps me in sparkling water for a week or two:)
Recipe Note:
Here are a few recipe suggestions that you can apply. If blackberries aren't your thing, substitute blueberries or raspberries. Really, any berry will work in this recipe. If you want to add some sweetness to the muffins, drizzle them with a light lime glaze. The recipe follows the muffin recipe and is listed as "optional." The glaze is made with powdered sugar, lime juice, (lime zest can also be added along with the juice) and milk or cream. If you don't have a jumbo muffin tin, no problem! Use your 12-cup size muffin tin.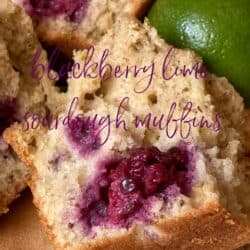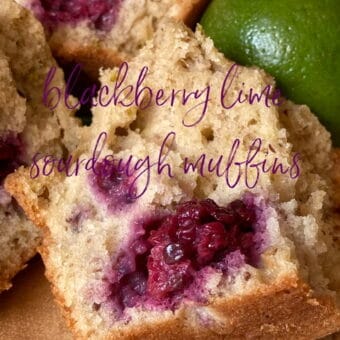 Blackberry Lime Sourdough Muffins
Ingredients
1

cup

sourdough starter, fed

1/2

cup

vegetable oil

3/4

cup

water

1

egg

1/2

cup

brown sugar

2

cups

flour

1/2

teaspoon

salt

1/2

teaspoon

baking soda

1 or 2

teaspoons

fresh grated lime zest

1

cup

fresh blackberries

Glaze Ingredients, optional

1

cup

powdered sugar

1

tablespoon

lime juice

2

tablespoon

milk or cream
Instructions
In a large bowl, stir together starter, oil, water, eggs ad brown sugar. Sift in flour, salt, baking soda and lime zest; stir just until combined-do not over mix. Gently fold in blackberries. Spoon batter into greased muffin tins, filling cups 2/3 full. Bake at 375 for 30 to 35 minutes. Remove muffins from muffin pan and cool on wire rack.

Optional: Make Lime Glaze. In medium bowl, whisk together powdered sugar, lime juice and milk or cream. Drizzle over cooled muffins. Makes 6 jumbo muffins