Christmas Scalloped Potatoes and Ham
We may earn money or products from the companies mentioned in this post.
Christmas Scalloped Potatoes and Ham
Christmas Scalloped Potatoes and Ham is a great way to use any left-over Christmas ham you may have. It's also a great way to use any left-over cheese you might have from your cheese and sausage tray. I haven't made scalloped potatoes and ham in for-ever, I mean years. If I think really hard, it's probably been 30 years ago. After one bite of Christmas Scalloped Potatoes and Ham and I was hooked. What have I been waiting for?!?
Scalloped Potatoes and Ham
When I was younger, Aggie tried several times to make scalloped potatoes and ham. Much to our dismay, (my dad, brother and sisters) Aggie's scalloped potatoes and ham was little to be desired. The potatoes weren't sliced thinly, which meant some of the potatoes were tender, other potatoes were hard. The sauce or milk mixture was always curdled looking, the cheddar cheese she always used got glumpy (this word is a cross between clumpy and globby) and it just wasn't very good.
Two Kinds of Potatoes
When I decided to make scalloped potatoes and ham I wanted to make it very differently than Aggie's version. I made scallop potatoes and ham with two kinds of potatoes; russet and sweet potatoes. I went with half and half which added richness and shredded Gouda cheese that added creaminess to the dish. The addition of sweet potatoes really took this dish over the top. It added so much more than I expected.
Up Next: Strawberry Rhubarb Pie Filling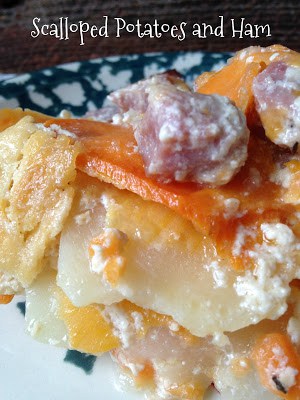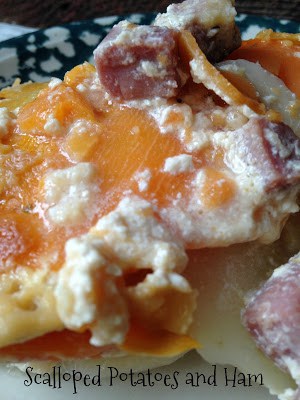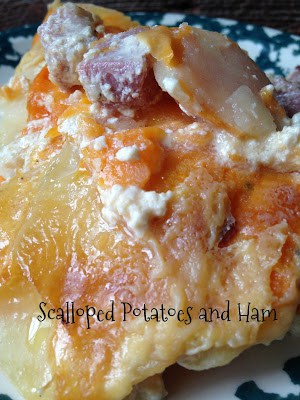 More Recipes
Looking for a few appetizer recipes to bring with to a Holiday gathering? We have two you'll want to make: Cheese Stuffed Cucumbers and Turkey Pastrami Reuben Sliders.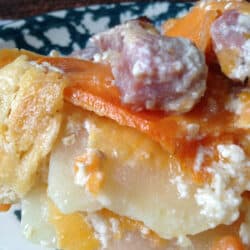 Christmas Scalloped Potatoes and Ham
A delicious way to use up any left-over holiday ham
Ingredients
4

pounds

russet potatoes

2

pounds

sweet potatoes

4

cups

1 quart half-and-half

2

cloves

garlic, minced

2

cups

shredded Gouda cheese

2

tablespoons

butter, cut into 8 pieces plus more coating baking dish

1

teaspoons

salt

1/2

teaspoon

black pepper

1/4

teaspoon

dried thyme leaves

2

cups

cubed fully cooked ham
Instructions
Heat oven to 350. Coat a 13 x 9 inch baking dish with butter; set aside.

Place half-in-half, garlic, salt, pepper and thyme in a large, wide pot or Dutch oven. Peel and slice potatoes into 1/8-inch thick slices (a mandolin works great in this recipe) and add them to the pot. Bring the mixture to a simmer over medium heat, gently folding the potatoes into the sauce occasionally, about 20 minutes total.

Using a slotted spoon, transfer half of the potatoes to prepared baking dish and arrange them in an even layer. Evenly sprinkle with half of the cheese and half of the cubed ham.

Transfer the remaining potatoes to the dish, arranging in an even layer. Pour the half-in-half mixture from the pot over the potatoes. Sprinkle with the remaining half of the cheese and cubed ham. Scatter the butter pieces on top.

Bake uncovered until the potatoes are very tender and the top of the casserole is golden brown and bubbling, about 1 hour. (Cover the dish with foil if the top starts to get too brown)

Remove to a wire rack and let sit 10 minutes before serving.
Gouda Cheese
For this recipe we used one of our favorite Dutch Gouda cheese made right here in America's Dairyland. We've featured this sensational Gouda many times here on Turnips 2 Tangerines. Marieke Gouda