Bangers and Mash with Onion Stout Gravy
We may earn money or products from the companies mentioned in this post.
Bangers and Mash with Onion Stout Gravy
Bangers and Mash with Onion Stout Gravy is the perfect meal to serve for St. Patrick's Day or any day when you'd like a big bite of comfort food. For an Irish-style Dinner serve: Bangers and Mash with thick slices of warm Irish Soda Bread and slices of Dubliner Cheese. Perfect for soaking up all that delicious Onion Stout Gravy. Oh, and don't forget so serve this meal with an Irish Stout Beer!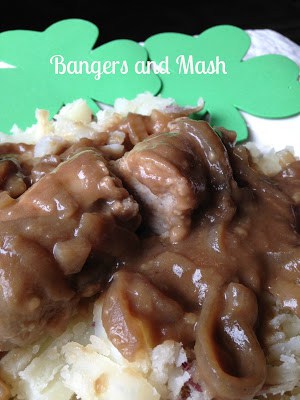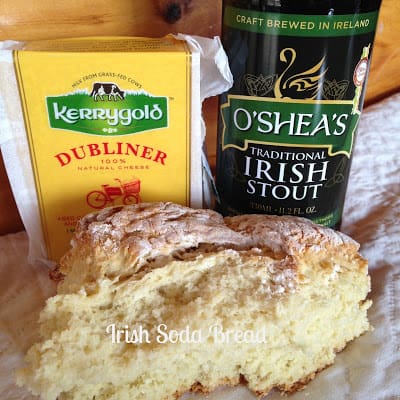 Cookies and Beer?!?
For Dessert you can serve Gingersnap Cookies and bottles of Irish Stout Beer. Cookies and Beer?? You bet! Surprisingly, the rich, dark, malty body of
Irish Stout Beer, along with the espresso coffee and light licorice taste, go excellent with Gingersnap Cookies. Don't believe me? Give it a try and let me know what you think. Need a recipe for gingersnap cookies? This is our favorite.  Old Fashioned Gingersnap Cookies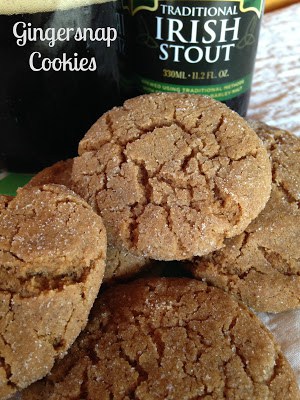 Onion Stout Gravy
This was our first time making and trying Onion Stout Gravy. If you're a little skeptical, as I was, don't be. I have got to tell you, it's something you need to try! It's a flavor you really can't describe, it's different, malty, hearty and absolutely delicious.
Price of  this Irish Dinner
This Irish Dinner was made for under $20.00. All ingredients were purchased at Aldi and this dinner serves 4. Here is list of all the ingredients used: Parkview Original-Style Irish Bangers @ $2.99 (6 sausages), Kerrygold Dubliner Cheese @ $3.49 (16 ounces), O'Shea's Irish Stout Beer @ $5.89 (6- bottles), Baker's Corner Irish Soda Bread Mix @ $1.49 (1 loaf), Red Potatoes @ $.99 (5-pound bag). Extra ingredients include: oil, butter, milk, onion, flour, beef broth, salt and pepper.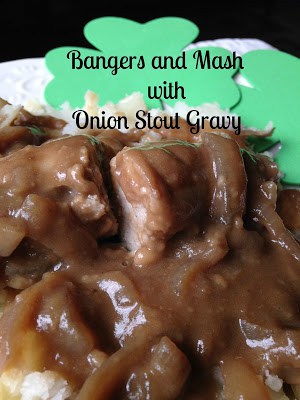 For a truly Irish Dinner, serve Bangers and Onion Stout Gravy spooned over Colcannon.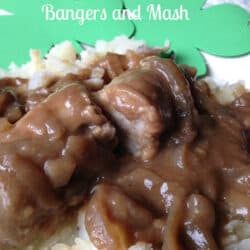 Bangers and Mash with Onion Stout Gravy
The perfect St. Patty's Day Meal!
Ingredients
1

pound

package Irish style bangers

,

sausages

1

tablespoon

oil

3

ounces

stout beer

3 to 4

red or gold potatoes

2 to 4

tablespoons

butter

1/4

cup

milk

2

tablespoons

butter

1

medium

onion, thinly sliced

3

tablespoons

flour

1

cup

stout beer

1

cup

beef broth

salt and pepper, to taste
Instructions
Sausages:

Heat oil in a skillet over medium high heat. Add sausages and stout. Cover with lid and crack just to allow enough steam to escape. Cook covered for about 10 minutes, turning half way through. After they're cooked for 10 minutes, remove lid and allow liquid to reduce a bit and coat sausages. When the liquid is almost gone, lower heat to medium low and continue cooking with the lid on, rotating occasionally, until evenly browned and cooked through, about 10 minutes.

Gravy:

In a separate pot, heat butter over medium high heat. Add sliced onions and cook until slightly browned and fragrant, about 5 to 10 minutes. Sprinkle with flour and allow to cook 2 to 3 minutes. Add stout and scrape bottom of pan to deglaze. Add beef broth and allow to simmer until no longer foamy; 10 to 15 minutes.

Potatoes:

In a large pot, cover potatoes with water and bring to a boil.

Cook until soft, drain, add butter and milk. Mash to your preferred consistency.
Kielbasa Potato and Onion Scramble