Asparagus and Mushroom Frittata
We may earn money or products from the companies mentioned in this post.
Asparagus and Mushroom Frittata
This recipe for Asparagus and Mushroom Frittata is a two-egg frittata. That simply means this recipe is enough for one person or a "single serving size" frittata. This easy frittata serves one, but can easily be stretched for two. If serving for breakfast or brunch add a bowl of fruit such as berries and/or yogurt. If you're going to serve asparagus and mushroom frittata for a light lunch, add a small side salad or bowl of cottage cheese.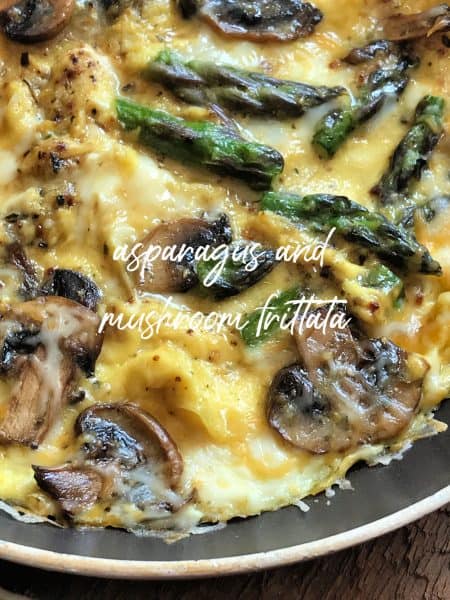 Rhubarb and Asparagus
With the cooler weather we are experiencing here in Wisconsin I have had a hellava time finding fresh asparagus and rhubarb this spring. In fact, I finally had my favorite farm stand set aside a bunch or two of each for me. They called today and said that with all the rain we had this past weekend, the asparagus and rhubarb season came to an end before it even got started. My son and daughter-in-law have Mulberry trees on their property and she said that the trees just got leaves on them. I guess it will be a late start to berry season too.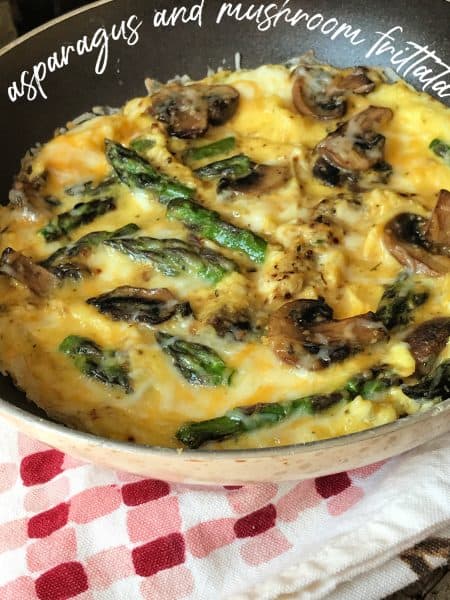 Pick Your Own
If you'd like to pick your own asparagus, rhubarb, berries or a variety of fruits and produce in your area, check out Pick Your Own. This is hands down, one of my favorite websites. You will find everything thing you will need to know. Below is a short description that I copied and pasted here so you can see how easy it is to maneuver.
June 2019
"Find a pick your own farm near you! This website provides local listings of pick your own (also called U-pick or PYO) farms in the United States, Canada, Britain, Australia, New Zealand, South Africa and other countries. There are crop calendars for each local area to tell you what is available to pick throughout the year, local weather forecasts and really easy illustrated directions to show you how to make jam, jelly, salsa, pickles, spaghetti sauce, applesauce,  apple butter and 150 other recipes with step-by-step directions to can, freeze, dry or preserve the harvest."
How to find a Pick-Your-Own Farm
"Whether you call it pick-your-own, PYO or U-pick, it's easy to find one near you!  There is a "Start here" button (at the top of the  left of every page). You then select your local area (country, state/province) and then region/county or local metropolitan area.  Just scroll down the page that appears, to see tree farms, lots or events listed by county. The search engine can be helpful, too."
"You can also find a related fruit or vegetable festival (like a tomato festival, corn fest, blueberry festival, strawberry festival, an applefest or more) or even an Easter Egg hunt at farms and churches! If you are looking to save money in other ways, see ConsignmentSaleFinder.org to find a children's consignment sale near you. And finally, St. Patrick's Day is this week – find great Irish recipes, parades, history and folklore here."
Click on your state or country below to find pick-your-own farms in your area!
(Other countries are further down this page)
[ Alabama ] [ Alaska ] [ Arkansas ] [ Arizona ] [ California ] [ Colorado ] [ Connecticut ] [ Delaware ] [ Florida ] [ Georgia ] [ Hawaii ] [ Idaho ] [ Illinois ] [ Indiana ] [ Iowa ] [ Kansas ] [ Kentucky ] [ Louisiana ] [ Maine ] [ Maryland ] [ Massachusetts ] [ Michigan ] [ Minnesota ] [ Mississippi ] [ Missouri ] [Montana] [Nebraska] [ Nevada ] [ New Hampshire ] [ New Jersey ] [ New Mexico ] [ New York ] [ North Carolina ] [ North Dakota ] [ Ohio ] [ Oklahoma ] [ Oregon ] [ Pennsylvania ] [ Rhode Island ] [ South Carolina ] [ South Dakota ] [ Tennessee ] [ Texas ] [ Utah ] [ Vermont ] [ Virginia ] [ Washington state ] [ West Virginia ] [ Wisconsin ]  [ Wyoming ]
For more information go to: Pick Your Own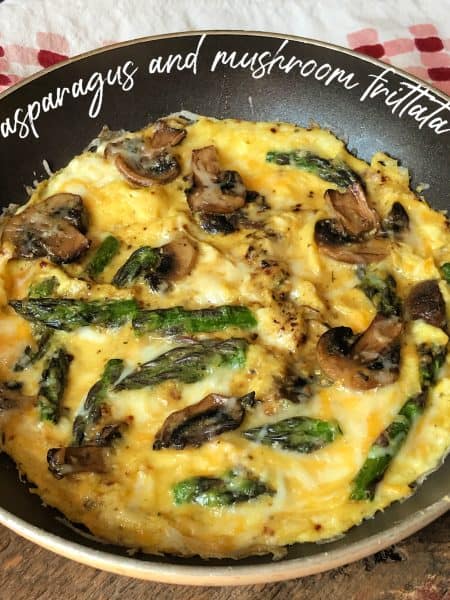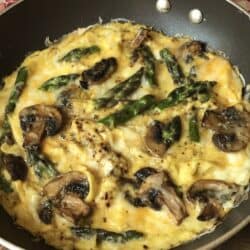 Asparagus and Mushroom Frittata for One
A delicious and easy frittata made for one.
Ingredients
One

1

tablespoon

butter

4-5

mushrooms sliced

4-5

asparagus spears trimmed and cut into 1/2 inch pieces

1/8

teaspoon

garlic and herb seasoning

couple grinds of black pepper

2

large eggs

1

tablespoon

milk

1

tablespoon

sliced green onions

2

tablespoons

finely shredded cheese
Instructions
Preheat the oven to broil.

Melt butter in a 7 to 8-inch non-stick skillet over medium heat. Add the sliced mushrooms and cook for 5-8 minutes, turning often until mushrooms are golden brown. Add the asparagus and cook for 2-3 minutes longer. Season with garlic and herb seasoning and a couple grinds of black pepper. Whisk the eggs in a bowl with milk until light and frothy. Slowly pour into the mushroom and asparagus mixture. Sprinkle with sliced green onions and shredded cheese. Cook the eggs undisturbed until the edges begin to pull away from the edge of the pan and begin to set. Gently lift the edges of the egg mixture and tilt the pan so the uncooked egg runs under the cooked eggs. Cook for another minute or so.

Transfer the fry pan to the oven and broil for 2-3 minutes or until the eggs have puffed and have cooked through. Remove from the oven and sprinkle with more cheese if desired. Transfer egg mixture to serving plate.
Recipes On Tap
Egg Scramble Stuffed Poblano Peppers, Egg White and Pesto Omelette  and Sun Dried Tomato Mushroom Omelette . Recent Recipe: Egg in a Frame with Asparagus
For this recipe we used Kingsford Garlic and Herb Seasoning.