Black Bean Penne Caprese Salad
We may earn money or products from the companies mentioned in this post.
Black Bean Penne Caprese Salad
Black Bean Penne Caprese Salad is a recipe that I found on Pinterest. Many delicious recipes can be found on Pinterest;) Made with cherry or grape tomatoes, fresh basil, fresh mozzarella cheese and the star of the show, black bean penne pasta. Making this pasta salad is not only easy and tasty but good for you too. Black bean pasta is made with black beans, giving this pasta salad a hearty, black bean flavor.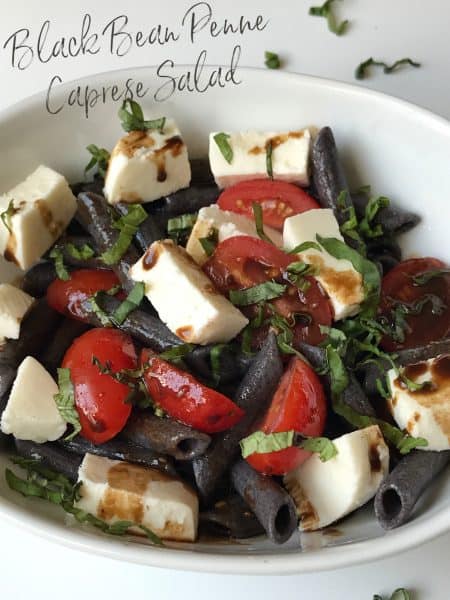 Black Bean Penne Pasta
The original recipe on Pinterest for Caprese Pasta Salad was made with orzo pasta. I had a box of black bean penne pasta that I wanted to try, so this recipe was a perfect fit. Black bean pasta is high in iron, fiber and is gluten free. It has 19 grams of protein per serving. Find this super delicious pasta at
Aldi
, the name is: Organic, Simply Nature Black Bean Penne. Look for it the next time you visit an Aldi store near you.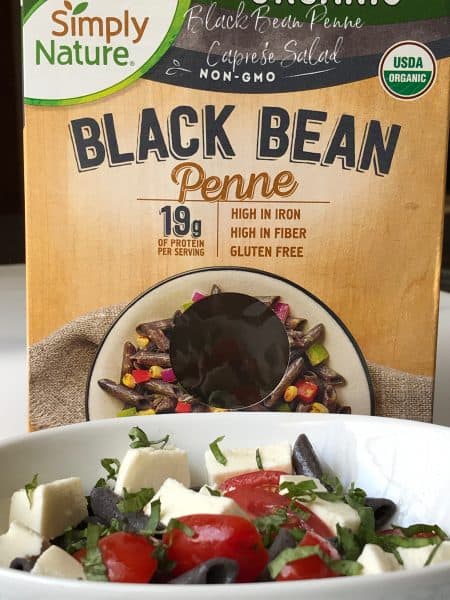 Twice Is Nice
Can't find black bean pasta? No worries. We gotcha covered. This salad can be made with any pasta you like, after all, it's a pasta salad! When I saw this recipe on Pinterest, the recipe called for making a balsamic vinegar syrup to drizzle over the salad. Since we love pasta, we made this recipe twice. The first time we made it with the balsamic vinegar syrup and used black bean pasta. The second time around we used a purchased balsamic vinaigrette and orzo pasta. Both versions turned out super good!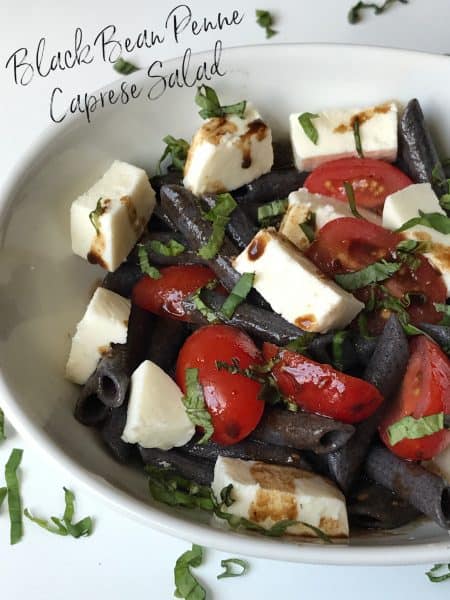 Balsamic Vinegar Syrup
Balsamic Vinegar Syrup is made with only three ingredients: balsamic vinegar, honey and Dijon mustard. With that in mind, try to use the best quality balsamic vinegar you can afford. Same goes for the Dijon mustard. There are many brands and price ranges to choose from. Also, make sure that the honey you use is 100% honey not honey-flavored syrup. Do you really know what's in your honey bear bottle?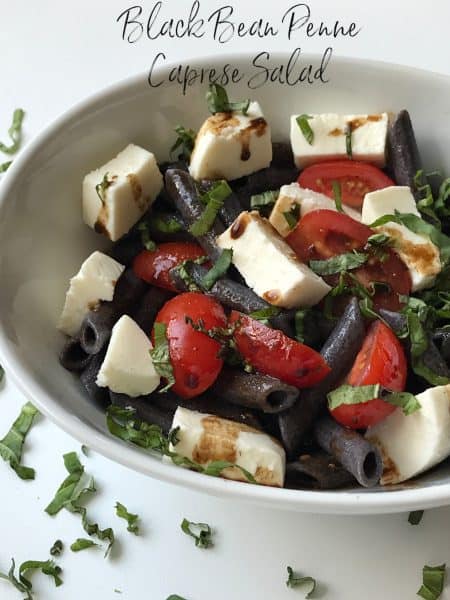 Honey Honey
Honey-flavored syrups are moving onto grocery store shelves and consumers may not be able to distinguish between 100% pure honey and similarly-packaged honey flavored syrup. "Many people don't realize honey is just one simple ingredient: honey," said Bruce Wolk of the National Honey Board. "Consumers need to be aware they may not be giving something 100% pure to their family, if they don't take a moment to double-check the label."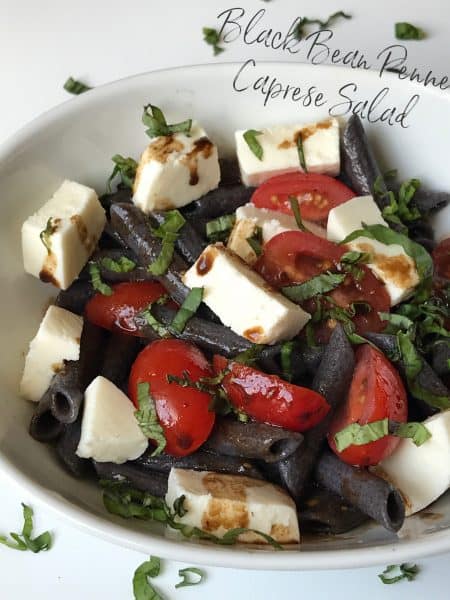 "Many of the honey-syrup blends are packaged very similarly to pure honey." "Your local grocer is still a great place to buy 100% pure honey," said Wolk. "Consumers just need to pay attention to the label to make sure they're getting 100% pure honey, the way nature intended." Consumers can get involved by checking the label to make sure the only ingredient listed is honey. There is no corn-syrup or sugar in honey!
National Honey Board
For more information and to learn more about bees and honey plus many fantastic honey recipes go to: National Honey Board. For this recipe we used fresh honey from our bee keeper friends, Door County Balsamic Vinegar from Door County Olive Oil Company, and Koops Mustard.  Did you know? Did you know that Door County Olive Oil Company and Koops' Mustard are both located right here in Wisconsin. Pass it on…
Vinaigrette
A few weeks ago I purchased a bottle of Simply 60 Balsamic Vinaigrette by Marzetti  When I made black bean penne caprese salad, I thought what the heck, I'll give it a go:) Simply 60 is made with balsamic vinegar and yogurt, it was super delicious and a great addition to this pasta salad. If you prefer, use your favorite "made from scratch" balsamic vinaigrette recipe instead of a purchased vinaigrette.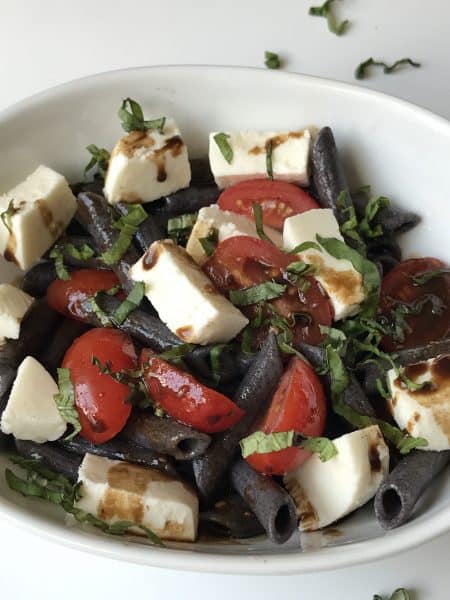 Summer Pasta Recipes
Whether you make caprese salad with balsamic vinegar syrup, purchased balsamic vinaigrette or "made from scratch" balsamic vinaigrette, Or if you decide to make this salad with black bean pasta or your favorite pasta, this salad is the perfect summertime salad. Add this salad to your summer pasta recipe repertoire, you'll want to make it often. I can't wait to make this salad in the summer with fresh garden tomatoes. Can't beat fresh home-grown tomatoes.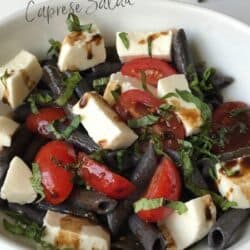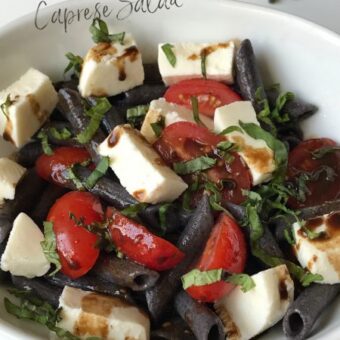 Black Bean Penne Caprese Salad
A delicious pasta salad made with black bean pasta, cherry tomatoes, fresh mozzarella, and fresh basil. A balsamic vinegar syrup is drizzled over the pasta salad right before serving.
Ingredients
2/3

cup

balsamic vinegar

3

tablespoons

honey

1

tablespoon

Dijon mustard

1

tablespoon

salt

12

oz

package black bean penne pasta

1

tablespoon

olive oil

1

pint

grape tomatoes

6

ounces

fresh mozzarella

½

cup

packed fresh basil leaves

1/4

cup

olive oil, to taste

salt and pepper, to taste
Instructions
Make Balsamic Syrup

Add the balsamic vinegar, honey and Dijon mustard to a small saucepan. Heat to a boil over medium heat. Reduce the heat to medium-low and let the mixture simmer for 10 minutes. Turn off the heat and let the mixture cool completely. It will thicken considerably as it cools.

Make Salad

Fill a large pan with water. Add 1 tablespoon salt. Bring to a rolling boil. Add pasta, cook 8-10 minutes or until al dente. Drain. In a large bowl toss pasta with 1 tablespoon of olive oil so the pasta doesn't stick together.

Wash and slice the grape tomatoes in half and add them to the cooked black bean pasta. Cube the fresh mozzarella and add to the bowl. Wash and slice the basil leaves into thin ribbons. Add the basil to the bowl. Toss everything together with ¼ cup olive oil or to taste. Season with salt and pepper, to taste.

Divide salad between serving bowls. Right before serving, drizzle with balsamic vinegar syrup.
Notes
Black Bean Penne Caprese Salad can be made using any type of pasta such as: orzo or rotini pasta in place of the black bean pasta. Balsamic Vinaigrette can replace the Balsamic Vinegar Syrup or make your favorite "from scratch" balsamic vinaigrette.
Nutrition
Calories:
268
kcal
,
Carbohydrates:
26
g
,
Protein:
11
g
,
Fat:
13
g
,
Saturated Fat:
6
g
,
Cholesterol:
34
mg
,
Sodium:
2070
mg
,
Potassium:
360
mg
,
Fiber:
2
g
,
Sugar:
23
g
,
Vitamin A:
1275
IU
,
Vitamin C:
16.2
mg
,
Calcium:
238
mg
,
Iron:
0.9
mg
Wisconsin Products:
Wisconsin Products used in this recipe: Koops' Dijon Mustard, Door County Balsamic Vinegar, and Belgioioso fresh mozzarella cheese. Hungry for more balsamic vinegar recipes? Here you go. Balsamic Steak Cut Mushrooms, Honey Dijon Brussels Sprouts and Brown Sugar Balsamic Glazed Pork Tenderloin.