Egg in a Frame with Asparagus
We may earn money or products from the companies mentioned in this post.
Egg in a Frame with Asparagus
Today I'm going to share with you an easy recipe made for one person. It's perfect for those nights when you're the only one home for dinner and you don't have a clue what to make. You can either grab a spoon and that gallon of ice cream in the freezer or make Egg in a Frame with Asparagus. It's great for lunch, dinner or a late night snack. Need to feed your family? No problem, dig out your large flat griddle and get crackin' Use one side of the griddle for the asparagus and the other side for the bread and eggs.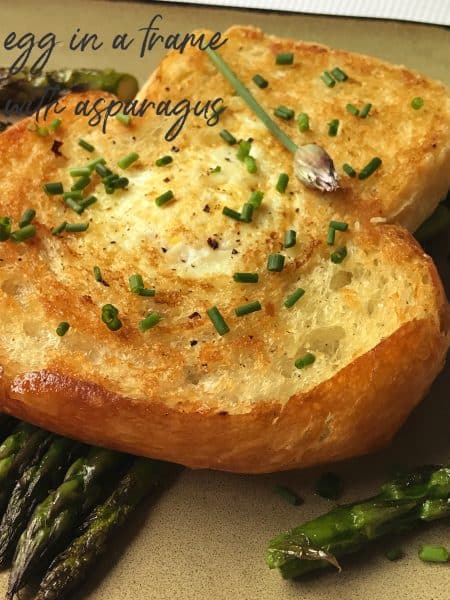 Large Griddle
A few years ago I purchased a large electric griddle by Presto. The main reason for purchasing the griddle was a simple one. My grand-kids and hubby love pancakes and french toast for breakfast. Since there is nothing more frustrating than trying to make pancakes in a skillet, I decided to break down and purchase a large griddle. Since then, I use my griddle more than I ever thought possible. They're perfect for making breakfast and grilled sandwiches for lunch.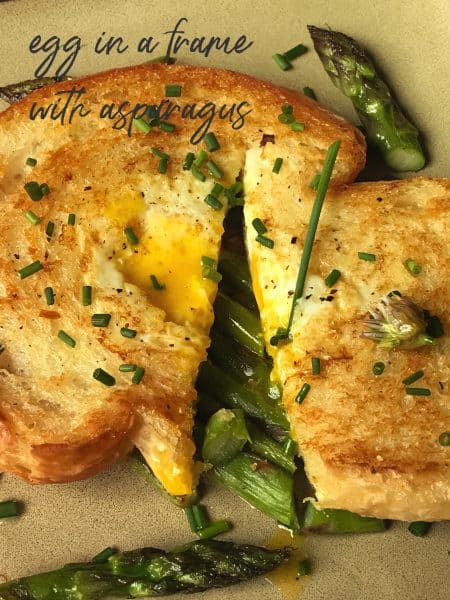 Make Mornings Easier
I've grown quite fond of my large electric griddle, so much so that I've given them as Christmas gifts. Make your mornings easier with a large griddle. Skillets and frying pans with their curved edges, are great for browning meat and the like but aren't meant for pancakes. Pancakes need to be made on a flat surface to brown and cook evenly. I think that's why pancakes taste so good in a restaurant. Plus, when using a large griddle, everyone can sit down to the table at the same time, no more waiting and whining:) Now making breakfast is easy breezy and clean-up is one swipe of a damp paper towel.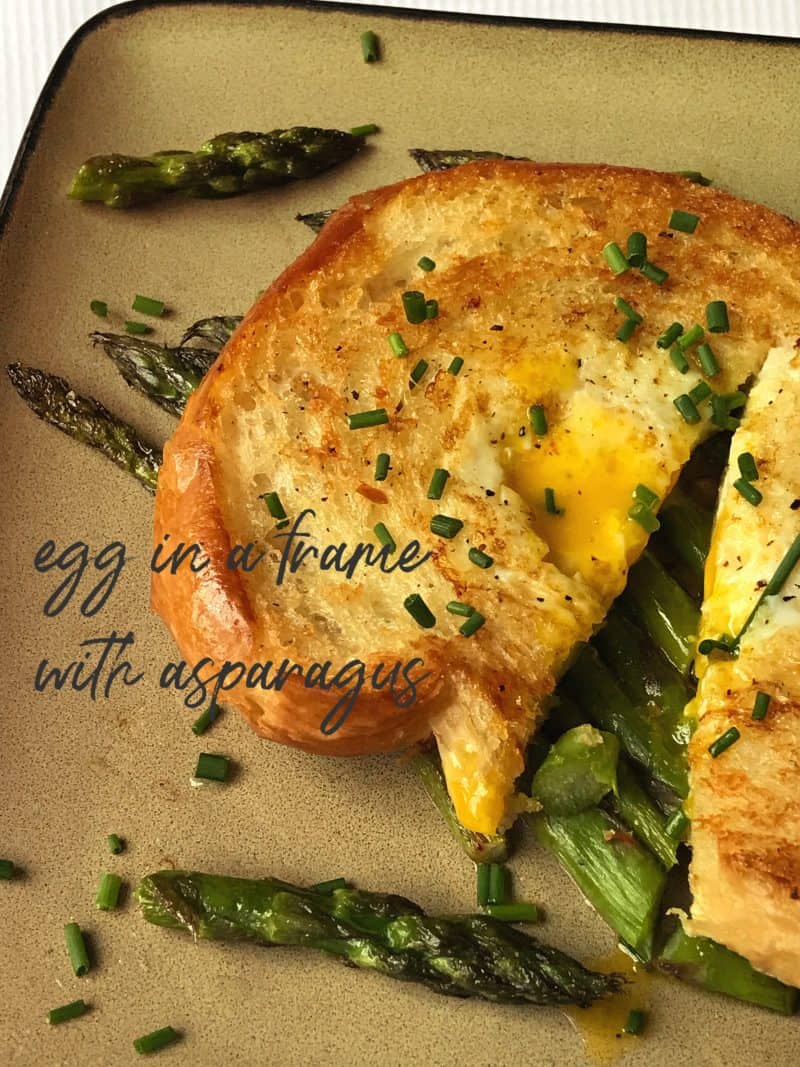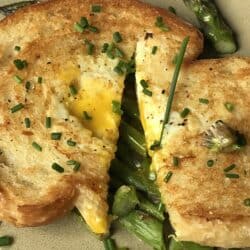 Egg in a Frame with Asparagus
A super simple meal that's big on taste.
Ingredients
6-8

asparagus spears

,

trimmed

2

tablespoons

oil

salt and pepper

,

to taste

1

slice

bread

1-2

Tbsp

salted butter

1

large egg

salt and pepper to taste

fresh chives for garnish

,

optional
Instructions
In a medium skillet heat oil over medium heat. Add asparagus spears and sauté until tender, 5-8 minutes. Remove spears from skillet to serving plate. Set aside.

How to Make EGGS IN A FRAME

Place bread on a clean, flat surface and using a 2-3 inch diameter biscuit cutter or rim of a drinking glass, very firmly press into bread and twist to cut through bread. Discard round bread piece. Melt butter in a small nonstick skillet over medium heat. Crack egg and gently slip egg into hole in the bread. Cook until egg yolk and white is set, about 3-5 minutes. Carefully flip bread over, cook an additional 1-2 minutes or until egg is set and done to your liking. Place egg in a frame on top of asparagus spears, sprinkle with chives.
Recipe On Tap
Favorite French Toast, Farm Fresh Eggs vs Store Bought Eggs and Buckwheat Blueberry Pancakes. Recent Recipe: Asparagus and Mushroom Frittata